Avoid These Wedding Attire Blunders: The Guest's Style Guide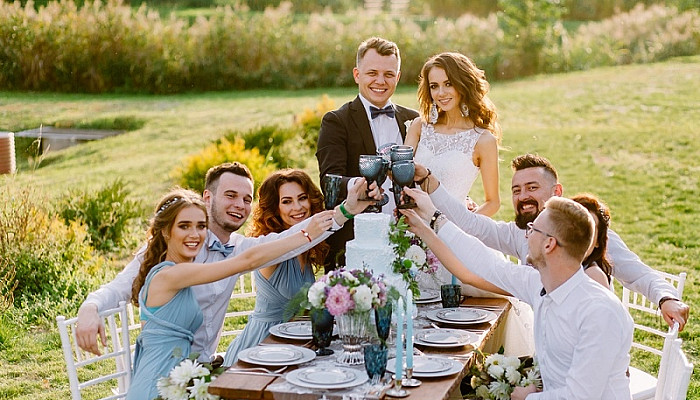 Weddings are not only a celebration of love but also an occasion to showcase your style while respecting the couple's chosen theme. However, navigating the complex landscape of wedding attire can be a challenge, with potential pitfalls that might inadvertently draw attention away from the bride and groom. To help you shine as a guest without stealing the show, here's a comprehensive style guide to steer clear of common wedding attire blunders.
1. Underdressing or Overdressing:
The cardinal rule of wedding attire is to strike the right balance between being too casual and overly formal. Underdressing in jeans or a T-shirt sends the message that you didn't consider the event's significance. On the flip side, overdressing in a glamorous gown at a casual beach wedding can make you stand out in the wrong way. Research the wedding venue, theme, and dress code to ensure your outfit aligns perfectly.
2. Ignoring the Dress Code:
If the invitation specifies a dress code, respect it. Whether it's black-tie, cocktail, or casual, adhering to the dress code showcases your respect for the couple's wishes. Disregarding it could make you feel out of place and disrupt the harmony of the event.
3. Wearing White:
This rule should be etched in stone: Never wear white unless you're the bride. White is reserved exclusively for the person of honor, and wearing it as a guest can be perceived as disrespectful or attention-seeking. Opt for colors that complement the wedding palette and show your consideration for the bride's spotlight.
4. Overly Flashy or Distracting Outfits:
While it's tempting to show off your unique style, remember that weddings are about the couple. Avoid outfits that are too flashy, overly sparkly, or distractingly loud. You don't want to be remembered as the guest with the blinding sequin dress that stole the show.
5. Disregarding Cultural or Religious Sensitivities:
If the wedding aligns with specific cultural or religious traditions, make sure your attire is respectful and appropriate. Dressing in a manner that contradicts these customs could come across as insensitive and offensive.
6. Inappropriate Necklines or Hemlines:
When choosing your outfit, be mindful of necklines and hemlines. A plunging neckline or an extremely short hemline might not be suitable for a wedding setting. Aim for elegance and sophistication that reflects the solemnity of the occasion.
7. Forgetting About Comfort:
While looking chic is important, don't compromise on comfort. Weddings can involve hours of standing, dancing, and socializing. Uncomfortable shoes or restrictive outfits can lead to an unpleasant experience. Choose attire that allows you to enjoy the festivities without worrying about adjusting or suffering discomfort.
8. Bringing Oversized Bags:
Although it's tempting to carry everything you might need, bringing an oversized bag can be cumbersome and distracting. Opt for a small clutch or a stylish crossbody bag that complements your outfit without stealing attention.
9. Wearing Inappropriate Footwear:
Remember that weddings often involve various settings, from formal ceremonies to lively receptions. Wearing flip-flops, sneakers, or worn-out shoes can detract from your overall look. Choose footwear that suits the occasion and is comfortable enough to dance the night away.
10. Ignoring the Season:
Seasonal appropriateness matters. A heavy wool suit at a summer garden wedding or a flimsy sundress in chilly weather might not be the best choice. Dressing according to the season ensures your comfort and enhances your style.
11. Neglecting the Couple's Theme:
If the wedding has a specific theme, try to incorporate it into your outfit without going overboard. Whether it's a vintage-inspired wedding or a tropical beach affair, subtle nods to the theme can enhance your look while staying in line with the couple's vision.
12. Visible Logos or Slogans:
Wearing clothing with prominent logos or offensive slogans is a wedding attire blunder. Keep your outfit classy and respectful by avoiding such pieces.
13. Failing to Plan for Weather:
Outdoor weddings are subject to the whims of nature. If the event is outdoors, check the weather forecast and plan accordingly. Bringing a light jacket, umbrella, or wrap can save you from discomfort if unexpected weather strikes.
14. Ignoring Dress Etiquette for Different Cultures:
If the wedding involves different cultural traditions, take the time to research and understand appropriate dress etiquette. This shows your respect for the couple's heritage and ensures you blend seamlessly into the celebration.
15. Not Checking for Wardrobe Malfunctions:
Before leaving home, do a thorough check for wardrobe malfunctions. Loose buttons, hanging threads, or a missing belt could lead to awkward situations. A quick pre-event check ensures you're polished and confident.
Conclusion
Attending a wedding as a guest is an opportunity to share in the joy of the couple's special day while expressing your style. By avoiding these common attire blunders, you'll not only look your best but also show your respect for the couple's wishes and the solemnity of the occasion. Remember, it's the bride and groom who should shine the brightest on their wedding day.