Essential Questions to Ask Wedding Vendors Before Booking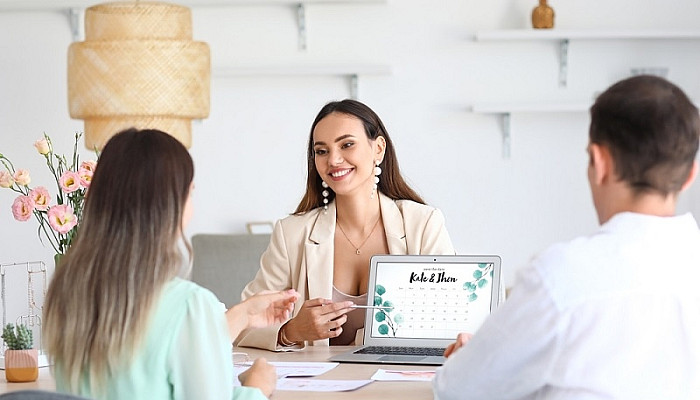 A wedding is a momentous occasion, a day when you celebrate love, commitment, and the start of a beautiful journey together. To make your wedding day truly special, it's crucial to choose the right vendors who can bring your dreams to life. Asking the right questions when you meet potential wedding vendors is an essential part of the selection process. In this guide, we'll provide you with 25 essential questions to ask vendors for your wedding.
General Questions for All Vendors
Availability: The very first question you should ask is whether the vendor is available on your wedding date. If not, there's no need to delve deeper into the details.
Experience: To assess the vendor's qualifications, and inquire about their experience and background in providing services for weddings. How long have they been in the industry? Are they familiar with weddings of similar size and style?
References: Request references or reviews from previous clients. Testimonials and references can offer valuable insights into the vendor's professionalism and performance.
Insurance: It's essential to know whether the vendor has liability insurance. This protects you and your investment in case of unexpected issues or accidents.
Payment Structure: Discuss the payment structure and terms. What is the deposit amount and when is the final payment due? Are there any hidden fees?
Cancellation Policy: Find out about the vendor's cancellation policy. Under what circumstances can you cancel, and what happens to your deposit if you do?
Day-Of Service: Will the person you are meeting with be the one providing the service on your wedding day? It's crucial to know who will be present and in charge of your wedding.
Venue Questions
Begin by asking the most fundamental question: Is the wedding venue available on your desired wedding date? What is the maximum capacity of the venue? You need to ensure that it can comfortably accommodate your guest list. Ask if you can visit the venue at the same time of day as your wedding. This will help you assess the lighting and ambiance, which can vary at different times.
Be aware of any restrictions or rules imposed by the venue. For example, inquire about noise restrictions, decor limitations, and any other regulations. Determine whether the venue is full-service. Will they provide everything, including catering, linens, and tableware, or will you need to bring in outside vendors?
Caterer Questions
Sample Menu: Request a sample menu and pricing options. Taste is an important factor, and you want to ensure the food aligns with your preferences.
Dietary Restrictions: Check if the caterer can accommodate dietary restrictions and preferences. This is particularly crucial if you have guests with specific dietary needs.
Service Style: Ask how the food will be served - buffet, plated, family-style, or something else. Choose a style that fits your vision.
Service Staff: Inquire about service staff, linens, and tableware. Will these be included in the pricing, or do you need to arrange them separately?
Tasting: Can you schedule a tasting before finalizing the menu? Tastings help you ensure that you're happy with the flavors and presentation.
Photographer/Videographer Questions
Can you see examples of the photographer or videographer's previous wedding work? Their style should align with your vision. Determine the photographer or videographer's style. Do they favor traditional, documentary, or artistic styles? Choose someone whose style resonates with you. How many hours of coverage are included in the package? Ensure that the coverage aligns with your wedding schedule.
Will there be a second shooter or videographer? Having a second professional can ensure that all important moments are captured. What is the timeline for receiving the final photos or videos? You'll want to have a clear idea of when you can expect your cherished memories. Do they offer engagement or pre-wedding shoots? These can help you get comfortable with your photographer and create beautiful memories leading up to the wedding.
Florist Questions
Examples of Work: Ask the florist for examples of their floral designs. You want to see their style and ensure it matches your wedding theme.
Budget Flexibility: Discuss your budget and see if the florist can work within it. If not, can they suggest alternatives or make recommendations to fit your budget?
Setup and Delivery: Will the florist handle the delivery, setup, and breakdown of the floral arrangements? You want a seamless experience on your wedding day.
Seasonal Flowers: Can the florist suggest seasonal flowers that fit your wedding date and theme? Seasonal flowers can often be more cost-effective and readily available.
Additional Decor: Inquire about other decor elements the florist can provide, such as arches, centerpieces, or decorative arrangements. This can help you streamline your decor planning.
Entertainment (DJ or Band) Questions
Can you listen to samples of the DJ or band's music or performances? You want to ensure their style matches your taste. Do they take song requests, and how do they handle the playlist? Discuss your preferred songs and genres to create the ideal ambiance. Inquire about the setup and equipment. You want to ensure they have high-quality sound and lighting to enhance the atmosphere.
If needed, can the DJ or band provide MC (Master of Ceremonies) services and interact with guests to keep the event running smoothly? Do they have backup equipment and a contingency plan in case of technical issues? You want to be prepared for any unexpected glitches.
You may also like to read: 30 Unique Bridal Processional Songs For Your Grand Entrance
Wedding Planner/Coordinator Questions
Previous Experience: Ask for references or reviews from previous weddings the planner or coordinator has worked on. This can give you insight into their effectiveness.
Level of Involvement: Determine the planner's level of involvement. Do they offer full planning, partial planning, or day-of coordination services?
Budget Assistance: Can the planner help you create a budget and manage vendor contracts to ensure you stay on track financially?
Emergency Handling: How do they handle unexpected issues and emergencies on the wedding day? You want a wedding coordinator who can keep things running smoothly.
Presence on the Wedding Day: Will the planner or coordinator be present throughout the entire wedding day to oversee details and ensure everything goes according to plan?
Conclusion
Asking these essential questions to wedding vendors can help you make informed decisions and create the wedding day of your dreams. Whether you're selecting the venue, caterer, photographer, florist, entertainer, or wedding planner, these inquiries will guide you in making the best choices to ensure a memorable and stress-free wedding celebration.