What Makes Tuxedo Shoes Different from All-Purpose Shoes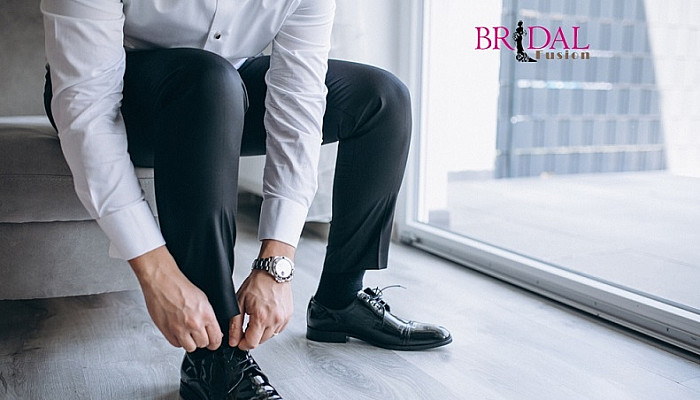 Tuxedo shoes are a special kind of men's shoes designed specifically for formal or cocktail occasions. Unlike all-purpose dress shoes that you can wear to almost any professional or casual event, tuxedo shoes are typically reserved for more formal events. They may include a wedding party, military ball, black-tie gala, or another formal occasion. In that case, you know how important it is to have the right attire and accessories.
The style of tuxedos you're wearing is the first consideration when picking out the perfect pair of tuxedo shoes. You should think about the color, substance, and finish of your tuxedo shoes to ensure a smooth ensemble. Black oxfords, slippers, monk strap shoes, and loafers with a polished finish are safe bets with a black tuxedo, but you can stand out with a pair of colorful, velvet, embroidered, or patterned shoes. Brown shoes, on the other hand, work well as a neutral complement to more vibrant suit colors like turquoise and cobalt. We combed the web for information based on the above criteria to help you hunt for the ideal pair of tuxedo shoes.
Difference Between Tuxedo Shoes and All-Purpose Dress Shoes?
There are many subtle differences between tuxedo shoes and all-purpose black dress shoes. Still, the most significant difference is their intended use. All-purpose black dress shoes are intended for more casual events. They can be worn with a tuxedo jacket when required, but they should never be worn with a tuxedo shirt. When you wear a tuxedo shoe with tuxedo pants and a tuxedo shirt, it's a different look altogether. Tuxedo shoes are designed with a certain kind of formal aesthetic in mind. They feature many details that will set them apart from all-purpose dress shoes.
Why Are Tuxedo Shoes So Important?
Suppose you're wearing a tuxedo jacket and tuxedo pants. In that case, you may get away with wearing all-purpose dress shoes, but a pair of tuxedo shoes adds a special touch and distinguishes your outfit from those around you.
Choosing the right kind of footwear for your tuxedo outfit is a great way to make a statement with your accessories, adding a bit of flair to your look that you won't find on anyone else. A well-made pair of tuxedo shoes may help you stand out in a crowd, even if everyone else is wearing a tuxedo.
Materials That Make a Good Tuxedo Shoe
The materials in a good pair of tuxedo shoes differ from those in all-purpose dress shoes, designed to be more durable and hold up better over time. Tuxedo shoes are often made with mixed materials, including full-grain leather, patent leather, and suede. A durable rubber sole is another popular choice.
Whereas all-purpose dress shoes are commonly made of synthetic materials that are lighter, easier to clean, and quieter, tuxedo shoes are sturdier and more appropriate for formal settings.
How to Find a Pair of Tuxedo Shoes That Fits Right
The heel of your tuxedo shoe will depend on the length of your tuxedo pants and finding the right fit for your foot type. You may want to try on a pair of tuxedo shoes before the event to ensure you find the right fit.
There's no harm in trying on a few pairs to find out which ones fit best. The fit of a good pair of tuxedo shoes will be snug to ensure they don't slip while you're standing or walking, but not too tight where they're uncomfortable.
Here are some of our topic picks for your wedding day
Paul Stuart's Velvet Slip-On
This tasseled pair of shoes is an excellent compromise between traditional leather loafers and plush velvet slippers. They're perfect for black tie events. They're as handsome as ever and quite comfortable thanks to the quilted satin inside and sturdy rubber soles. The slip-on design is convenient, and the grosgrain detailing adds a touch of class. They are available in both standard black and daring dark blue colors.
Polo by Ralph Lauren
Look no farther than this glistening pair from Ralph Lauren's Purple Label collection for a couple of patent-leather slippers that will last for decades. Made from patent leather with a calfskin insole and lining, these shoes are the epitome of contemporary style.
Although they only come in black, these shoes are perfect for your wedding day and any other formal occasions you may attend. Moreover, if you don't absolutely adore your purchase, you can send it back for a full refund and get free shipping. For a polished look, wear them with dress socks.
Manolo Blahnik Mario Velvet
This burgundy velvet slipper is as fashionable now as it was as a splash of color to complement a black tie outfit. Hours of wearable comfort are guaranteed thanks to the leather lining, and the dressy grosgrain trims are the icing on the cake. There is a navy option, and both colors run true to size. You may dress them up with a tuxedo for wedding season and beyond with cuffed chinos.
Lace-up tuxedo shoes by Brooks Brothers
Although formal footwear has a reputation for being uncomfortable and slick, this design combines the pliability of an athletic shoe with the classiness of a dress shoe. These black patent leather shoes with a glossy finish are perfect for the conventional groom. Rubber stud treads on the outsole provide excellent traction and prevent the shoes from slipping. They come in various widths, making it simple to pick a pair that works for your feet.
Slip-on by Oxford Brogue
This pair will finish your traditional tuxedo and won't break the bank at less than $60. These shoes' uppers are made from a sophisticated blend of matte leather and fabrics decorated with refined Brogue stitching. The manufacturer specifies a wide fit, so these shoes might not be the ideal choice if your feet are narrow. These shoes, which come in a classic black, will easily see you through the full wedding season.
FAQs on Tuxedo shoes for men
With a tuxedo, what kind of shoes do you recommend?
Wearing patent leather oxfords, velvet loafers, or black or blue derby shoes with a tuxedo is a perfect choice.
Do men's tuxedos require polished shoes?
Although patent (high-shine) materials are commonly used to make traditional tuxedo shoes, a natural, less glossy finish on formal shoes is quite acceptable when paired with a tuxedo or suit of the same caliber.
Do I need to wear socks with tuxedo shoes?
A loafer is the most perfect shoe to wear with a tuxedo since it is comfortable even without socks and has a classic look that will never go out of style.
Wrapping Up
Choosing the right pair of tuxedo shoes is an important decision that can make or break an evening, no matter what formal event you attend. You can always try on a few pairs of tuxedo shoes before you buy to ensure they're the right fit, but once you do, you'll have something that will last for years. These tips will help you understand what makes tuxedo shoes different from all-purpose dress shoes so that you can shop confidently and invest in one pair of footwear that will serve you well no matter what the event calls. With these tips from BridalFusion.com, we are sure your hunt for the perfect tuxedo show has come to a happy ending