Here Are The 7 Best Styles & Designs For Groomsmen Suits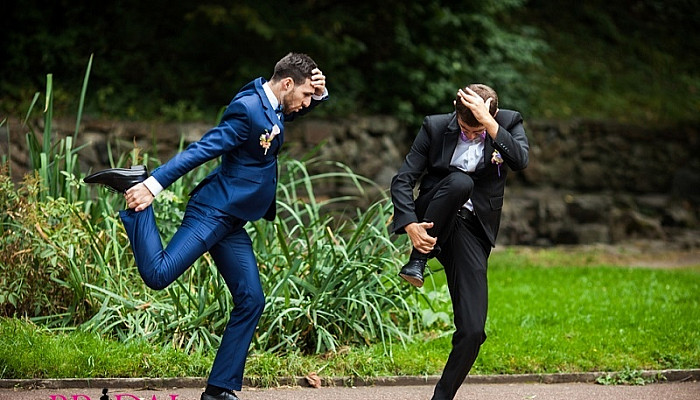 To be honest, even for the most seasoned shopper, buying a wedding suit may be a daunting task. A lot goes on when you are buying a groomsmen suit, from how to follow a wedding's dress code to which fabrics and colors are appropriate for the season. Choosing a groomsmen's attire does not have to be the first—or most difficult—step in your wedding planning process. And if you do it right, you won't have to worry about the groomsmen's clothes again until they have lost or gained a few pounds before the big party. Jokes aside, let us show you how to dress up your groomsmen stylishly without much ado. Groomsmen have a special task at hand. Therefore, their apparel should be noticeably more pleasing than the rest of the guests but significantly less dazzling than the groom. That's a difficult balance to strike. Here we have rounded the top 7 styles to make it easy when shopping for groomsmen suits.
Style No. 1: Men in grey or blue!
Yes! Men in grey are the latest fashion trend for groomsmen suits. Even while the black tux has an elegant appearance and is the most popular choice, it is only worn at conventional weddings, especially in winters and at night gatherings. This light grey shade is ideal for casual groomsmen wearing for the beach, garden, or casual indoor event. This light tone of grey reflects a sense of joy and liveliness. Accessories can make it look more or less formal, depending on how they are used. Midnight blue should be treated similarly to a black tuxedo. Midnight blue tuxedos have been seen on the red carpet in recent years. Still, they're more than just a fad—they're the original substitute for the black tux. They're especially appropriate for groomsmen if blue is one of your wedding themes.
Style No. 2: Bright Turquoise
The turquoise groomsmen's dress is a new twist on wedding apparel that adds a lot of freshness and vibrancy. A complete suit in this hue might be unappealing. Still, a splash of turquoise on a tie, vest, or pocket square is a terrific way to provide some interesting contrast.
Style No. 3: "White and bright"
Nothing is more eye-pleasing about a groomsman dressed in white at a beach wedding. It's new but a comfortable look, and (best of all), it complements the bride's white gown. The bonus is that white wedding suits are highly effective at keeping you cool in hot weather. Jackets are also appropriate for beach weddings, but make sure your comfort comes first in this case. You will not look good if you are in pain from a tightly fitted jacket. Starfish or shell boutonnieres, nautical ribbons, and bare feet are just fun things that can be added to the groomsmen's costumes for the beach wedding.
Style No. 4: The Autumn Wedding Look
When it comes to fall wedding groomsmen's suits, the color palette of the autumn harvest and other earth tones always works well. The season's mood is embodied by blues that match the water and sky, greens that match the leaves and grass, burgundy, and other colors that match the popular harvest of fruits and vegetables. The chilly temperature allows you to wear heavier fabrics like wool, corduroy, and velvet if you're feeling daring. Navy suits also work well in the fall, but a brighter blue suit will not absorb as much heat and will still be suitable for frigid weather.
Style No. 5: Colorblock suits
Color blocking has undoubtedly become a prominent fashion trend over the last decade. For a laid-back summer wedding, put a white tie on a white shirt or a khaki tie on a khaki shirt for a fashion week-worthy groom look. Matching the tone of your association to the style of your button-up is a simple way to give your groom's wardrobe a modern, minimalist feel. If your groomsmen can't seem to get away from the standard white shirt, try a design or a burst of color on the tie, pocket square, or even the suit lining!
Style No. 6: Suspenders are a popular style
Suspenders or braces may be a perfect choice if you're seeking an old Hollywood or rustic item that will help keep your pants up! Braces are made of leather or fabric straps fastened to buttons sewn onto the pants for a sleek, classy appearance. On the other hand, suspenders may be secured with metal tips and are an excellent choice for a less formal wedding. Whatever you like, they are the perfect finishing touch to any smart outfit.
Style No. 7: Velvet Blazers
A velvet jacket is a popular design that has impacted the groom's fashion in recent years, and we can understand why! The thickness of the cloth makes the appearance appropriate for an autumn or winter wedding. Additionally, it will give your suit an elevated or textured look, appropriate for a formal wedding. Keep it traditional with black or add some color with jewel tones such as ruby or emerald.

Groomsmen Suits: Frequently Asked Questions
Q: Is it necessary for the groomsmen to match their suits?
A: No, keep the costumes in the same "formality" range. For example, if the groom is dressed in a suit, his groomsmen would steal the show if they were all dressed in tuxedos. The suits or tuxedos might be of various types, but the clothes will look better together if they are all suits or all tuxedos.
Q: Should the groomsmen wear the same clothing as the bridesmaids?
A: In a nutshell, the answer is no. When the dresses match too closely, the effect is reminiscent of the '80s or '90s prom. Coordination of colors is preferable in this case. Incorporate your wedding colors into the ensembles in subtle ways that complement one another.
Q: Does each groomsman's outfit have to be identical?
A: Not precisely, but there should be a common thread. If that's not obvious enough, we'll help you understand with some examples. Assume you want your guys to wear black ties, either plain or with a design. They may dress up their outfits with a polka-dot necktie, a pin-dot bow tie, a striped necktie or bow tie, or a solid black tie. Add a vest to some of the groomsmen's suits for an essential modification. Dressing groomsmen with two or three tones of the same hue is a riskier move: navy and blue suits, or grey, charcoal, and light grey suits. Even when dealing with a single hue family, finding the proper balance may be challenging.
For all the groomsmen, mix and match various ties. This style is ideal for spring weddings in a range of colors. The other accessories that you can have fun mixing and matching are pocket squares, cufflinks, and even the suits you decide to put on!
Q: There are far too many in tuxes and suits. Where do I begin?
A: It helps if you already know what the groom will wear, but if you don't, consider the season or your wedding style to help you pick the groomsmen's suit.
Q: Tuxedo or suit?
A: The ultimate fashion dilemma: tuxedo or suit? This option is what ties your entire wedding appearance together. Each has a distinct tone that alters the ambiance and vibe of your fantasy wedding. It's critical to find out what would be ideal for your concept. Consider your wedding theme (location) and style as you think about it. This might assist you in visualizing what style would look best and getting started on planning from there!
Conclusion
Choosing a groomsmen outfit is not as simple as pulling any suit from your wardrobe. What should the color be? Should it match the groom's or the bride's attire? What colors are suitable for winter suits? Should I pair it with a statement shirt or a basic one? We have solutions for all your problems, consideration of your comfort, the type of materials to be used, seasonal colors, and the current styles. BridalFusion.com promises that you will not only look fantastic but will also feel great. So, suit up and take your pick from our seven most "in" styles for groomsmen suits listed above!