20 Different Types Of Wedding Dresses From Around The World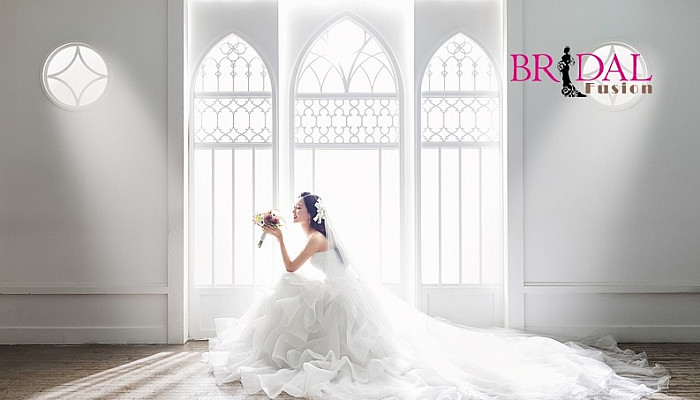 Our world is rich in variety. People live in diverse geographical areas, speak different languages, and have varied life experiences that contribute to this. Though we may perceive unity in combination, that is, even though the look of the tradition differs, the philosophy and idea underlying it are the same all over the world. Marriage is one of several things that are observed in all civilizations. We may notice various styles, but the principle behind bridal attires is the same worldwide.
While many women in the United States fantasize about white tulle and intricate veils, others throughout the world spend hours satisfying their yearning for color, intricate needlework, headpieces, and jewelry. These 20 traditional types of wedding dresses enhance the beauty of each tradition and the woman who wears them.
1. Japan
The bride wears a white shiromuku, a custom wedding dress known as a Shinto wedding for one of the most popular wedding customs. Shiromuku is a white kimono made of blue and white cotton fabrics. White, like the west, denotes purity and virginity. Still, it also indicates a woman's readiness to enter the marriage "blank" and be open to her husband's ideals.
2. Malaysia
Malaysian type wedding dress includes wearing a crown to symbolize their prominence in the holy rite. There are two layers underneath it: a tudung, or hijab, to cover their hair for modesty, and a selendang, a decorative shawl covering the headscarf. In an equally stunning presentation, a bright sarong complements the bride's long-sleeved shirt.
3. India
Indian weddings display a lot of pomp and show. They are famous for their brilliant hues, and the colors portrayed in the bride's clothing have significant symbolism. Red, yellow, and green are standard colors that represent power and strength, prosperity and wealth, and a new beginning.
4. Mongolia
Both the bride and groom dress in traditional Deel attire. In Mongolia, the grooms wear a darker color, while the bride adorns brighter. The fabrics are frequently lightweight and have a lovely silk and cotton blend. They wear a big hat as an ancient emblem of might; it was used to intimidate opponents.
The Deel type of wedding dress is a calf-length tunic composed of a single piece of cloth. There are buttons on the right shoulder and long sleeves. If they aren't professionally created, knotted strips of fabric are the most common form of adornment. In Mongolia, each ethnic group has its own unique Deel, characterized by its color, cut, and trim. Foreigners aren't aware of these differences, but Mongolians see them right away.
5. Korea
Korean brides wear hanboks, a traditional wedding dress that dates back thousands of years. Hanboks are sometimes tailored for special events, including Korean weddings, with brides typically wearing them in pink or purple color during the ceremony.
6. Poland
In Poland, brides follow the white gown trend by wearing it with a veil known as a welon. Brides shun open-toed shoes because they believe their fortune will fly from their toes if they are not encased.
7. Nigeria
In Nigeria, each ethnic group has its unique wedding day customs. Still, one of the most distinctive ones belongs to the Yoruba, whose brides wear intricately woven fabric known as Aso Oke (usually in color red). The material is highly appreciated and intended to reflect high-class taste. The bride's costume often comprises five pieces: a lacy, long-sleeved shirt, a waist wrap, a shawl or sash, a scarf, and a veil.
8. Peru
Many weddings in Peru use the traditional white gown design, although those in the rural maintain ancient customs. Peruvian weddings are vibrantly colored, and the bride's gown is no exception, with geometric designs accentuated in red, yellow, blue, green, and white. A custom-made, layered skirt will be fashioned for the occasion, matching her husband's bespoke poncho.
9 Indonesia.
In Indonesia, the biggest ethnic group accounting for more than half of the population, is the Javanese. Their weddings are divided into three sections: siraman, midoreni, and the wedding ceremony. The bride gets washed in fragrant water by her relatives during the first. She must stay inside during the evening on the second day and see friends and relatives before the third day when the bride is dressed in an ornate batik material that overlays a beautiful shirt and wraps around her waist.
10. Yemen
Yemeni weddings traditionally last five days! The Zina, meaning "beautiful," is a flowy knee-length dress. It has long sleeves and a long Vneck that is sometimes embroidered and worn with baggy leggings.
11. Tibet
The wedding dress of ladies in Tibet is a layered white wool dress with colorful aprons on top. Some people may choose to replace the apron with a bright robe.
12. China
While red has a bad name in Western countries, it is the contrary in China, where the hue represents pleasure, vitality, and a deterrent to evil. Chinese wedding gowns sometimes include bright red hues with gold elements. Most brides in the north wear a crimson dress known as a Qipao, while southern brides wear a two-piece Qungua.
13. Norway
Weddings in Norway are frequently similar to those in the United States or other parts of Europe. Many brides choose white gowns, but the traditional Norwegian bunad is still worn by others. The bunad is traditional clothing frequently embellished with buckles, jewels, and floral images.
14. Guatemala
The veil steals the show in Guatemala. Because it is thought that the longer a bride's veil, the happier she and her husband would be throughout their marriage. Veils can go up to six feet long. Women wear a Patzun Huipil — a traditional shirt sometimes embroidered with flowers – and a skirt of a similar style instead of a dress.
15. Scotland
Many people associate Scotland with crisscrossing green, red, and yellow band dresses. Despite many brides' adoption of western designs, the traditional Scottish weaving pattern known as tartan has been preserved for Scottish weddings. While a white wedding gown is traditional, Scottish brides add a plaid cloak, train, bow, or waistband to honor their history.
16. Turkey
Turkey, dominated by Muslim culture, has one of the most covered but gorgeous wedding gowns for brides. Hijabs are garments that represent modesty and solitude. Unlike western wedding gowns, the clothing exposes less skin while maintaining the bride's grace and beauty.
17. Egypt
Egyptians invented the notion of legally and spiritually binding oneself eternally. White is the color of grief. As a result, the Egyptian bridal dress takes rich gem colors as inspiration. The headdress emphasizes the royal appearance of the jewel-colored gown. This crown is ideal for the occasion. The crown ritual is comparable to that of Greek weddings.
18. Philippines
Yakan brides, who are from the southern Philippines, are known for using thick, colorful textiles in their wedding gowns. Her outfit, bottoms, and head scarf all include geometric patterns. Using a bamboo and flour combination, the couple's faces are adorned with diamonds and circular patterns.

19. America
In Western societies, brides wear white wedding gowns. Queen Victoria promoted them throughout her reign. Crystals, lace, belts, and other embellishments are utilized to decorate these gorgeous dresses. Adding a beautiful see-through veil to make it even more delightfully huge. Furthermore, the groom taking possession of his loving wife is symbolized by removing the veil.
There is a variety of white gowns that the American brides wear on their wedding day:
• Ball gown offers the ideal pinched waistline with a voluminous skirt and fitted upper body. Overlay your ball gown with additional fabric such as tulle or lace for a more dramatic effect.
• A mermaid gown: one of the most dramatic but flattering if you want to show off your curves on your wedding day. A mermaid dress, which fits through the top, can also give the illusion of an hourglass shape if you have a slender or tiny form.
• A trumpet silhouette: A trumpet silhouette is comparable to a mermaid silhouette but with more excellent room for comfort. This dress will fit snugly through the chest and waist before flaring out slightly above the knees. A trumpet design is ideal for brides who want to show their curves while still moving around the dance floor!
• If you're not quite ready for a spectacular ball gown, an A-line silhouette is a nice compromise. This silhouette flatters almost everyone while still allowing you to move, dance, and mingle with your guests. You may add an overlay to your skirt with decorated flowers, beads, and other elements for extra flair.
• Backless wedding gown: For brides seeking a more basic silhouette, a backless dress may be an excellent option to add a touch of added elegance. You may add ornate embellishments to capture attention or keep it simple with a neutral-colored cloth in the back for your grand departure.
• Sheath wedding gown: The slender silhouette of a sheath gown is ideal for brides with tiny figures. This formfitting shape may be worn in almost any fabric, such as lace, satin, or even embroidered beading. Its design is also pretty comfortable to move about in, so you won't feel restricted all night.
• Tea-length wedding gown: If you're going for a look with a "something old, something new'' vibe, this ankle-grazing silhouette is for you. The tea-length wedding gown is the ideal compromise between fashion-forward and traditional views. Its distinct antique charm adds to its allure. A tea-length dress is an unusual decision that reveals a lot about the bride's personality: Brides going for a private ceremony, a brunch wedding, or a simple-but-beautiful register should select this length. It can also be readily recycled after your wedding.
20. Ghana
The traditional kente material used to make Ghanaian brides' costumes typically has elements of yellow and gold in them. Originally intended for the monarchs, kente has now evolved into a bridal accessory.
Wedding Dresses: Frequently Asked Questions
• What is the most flattering wedding gown silhouette for plus-size brides?
A-line wedding gowns are the most universally flattering, with a nipped-in waist for form and a flared skirt for ease. Trumpet designs provide the same advantages but with a more body-skimming approach for people who want to show their curves.
• What is the ideal wedding gown silhouette for expecting brides?
Trumpet and Mermaid wedding gowns are ideal for displaying a developing baby bulge while supporting the tummy. Empire waist silhouettes (think A-line designs that nip in directly under the bust and flare out from there) are ideal for hiding the bump.
• What is the most common wedding gown silhouette?
Ball gowns and A-line forms have always been the most popular wedding dress shapes.
Conclusion
Weddings are always significant events in any culture because they represent the joining of families and the formation of a larger community. Classic bridal gowns became fashionable in the nineteenth century, courtesy of Queen Victoria. She was the first lady in history to wear a white wedding gown. Women before her picked traditional attire or a dress that was fashionable at the moment. It is now uncommon to see a bridal gown that is not white. Young couples in various cultures, particularly in Asia and Africa, choose traditional wedding gowns. As a result, BridalFusion.com has gathered conventional wedding dresses for the brides wearing traditional wedding dresses worldwide.