Best Tips To Ace Your Wedding Hair & Makeup Trial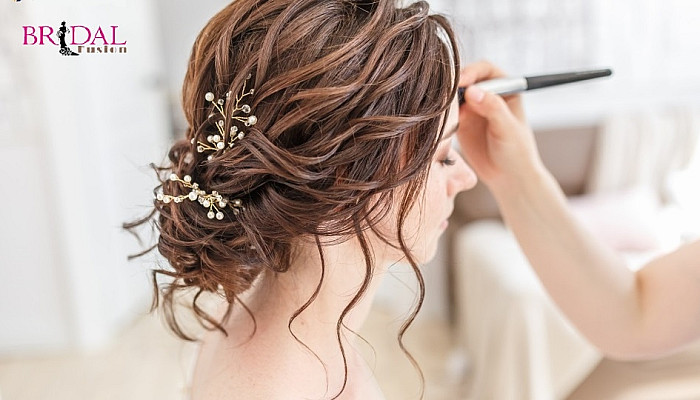 You're finally getting married! We are all so excited for you. Of course, you are going to need a fool-proof beauty team to make you feel like Kate Middleton, beautiful, elegant, and confident as you walk down the aisle.
This is why you really need to think about getting a wedding hair and makeup trial first. They are a rock-solid way to ensure your wedding is unforgettable in the eyes of people! But, this is your first time to everything, don't worry. BridalFusion brings you powerful tips to ensure you will be acing the hair and makeup trial to get the most of your vision and budget.
What do you mean by a wedding hair and makeup trial?
Your wedding hair and makeup trial are like your dress rehearsal. You are going to be having a team of pros who will style you, give your tresses a royal treatment, apply your makeup phenomenally, and make you feel like a queen on your special day.
A trial is going to give you a preview of how you're going to look on your special day, makeup and hair included. This helps you keep everything under control and avoid any and all kinds of surprises on the big day.
How do I make the most of my hair and makeup trial?
1. Start your preparations!
It is important that when you are coming together, you know the kind of look you are aiming for. Come prepared with some inspirational images of what you want to look like for your hair and makeup artists to see and understand. This also helps speed up the entire process and not be a hit-and-trial way to get things done.
You should, therefore, come with your dream look prepared in advance!
2. Wash and dry your hair before the day of trial
Before your trial appointment, ensure your hair is washed and dried up! This helps you avoid spending your entire trial getting a blowout done. And also, your hair just holds better the second day of your shampoo routine.
3. Don't forget your skin!
You should prep your skin before the trial. Stick to your basic skincare routine and ensure your face is well-moisturized to get the best results.
4. Dress up!
Believe it or not, the dress you wear for your trial will matter to give you an idea of how you'll look at your wedding. You don't have to wear your wedding outfit, but wear something nice and dressy. And also, by dressy, we don't mean to wear a cocktail dress. But just wear something that gives you a polished and pretty look overall. You need to dress confidently. Nobody wants to see how their makeup looks in a pair of leggings and a t-shirt.
Wear something similar to the color of your wedding dress to envision how you will actually look on the big day.
What you also want to be doing is replicate the neckline of your wedding dress as much as you can. If you can't find anything similar in your closet, just click a picture of your wedding dress and explain your neckline to your artist to make a better decision with your hair and makeup.
4. Wear your makeup throughout the day!
Well, if not the entire day, wear it for as long as you can. Keep your makeup on and see how it wears the whole day. Compare how it looked in the morning when you first applied it and then later during the night when you are going to take it off.
This gives you a good idea of how long your makeup will last on your wedding day and how it will actually look that day! Even if you will be partying during the evening of your wedding day, your makeup and hairstyle should stay put flawlessly.
5. Go out and about!
Go out for dinner and drinks with your full face of makeup. Look pretty the entire day. Make it a day you'd remember forever. Not only will it help you test the longevity of your makeup and hairstyle, but it also gives you an excuse for a great night out!
You also get to test if your makeup budges with wine, cocktails, and food!
6. Bring along your veil or hair accessories.
Bring them along for your hair and makeup trial if you are looking forward to wearing your veil or other hair accessories on your wedding day. It is going to be a vital part of your overall look. Therefore, it is essential to take all of that into consideration when making decisions.
7. Bring along something specific.
Bring any of your favorite products if you want to. Is there a lip shade you want to wear on your special day? Or is there a moisturizer or foundation that caters to your sensitive skin? Bring it along for the trial. This gives your artist an idea about your preferences and specifications.
8. Don't be afraid of speaking your mind!
If there is anything you should take from this entire article, let this be it: Give your artist honest feedback on whether you like their work or not. Don't be afraid to speak your mind. This is what a trial is all about. Your artist must know what is right and wrong, so you don't get upset with anything on your special day.
Your trials are definitely not the time to shy away from anything. So, be explicit about everything.
9. Question everything
Another thing you must do on your hair and makeup trial day is ask many questions. Ask for all kinds of tips, ask for the product names, how to prepare your skin and hair better for the special day, and other things. Ask as many questions as you can, be it about yourself, the process of getting ready, logistics, timings, the kind of lighting required, payment methods, getting your bridal party-ready, and then some more!
This gives you the chance to really get to know what to expect on your wedding day, so no surprise bombs are being thrown your way on your special day.
10. Take weather into consideration.
When you are making any plans about your hair or makeup, consider the weather as well. Weather will play a major role in how your hair and makeup will look the entire time that day.
So, if it is a summer wedding and you sweat a lot, you'd probably want to stay away from down styles. Or if you are getting married somewhere near the ocean, where there's a lot of humidity, your hair might frizz up. They might not hold curls better. Just consider the climatic conditions of the day and then decide what needs to be done.
11. Consider your budget
Most brides are really shocked at the actual cost of hair and makeup trials. It is not often calculated and included in the budget for the wedding. This is an important consideration when you plan on having more than one trial or are confused between two different artists.
So, before booking someone for your wedding hair and makeup trial, ask them their price. This way, you'd get an idea of whether or not you can afford them in your budget.
Also, ensure to ask your trial artist the time they will allow for hair trials. Most people leave time for just one look, which leaves brides pretty disappointed since they were hoping to try some more styles.
12. Schedule another trial if you are not satisfied
Most brides usually need only one trial to know what works for them. However, if you are not totally pleased with your overall look, try scheduling a different trial appointment. You might not be feeling like yourself that day; you might be wearing the wrong clothes, you might feel moody, you might not feel as confident.
We are all women, and we are bound to have a rush of complex emotions going on for us at all times! It's okay if you did not feel perfect in your very first trial. Even if it was a minor disruption in your plan, try to adjust it and ensure you get it right the second time. This is important to ensure your wedding day goes smoothly, as planned.
There you go; this is what you should do to ace your wedding hair and makeup trial. Just keep calm, look glam, be happy and keep shining! Follow the BridalFusion blog for more such tips!