5 Brilliant Waterproof Makeup Hacks You Need To Know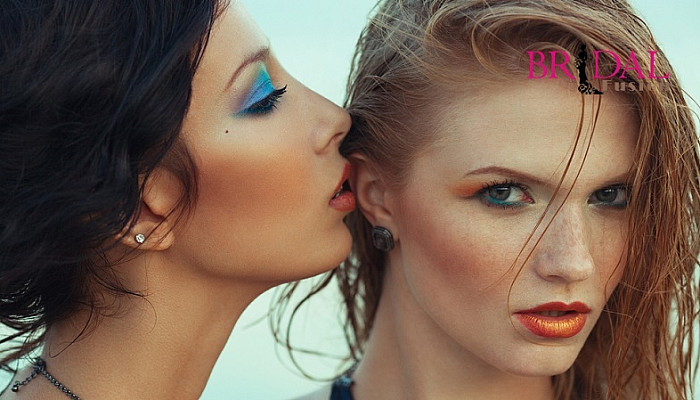 You've certainly tried waterproof mascara or lipstick before, but have you ever worn waterproof makeup...in the water? No, I guess. But, during a particularly steamy summer, when you hit every bathroom break fixing the sad, smudged eyeliner and tapping the concealer out of the wrinkles, have you ever thought whether the whole waterproof thing is real?
BridalFusion.com gathered the best waterproof makeup products and tested them by immersing our faces in the water to reach the bottom of the line. And what we discovered turned us into huge fans of waterproof makeup, and now we are on a mission to bring you the latest hacks and best formulas in the makeup industry. So, let's get started.
Hack 1- Choose the correct base-makeup
The searing heat of summer has passed, but the humidity has not. If you want a base that can withstand the elements of nature, this hack is a saving grace. It's recommended to use powder foundations rather than liquid foundations because the latter would fade quickly due to the humidity. If you use a liquid foundation, set it with translucent powder to fully seal the base. The Bobbi Brown Pressed Powder, MAC Studio Fix Powder Plus Foundation, and Cover FX Women's Foundation provide buildable coverage with a matte finish.
Use a light, breathable foundation that won't clog your pores to fight the humidity outside. Use the YSL Touche Éclat All-In-One Glow Tinted Moisturizer enriched with hyaluronic acid, Vit E, and antioxidants to lend shine. As a general guideline, start with a primer and fix your makeup with a setting spray before venturing out.
Pro Tip: Instead of soaking your sponge in water to moisten it, spritz it with setting spray to help lock in your foundation while blending it in. We recommend one of the lighter or more buildable waterproof foundations for softly leveling out your complexion without seeming like you're wearing a mask.
Hack 2. Smudge-proof eye makeup
Some things make no logical sense; for example, why people would not choose to apply waterproof eyeliner daily is beyond my comprehension. Eyes get wet because that's what they do! So don't skip this section unless you're digging that cry-face look. If you're a liquid-liner-till-I-die person, Inglot's AMC eyeliner and Aqua XL eye pencil are the most suitable items for this hack.
Pro Tip: You can still make your waterproof eyeshadow using one of the waterproof pencils or gel eyeliners (most of them come in various colors, so we're not talking about an all-over goth lid). Simply scrawl the eyeliner on your eyelids, then rapidly blend it with a fluffy blending brush before it hardens, and voila, your eye waterproof eye shadow is done!
Hack 3. Best Waterproof Mascaras
Have you ever noticed how waterproof mascara helps your lashes keep their curl longer? Because most waterproof solutions incorporate wax to make them water-resistant, so you get lashes that stay curled until you wipe the makeup off. If your lashes are too straight to curl, consider one of the waterproof mascaras, which will also volumize and lengthen without flaking or smearing. You can use Maybelline's Lash Stiletto Ultimate Length Waterproof mascara or Revlon Volumizing Mascara to get the high-density eyelash look.
Pro Tip: The most unpleasant aspect of waterproof mascara is how difficult it is to remove. So, first and foremost, make sure you're constantly using an oil cleanser to remove your makeup (no, don't worry about any breakouts; it just dissolves makeup really efficiently). Then, the next time you go for your waterproof mascara, layer it over your regular mascara to make the formula simpler to break down later.
Hack 4. Best Waterproof lipsticks
Waterproof lipsticks are easy to find these days, thanks to the liquid lipsticks trend from 2016. If you want anything different than a matte lipstick, consider a lip liner or a lip stain, which will give you color without making your lips dry. While you're at it, dab a bit of that stain on your cheeks and mix it with a makeup brush for a waterproof blush. BECCA Ultimate lip definer and Maybelline SuperStay Matte Ink Lip Color are absolute waterproof makeup staples, ideal for any season.
Pro Tip: Try out the Danessa Myricks' Colorfix Eye, Cheek, and Lip Cream Pigment, and you will know how long this multi-purpose item lasts. Colorfix's already impressive range has been expanded with six additional metallic shades. The highly pigmented liquid glitter products may be used on the eyes, cheeks, and lips and dry rapidly to reveal a long-lasting, smudge-proof, waterproof, and humidity-proof finish.
Hack 5. Waterproof your everyday makeup
Aqua Seal is a small magic elixir that transforms all of your conventional powder items into waterproof makeup compositions.
It is a perfect product to be part of your regular makeup regimen. A short spritz immediately before you walk out of the door will do wonders to ensure that your makeup stays in place. It keeps smudges and stains at bay for up to 16 hours, owing to a unique technology that reduces the makeup's temperature to help set it. However, be assured that it still feels completely weightless and unnoticeable.
Pro Tip: Simply combine some Aqua Seal with your regular powdered makeup, such as eyeshadow or highlighter, and apply it like a cream shadow. This will turn your makeup completely smudge-proof and waterproof.
Conclusion
Waterproof makeup comes in handy in all seasons. However, it's the monsoons that demand the most attention. You might want to reconsider if you think you would give your skin a break after coping with the blazing summer heat. Even if you manage to avoid the intermittent downpours, the ever-present humidity has other plans for you. If you're ready to say goodbye to drippy, runny makeup, pay close attention to the waterproof makeup hacks in this article to ensure that you get through the season without any smudges or streaks.