Timeless Vintage Wedding Ideas for a Classic Touch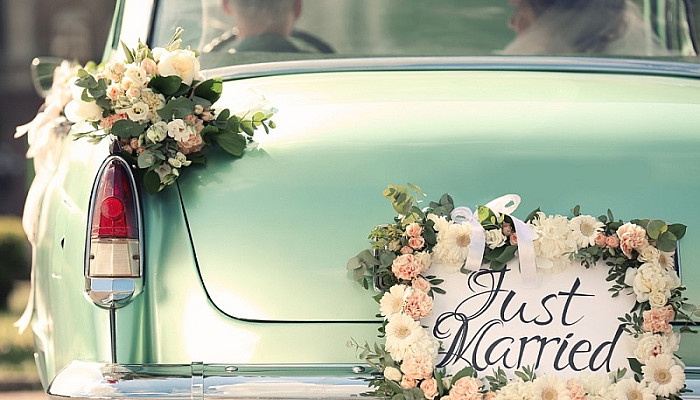 Vintage wedding ideas have become increasingly popular in recent years, as many couples seek to add a touch of nostalgia and timeless elegance to their big day. Whether you're a lover of all things vintage or simply want to add some unique and personal touches to your wedding, there are plenty of vintage-inspired ideas to choose from. From retro-inspired dresses and hairstyles to vintage decor and music, the possibilities are endless.
Most Inspirational Vintage Wedding Ideas
Vintage Wedding Dresses
When it comes to vintage wedding dresses, there are many styles to choose from. A popular choice is the 1920s flapper style, which features beading, fringe, and a loose silhouette. Another popular vintage style is the 1950s tea-length dress, which is perfect for an outdoor or garden wedding. For a more formal affair, consider a 1940s-inspired gown with a fitted bodice and full skirt.
Vintage Wedding Accessories
No vintage wedding is complete without the perfect accessories. Vintage-inspired jewelry is a great way to add a touch of glamour to your wedding day look. Consider a pair of chandelier earrings or a delicate vintage-inspired necklace. Hair accessories are also important, such as a birdcage veil, fascinator, or flower crown.
Vintage Wedding Decor
The key to creating a vintage-inspired wedding is to focus on the details. The antique-inspired decor is a great way to achieve this. Consider using vintage glassware, candlesticks, and vases. Incorporate vintage books or photographs into your decor, or use vintage suitcases as props. For a rustic touch, use burlap and lace for your table runners and chair sashes.
Vintage Wedding Invitations
Set the tone for your vintage wedding with the perfect invitations. Consider using vintage-inspired fonts and colors, and include a vintage image or design element. Use high-quality paper with a matte finish, and consider adding a ribbon or twine for a finishing touch.
Vintage Wedding Cars
Arrive in style with a vintage wedding car. A classic car like a 1950s Chevy or a vintage Rolls Royce is the perfect choice for a vintage-inspired wedding. Make sure to decorate the car with a "just married" sign and ribbons in your wedding colors.
Vintage Wedding Music
Set the mood with vintage-inspired music. A live jazz band is a great option for a 1920s-inspired wedding, while a swing band is perfect for a 1940s or 1950s wedding. For a more laid-back affair, consider a bluegrass or folk band.
Vintage Wedding Favors
Send your guests home with a vintage-inspired favor. Consider giving small bottles of homemade jam, vintage handkerchiefs, or personalized candles. Vintage-inspired photo frames or coasters are also great options.
Vintage Wedding Food and Drinks
Food and drinks are a great way to incorporate vintage style into your wedding. Consider serving classic cocktails like martinis, Manhattans, or old-fashioned. For food, serve classic dishes like beef Wellington, chicken cordon bleu, or shrimp cocktail. Consider a dessert table with vintage sweets like cupcakes, macarons, or mini pies.
Vintage Wedding Ideas That Won't Break Your Budget
Choose a vintage-inspired venue
A vintage wedding theme calls for a venue that has character and charm. Look for unique locations that have vintage architecture, such as a historic mansion or a barn. These venues often have their own vintage decor, which can help you save money on decorations.
Shop at thrift stores and flea markets
Thrift stores and flea markets are a treasure trove of vintage finds. Look for vintage picture frames, candle holders, vases, and other decor items that fit your theme. You can also find vintage clothing and accessories for the bridal party.
Use vintage books as centerpieces
Vintage books can make beautiful and unique centerpieces. Stack them up and tie them with a ribbon or twine. You can also place flowers or candles on top of the stacks to add a romantic touch.
Rent vintage furniture
Renting vintage furniture can be more cost-effective than buying new pieces. Look for rental companies that specialize in vintage furniture and decor. You can rent vintage sofas, chairs, tables, and other items to create a cozy and elegant atmosphere.
Incorporate vintage china and glassware
Vintage china and glassware can add a touch of elegance to your wedding reception. You can rent these items or look for them at thrift stores and flea markets. Mix and match different patterns and colors to create a unique and eclectic look.
Use vintage suitcases as decor
Vintage suitcases can be used as decor throughout your wedding. You can stack them up to create a makeshift table or use them as a prop for your wedding photos. You can also fill them with flowers, books, or other vintage items to add a personal touch.
Choose vintage-inspired invitations
Vintage-inspired invitations can set the tone for your wedding. Look for invitations that have a vintage font or design. You can also use vintage postcards or photographs to create your own invitations.
Use vintage photos as decor
Vintage photos of family members or the bride and groom can be used as decor throughout the wedding. You can display them on a vintage ladder or hang them on a string with clothespins. These photos can add a personal touch to your wedding and make your guests feel more connected to your family history.
Serve vintage-inspired food and drinks
Vintage-inspired food and drinks can add a touch of nostalgia to your wedding. Serve classic cocktails like martinis or Old Fashioneds. You can also serve vintage-inspired desserts like cupcakes, macarons, or mini pies.
Wear vintage-inspired attire
Vintage-inspired attire can complete the vintage wedding look. Look for vintage-inspired dresses, suits, and accessories for the bridal party. You can also encourage guests to dress in vintage attire to create a cohesive and immersive experience.
Vintage Wedding Dresses: Finding the Perfect Gown for Your Big Day
Start with Research
Before you begin your search, its important to have an idea of what youre looking for. Spend some time researching different vintage styles, and find inspiration in old movies, photographs, and magazines. This will help you narrow down your options and give you a better idea of what you want.
Determine Your Budget
Vintage wedding dresses can range in price from a few hundred to thousands of dollars. Determine your budget before you start your search, and stick to it. Dont forget to factor in any alterations that may need to be made to the dress.
Consider Your Wedding Theme
Your vintage wedding dress should complement the overall theme of your wedding. Consider the venue, the decor, and the overall ambiance youre trying to create. For example, a 1920s-style flapper dress would be perfect for a Gatsby-themed wedding, while a 1950s tea-length dress would be better suited for a garden or backyard wedding.
Shop at Vintage Bridal Boutiques
Vintage bridal boutiques specialize in vintage wedding dresses from various eras. These boutiques often have a wider selection of vintage dresses than traditional bridal shops. They can also provide valuable information about the history of the dress and the era it comes from.
Shop Online
If you cant find a vintage bridal boutique in your area, consider shopping online. There are many reputable online retailers that specialize in vintage wedding dresses. However, be sure to read reviews and check the return policy before making a purchase.
Consider Alterations
Its rare to find a vintage wedding dress that fits perfectly off the rack. Consider alterations when trying on dresses, and factor the cost of alterations into your budget. Be sure to work with a seamstress who has experience with vintage dresses.
Try on Dresses in Person
Its important to try on vintage wedding dresses in person before making a purchase. Vintage dresses can be made from different materials and have different sizing than modern dresses. Trying on dresses will help you find the perfect fit and determine if any alterations are needed.
Dont Be Afraid to Mix and Match
If you cant find the perfect vintage wedding dress, consider mixing and matching vintage pieces. You could pair a vintage lace blouse with a modern skirt or wear a vintage veil with a modern dress. Mixing and matching can create a unique and personalized wedding day look.
Consider Your Comfort
While vintage wedding dresses are beautiful, they may not always be the most comfortable option. Consider the fabric, the weight of the dress, and the amount of movement youll need throughout the day. You want to be comfortable and able to move around freely on your wedding day.
Trust Your Instincts
At the end of the day, the most important thing is that you feel beautiful and confident in your wedding dress. Trust your instincts and choose the dress that makes you feel the most like yourself.
Conclusion
In conclusion, vintage wedding ideas offer a wonderful way to add charm, personality, and a sense of timelessness to your special day. Whether you're planning a rustic barn wedding or a glamorous ballroom affair, there are endless vintage-inspired ideas that can help you create a unique and unforgettable celebration. From vintage-inspired dresses and decor to classic cars and antique accessories, the options are endless. So if you're looking for a way to add a touch of nostalgia and elegance to your wedding, consider incorporating some vintage elements and let your creativity shine through. A vintage wedding is sure to be a day that you and your guests will remember for years to come.
FAQs
What is vintage wedding style?
Vintage wedding style refers to a wedding theme that incorporates elements of past eras, usually from the early 20th century. It often features lace, pearls, and other delicate fabrics and materials. The vintage wedding style can range from the 1920s flapper era to the 1950s pin-up girl style. This style is characterized by a sense of nostalgia and romance, with a focus on timeless elegance and sophistication.
What are the elements of a vintage wedding?
The elements of a vintage wedding typically include vintage-inspired wedding dresses, dcor, and accessories. Lace, pearls, and soft pastel colors are common in vintage weddings. Floral arrangements with roses, peonies, and other delicate flowers, as well as vintage-inspired centerpieces, add to the overall ambiance. Vintage music and classic cocktails are often incorporated into the reception, and a traditional cake with intricate lace details is a popular choice for dessert.
What is a modern vintage wedding theme?
A modern vintage wedding theme combines the timeless elegance of vintage style with contemporary elements. This theme often features a muted color palette with a pop of bold color, mixing vintage details such as lace and pearls with modern materials like acrylic and metal. The bride may wear a vintage-inspired gown with a modern twist, and the dcor could include geometric shapes and metallic accents. Overall, the modern vintage wedding theme is a fresh take on a classic style.