15 Top Bachelorette Party Games And Ideas You Will Love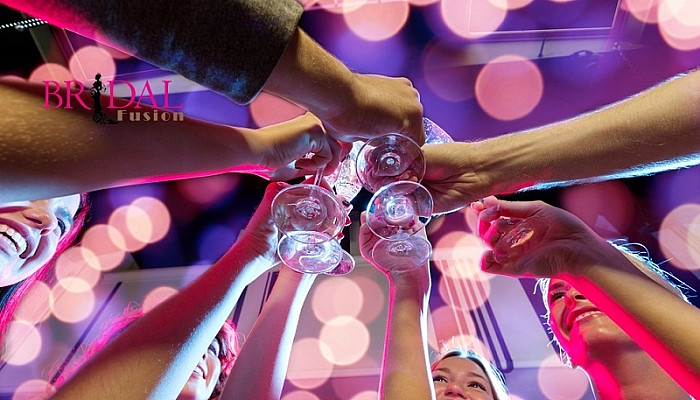 Have you ever been to a bachelorette party where you didn't know anyone except the bride? While bachelorette weekends are always a lot of fun, they may be awkward at first, as the pals from both sides (bride and groom), both old and new, get to know one another. So, how do you start a conversation? With bachelorette party games, of course!
Whether you are planning a co-ed bachelorette party or only brides or grooms party, these fun guessing games, scavenger hunts, and photo booths are a terrific way to spend quality time with your best friends. So, to assist you, we've compiled a list of fifteen of our favorite bachelorette party game ideas that the bachelorette gang will enjoy. Let's get this party started!
1. Quiz the bride
Here's an entertaining bachelorette party game that includes the bride's spouse. Have the bride's future spouse answer these twenty questions about her before the bachelorette weekend, such as "what's her favorite movie?" and "what's her favorite color?" During the party, gather the bridesmaids and have the bride answer the same questions to discover how well these soon-to-be-weds know each other. You may up the ante by making the bride drink for every incorrect question her companion answers!
2. Bachelorette Scavenger Hunt
Take a print out this bachelorette scavenger hunt game for a list of dares and tasks that the bride-to-be must complete during her bachelorette weekend. You may make it a competition by dividing into teams and seeing who can complete the most tasks in the shortest period or has the most excellent overall score over the weekend. Make a snapshot of each accomplished task—they'll be amusing recollections for years to come.
3. Bachelorette Guess game
Are you familiar with all the party members? Suppose not everyone in your party knows each other. In that case, this game, which also serves as a wedding shower game, is a terrific icebreaker. Give each visitor a list of "this or that" questions about the bride-to-be, and when everyone has completed the questions, the bride can respond to each, indicating who knows her best. Whoever has the most accurate answers wins (this is an excellent opportunity to give them one of your bachelorette party favors!).
4. Kissing the bae game
It's a grown-up version of Pin the Tail on the Donkey! Suppose everyone in your group knows the bride's future spouse exceptionally well. In that case, this personalized kiss poster is one of the most incredible bachelorette party games. Before attempting to land a kiss on the lips, each participant puts on a new lipstick application and a blindfold. You'll undoubtedly laugh as you watch each participant struggle to strike the target.

5. Memory game
If you're looking for a nostalgic bachelorette party game, this is it. Give each guest a pen and one printable game card, on which they may pen down their best memory of the bride. After everyone has finished, the bride reads each memory aloud and must guess who wrote it—then she must share the narrative with the rest of the squad. It's a terrific bonding activity that, depending on the story, could even make you chuckle.
6. The Burn Book Game
To ensure that your bachelorette party will be one to remember, you'll need this Mean Girls-inspired invitation to help set the mood. A burn book is given to each team member, and this book is then circulated to the group. Each player has a turn writing a secret about one of their pals. The idea is to maintain complete anonymity, which sounds simple enough. Whether or not you were exposed to this pop-cultural phenomenon as a youngster, this bachelorette party game is for you and your friends to spill all the secrets and make your bachelorette memorable.
7. Bring on the Gifts
Offer rewards for your bachelorette party games to make them more fun. You don't need to pick up expensive prizes if you already provide bachelorette party goodies. Start shopping for bachelorette party goodies to make it affordable.
8. Sporting Events
Even if you enjoy sports, you may not always want to participate. Tickets to a major sporting event may be a fantastic pre-wedding present and an ideal way to spend a bachelor party for sports aficionados. It will be great if you can upgrade the party's tickets or combine them with a bar crawl for an unforgettable evening.
9. Bridal Paintball
Going to the paintball range may be a terrific opportunity for the bride-to-be (and potentially her husband) to take off some pre-wedding tension while having a great time with the people they love! To double the fun, make sure everyone wears white -- thrift store gowns and suits if you're feeling brave, or Team Bride and Team Groom t-shirts! The paint-splattered garments make an excellent prize, and it's simple to award points to whoever is the least splattered! Make sure to organize a feast to celebrate the end of the ceasefire!
10. Junk in the trunk
This is an excellent game for staying in or going out. Each participant takes turns wearing the "trunk," a tissue box strapped around their waist, and grooves to their favorite music! The other bachelorette party participants must attempt to hurl ping pong balls into the box while anticipating their dancer's nasty movements! Use different colored balls and keep track of who gets the most in! If you want to take your gang out, the winner will receive free drinks for the night or a Bride Squad shot glass instead!

Bachelorette Party Drinking Games
11. Lick and Slick
This bachelorette party game requires only a deck of cards. The game begins with two players facing each other across the table. Each person closes their eyes and chooses a card from the deck, licks the back printed side, and attaches it to their forehead, number facing out. After seeing their opponent's card number, each player must estimate whether their card is more significant or lower than the other—whoever gets it wrong must drink.
12. Never Have I Ever
This game is unquestionably essential for any girl's night out, especially for a bachelorette party. Begin with the bride-to-be and walk in a circle expressing things you've never done before. The person who has done it is given a drink, and the game goes around in the circle.
13. Beer Pong
It is one of the classic bachelorette party games that will transport you back to your college days. It would be best if you had a few red solo cups, a few ping pong balls, and your favorite beverage. (If you prefer, replace the beer with spiked seltzers or champagne.) Divide into teams and show off your most fabulous trick shots.
14. Drink or Tell
The truth always comes out... that is the mantra of any bachelorette party drinking game. Before the trip, make a list of amusing (or naughty) questions and have your team disclose their secrets. During this entertaining bachelorette party game, you never know what you'll uncover about your besties.
15. Spin the bottle
This spin-the-bottle game takes a humorous twist on a game we all remember from high school, but without the kissing (unless you're brave enough!) With a drink in hand, each player must spin the bottle and follow the instructions based on where the bottle points. This is a terrific game with the notoriously dynamic crowd, including everything from embarrassing deeds to revealing questions! Combine it with one of the truth and dare games to get your party going!
Conclusion
Selecting suitable games will set the tone for your bachelorette party. It is all about adding some fun and laughter to the occasion! Just make sure to involve everyone present, and you will have an unforgettable party to cherish for a lifetime.