Traditions of Bachelor Parties |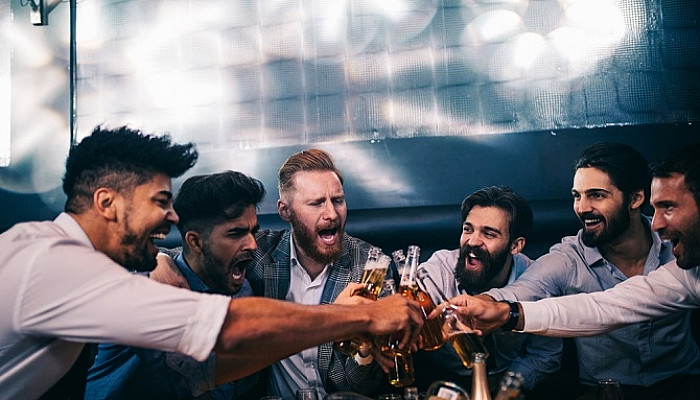 Traditions of bachelor parties
A bachelor party (also called a stag party, stag night (United Kingdom, Ireland, Canada, and New Zealand), bulls party (South Africa) or bucks party, bucks night (Australia)) is a party held for a bachelor shortly before he enters marriage, to make the most of his final opportunity to engage in activities a new wife might not approve of, or merely to spend time bonding with his male friends (often in his wedding party afterwards).
A bachelor party may involve activities beyond the usual party and social gathering ingredients (often drinking alcohol and gambling), such as going to a strip club, hiring a female stripper or escort, and in some traditions more hazing-like tests and pranks at the future groom's expense, which shows the whole thing is also a rite of passage from bachelorhood (associated with an adolescent lifestyle, often in the common past of most participants, e.g. in their student years) to (more 'responsible') marital life.
The task of organizing a bachelor party is often traditionally assigned to a male sibling of the bachelor or to the best man; otherwise any (close and/or reputedly party-minded) male friend will organize it.
Bachelor parties have also been the subject of many movies, especially comedies.
Bachelor parties around the world
United Kingdom (UK)
In the United Kingdom it is now common for the bachelor party to last for more than one evening, hence the increasing prevalence of the phrase "stag weekend". A spin off has been the growth of the Stag Weekend Industry in the UK with various companies taking the "hassle" out of the weekend. It has also become increasingly common for a stag party to include some form of activity such as paintballing or motorsports rather than just drinking.
In the United Kingdom, stag weekend trips are becoming mini-holidays with the groups taking part in various day time activities as well as the expected night out on the town and the inevitable strippers. Popular UK destinations include Blackpool, Brighton, Bournemouth, Newcastle, Nottingham and Edinburgh. There is now a growing trend for stags to go abroad, with Dublin and Riga topping the list, followed by Prague, Vilnius, Amsterdam and Maastricht.
United States
In the United States, Las Vegas,Nevada, South Beach ( Miami), Florida, and Atlantic City, New Jersey are popular bachelor party destinations. Bachelor parties in the United States are quite the same as those outline in the bachelor party traditions above.
Australia
The groom's 'mates' may, after all getting drunk, subject him to various humiliations and/or endurances, sometimes even in public, such as leaving him tied to a pole.
Canada
Canadian cities such as Montreal or Vancouver are popular bachelor party destinations due to their large number of strip clubs with "danse contact" (lap-dancing). The female equivalent of a stag party in Canada is often known as a "stagette" or "doe." party
Malta
In Malta, the bachelor's male friends frequently take the bachelor out and get him drunk, then treat him to a night of jovial abuse. For example, it is common for the bachelor to end up naked and tied to things, such as monuments in roundabouts or at the front door of his future mother-in-law.
Bachelorette parties at Night
It has also become common for a similar party to be held for the bride-to-be. This is known as a bachelorette party or hen night.
A tame version is the so-called Stag and Doe party, in which both the bride and groom attend. Refer to sitemap for futher information on bachelorette parties.