Ideas For Banquet-Style Table For Your Wedding Reception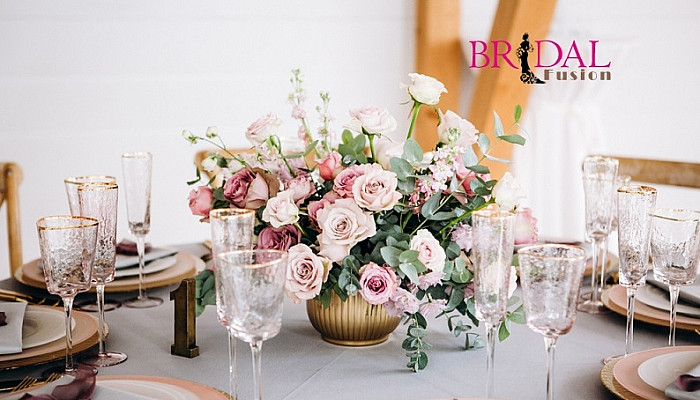 When planning your wedding reception, one question is whether you should use a banquet-style table setup. Though seemingly unimportant, this can tremendously impact how your visitors enjoy the event. Whether or not you choose to go with a banquet-style format could have implications on how many people you can invite and the layout of your reception space.
It's worth taking the time to consider which option works best for you and your guests so that your special day goes off without a hitch. With the help of this article, you will be able to consider the pros and cons of a banquet-style arrangement. Let's begin.
What is a Banquet-Style Table Setup?
A banquet-style table setup is an arrangement where guests are seated at long tables rather than round cocktail-style tables. This style is most often used for significant events with many guests, like weddings. A banquet-style table setup can accommodate more guests than a cocktail-style setup because there is more room.
A banquet table won't be necessary if you're hosting a much smaller event, like a birthday party or family get-together. Banquet tables can come in a variety of sizes. Most commonly, you'll find 8-foot tables. You may also see 6-foot tables, which are more common for cocktail-style setups.
Why Should You Use a Banquet-Style Table Setup?
Depending on your guest list, a banquet-style table setup may allow you to invite more people to your wedding reception. A standard round table seats 10 people, but a banquet table can seat more people without feeling cramped.
Choose a banquet table over round tables. You probably won't be able to fit as many people at each table, though. For example, if you have 6-foot tables, they will hold fewer people per table than standard round tables. However, the advantages of a banquet table could outweigh the decrease in seating capacity.
If you're hosting your reception in a large room with a few round tables or want to create an elegant, modern vibe, a banquet table setup may be the better option.
When Should You Not Use a Banquet-Style Table Setup?
If your reception is in a small space, or if you're trying to create a cozy vibe, a banquet table probably won't be a good fit. If you're using round tables, they take up less space than banquet tables, so your guests will feel more contained, and the room will have a more intimate vibe. If you're hosting your reception in a small space, such as a hotel ballroom, banquet tables won't work well because there isn't enough room for them.
Pros of Using a Banquet-Style Table Setup
- Allows more people to fit at each table. Your guests will feel more comfortable because they have more space between them and the people around them.
- Allows for more flexibility in seating. With a standard round table, you can fit only 10 people no matter what—but with a banquet table, you can seat anywhere from 4 to 16 people.
- Makes it easier to seat odd-numbered tables. If you have one odd-numbered table and one even-numbered table, it can be challenging to seat them together at round tables.
- Makes it easier to serve food and drinks. At round tables, it's challenging to walk around the table to serve guests—but with a banquet table, servers can walk right down the middle of the table.
Cons of Using a Banquet-Style Table Setup
- Makes it more challenging to create a theme. Round tables are great for creating a theme, like a table for dogs or couples.
- Can lead to awkward seating. Since you can seat more people at a banquet table, guests may have to sit next to people they don't know.
- It may be difficult to find tables that match your decor. Round tables are available in various vintage, rustic, and modern styles. Banquet tables are more limited in their design options.
- May be difficult to fit into your reception space. Banquet tables are generally wider than round tables and may obstruct aisles or walkways.
Banquet Tables Ideas For Your Reception
Embellish linens with plants
Who says you only need one runner? Use two layers of foliage and luxurious organic linen to set the mood, and then line the length of the table with as many candles as possible.
Create a passionate ambiance
We're big fans of the long, rustic reception table decked with bright floral centerpieces, shabby candles, and various table settings. This style might work well in a converted factory, warehouse, or urban brewery.
Splashy hues
Make a statement with your long tables by covering them in a linen of contrasting colors, like a vibrant coral. The floral garland is a nice finishing touch that complements the linens. Be cautious to keep the remainder of your decor more subdued to avoid an overpowering effect.
Experiment with structure
You may add some flair to your wedding celebration with a patterned tablecloth. We like how the faint blue color pops against the bright blooms.
Create variations
An attractive design for a long table can be achieved by adding subtle differences at regular intervals. We like how the flowers throughout this tablecloth are displayed in various containers and how just part of the candles are set in hurricanes.
Adorn with beautiful decorations
Flowers during your reception can be moved throughout the room instead of just sitting on the tables. We adore how the floral arrangements and lush foliage frame sit near the foot of the table.
Quick Tips For Decorating Your Reception Banquet Table
It is essential to consider the available area while planning wedding decorations, especially centerpieces and table decorations for banquet-style meals. Dining together is necessary, and no one wants to be unable to communicate with others across the table due to a massive centerpiece blocking half the table. Therefore, we suggest a low-lying centerpiece design that runs the length of the table, such as a revolving tablescape with flowers, leaves, greenery, candles, fairy lights, and tea light holders.
If your reception hall has high ceilings and you'd like to make a grand statement with your table centerpieces, consider using tall silver, gold, or cut glass candelabra to cast a glow from above and below. To create a convivial atmosphere and ensure that any towering centerpieces won't get in the way of conversation, you may need to leave space between the chairs and place settings.
Whether or whether you choose to decorate the chairs at your location is up to you. Chiavari and cross-backed chairs are stunning when draped in chiffon and adorned with exquisite brooches, foliage branches, flower heads, or ribbon ties. The chair back would look fantastic with chiffon woven into it for a more dramatic effect.
Consider the room's layout and whether guests can view both ends of a single long banquet table before deciding on its placement. Your table's base will be dressed up with a continuation of your table design, such as candles, extended greenery or floral runner, or even a combination of free-standing flower arrangements and floating candles. Neon signage that makes a statement is yet another great option.
Final Thoughts
If you're hosting a significant event, especially your wedding reception, a banquet-style table setup can be an elegant and efficient way to seat your guests. Round tables are more commonly used for smaller events when guests are expected to sit at the same table throughout the meal. Once you decide on a table style, you can choose where to place your tables based on the flow of your reception area and what your guests will be doing during the event.
Visit our blog BridalFusion.com for more ideas on where to place your tables, host wedding games, and activities, and organize cocktail hours, dessert tables, or photo booths.