Hydrangea Flowers for Your Wedding : The Ultimate Guide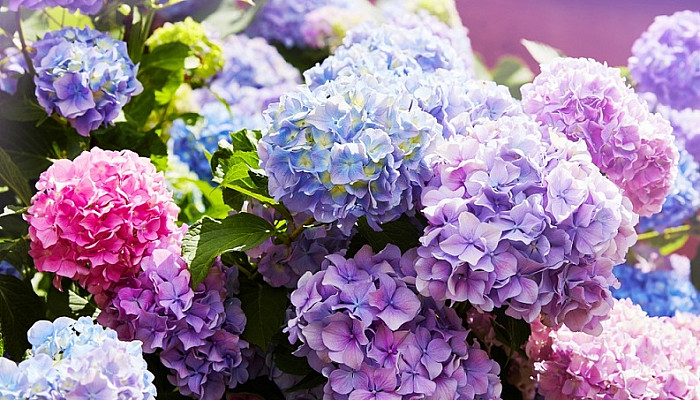 Looking for the perfect wedding flowers? Try hydrangeas! They're simple to incorporate into your wedding design and come in a wide range of colors. In fact, they're one of the most popular wedding flowers. Professional floral designers and many Gen-Z couples choose hydrangeas because they're a natural focal point for any wedding style and can be used as stand-alone statement pieces or as accent pieces in a larger arrangement. In this post, learn everything you need about hydrangeas for your wedding – including how you can care for them, the type of hydrangeas you should choose, and more!
What is a Hydrangea?
Hydrangeas are flowering shrubs in various colors, including pink, blue, white, and purple. You can also find hydrangeas with a combination of colors, like the blush and blue varieties or the pink and white varieties. Hydrangeas are a common choice for wedding flowers due to their abundance of colors, ease of care, and aesthetics. They belong to the hydrangea family and are closely related to other bedding plants you might have in your home, like the garden hydrangea.
Types of Hydrangeas for Wedding Flowers
The most popular hydrangea for wedding bouquets is the Hydrangea arborescens, also known as the oak-leaved hydrangea. These hydrangeas are what you typically think of when you imagine hydrangeas: large, round blooms in blue, pink, or white. Oak-leaved hydrangeas are the most common hydrangea, so they're easy to come by at florists and flower shops.
Alternative hydrangea options, such as the Japanese hydrangea (Hydrangea macrophylla), are available if you're looking for something truly special for your wedding; (Hydrangea macrophylla), the shrubby hydrangea (Hydrangea venusta), the climbing hydrangea (Hydrangea subsp. Anomala), and the strong-stem hydrangea (Hydrangea arborescence Endless Summer). You can also create unique hydrangeas by mixing and matching different varieties to create your own custom colors!
When To Use Hydrangeas In Your Wedding Ceremony?
As a bride, you want to include flowers in your ceremony that are both beautiful and meaningful. Hydrangeas make great additions to bouquets and floral arrangements for your wedding ceremony. Use them to incorporate your wedding theme or colors, or choose a variety of hydrangeas for different scents based on their unique colors and various uses! Hydrangeas are often associated with spring, making great flower choices for early spring or late-fall weddings.
Hydrangea Bouquets
A hydrangea bouquet is stunning on its own, but it's even more stunning when combined with other beautiful flowers. You will require two or three pom-pom-like beauties for a full bouquet, making them a cost-effective choice. You can use them as a bright splash of color or choose a pastel shade for a more muted effect.
Hydrangea Color Pairings
Bring On The Drama
A dramatic bouquet always gets our vote. The bouquet's focal point is the cone hydrangeas intertwined with white lilies, orchids, and tulips for a truly breathtaking effect.
Go Pink!
Small, gentle green hydrangeas are an unusual alternative to the larger, more common brightly colored varieties. This arrangement by Pop the Cork Designs is a great example of how a small number of carefully selected elements can create an atmosphere that is alive and revitalizing.
A Soft Color Pallete
Limelight hydrangeas add a touch of otherworldly opulence to bouquets; their graceful ethereality makes them a perfect complement to any wedding theme. Considering a spring wedding, it is the perfect occasion for a more muted color scheme, which conveys a sense of softness and delicacy.
A Tropical Delight
Hydrangeas pair beautifully with tropical flowers like protea, a novel and contemporary combination. The antique variety of hydrangea, a late-summer favorite, is bursting with tropical inspiration and would be lovely at a beachside destination wedding.
Choose Antique Theme
Antique hydrangeas, with their pink and green flowers, are known for the gentle atmosphere they help to establish. If you're planning on wearing a simple wedding dress. Instead, why not make a statement by carrying a large bouquet of large flowers?
A Hint Of Blue
The springtime palette of pinks, creams, and greens is beautifully woven with a hint of blue in this bouquet, making it an ideal accessory for a traditional summer wedding. While hydrangea isn't typically used as a filler flower, it does a wonderful job of bolstering the presence of more prominent blossoms like the peonies and garden roses in this bouquet.
Hydrangea Chair Decor
Decorative pew ends, and hydrangea flowers are a lovely way to give the Bride and Groom's chairs at the ceremony or reception -a touch of class. Even on the tightest of budgets, the effect of a few inexpensive flowers tied in bundles or hung in mason jars with ribbon or twine is noticeable.
Hydrangea Garlands
With its large, sturdy flowers, Hydrangea is an excellent sturdy floral choice for swags, garlands, and fresh flower table runners for long tables. What a stunning and powerful visual; it serves as a terrific dramatic centerpiece.
Hydrangea Table Decor
If you want to add more flowers to your table arrangements, hydrangeas can be paired with other flowers like roses, peonies, or different types of flowers that grow well in the fall. You can use hydrangeas in your reception decorations if you have an outdoor or indoor fall wedding.
Steps To Care For Your Hydrangeas After Your Wedding Day
After your wedding, your hydrangeas will need a little TLC to ensure they stay healthy and beautiful. Here's what you need to do:
Choose the Right Container: Hydrangeas kept in water will last about 10-14 days, while hydrangeas in the soil will last about 2 weeks. Hydrangeas in water are easier to transport and have a more vibrant appearance, making them great for weddings and events. However, hydrangeas in the soil can be kept for a more extended period, making them a better choice for long-term enjoyment. Hydrangeas in the soil will also look great in your home once they've wilted, while wilted water-planted hydrangeas need to be thrown away.
Choose the Right Soil and Potting Mix: Hydrangeas prefer a porous, loamy soil with a pH between 6 and 7. You can test your soil with a soil test kit to see if it is the right pH. For the best long-term results, choose a potting mix that will provide good drainage and rich nutrients for your hydrangeas.
Choose the Right Fertilizer: When it comes to fertilizing your hydrangeas, less is more. Hydrangeas have a prolonged growth rate, so they don't require much fertilizer. Too much fertilizer can kill your hydrangeas. If you fertilize your hydrangeas, do it about once a month with a slow-release fertilizer. Use about half the recommended rate for flowering plants. To avoid fertilizer burn, ensure your soil has proper drainage, and don't over-fertilize your hydrangeas.
Final words: Are Hydrangeas for Your Wedding?
Hydrangeas are an excellent choice if you're looking for easy-to-manage and beautiful natural flowers for your big day. Available in many colors, Hydrangeas can be used in bouquets, floral arrangements, corsages, boutonnieres, and more. Hydrangeas are beautiful, long-lasting flowers that come at a low price.
They're also easy to transport if you're planning an out-of-town wedding and make great, long-lasting keepsakes after your wedding day. With their wide variety of colors and ease of care, they're one of our brides' most popular wedding flowers. BridalFusion.com is sure to inspire you through this post, browse our blog for more decor ideas and inspiration for your wedding.