Amazing Jaw-Dropping Beach Wedding Cake Ideas You Must Know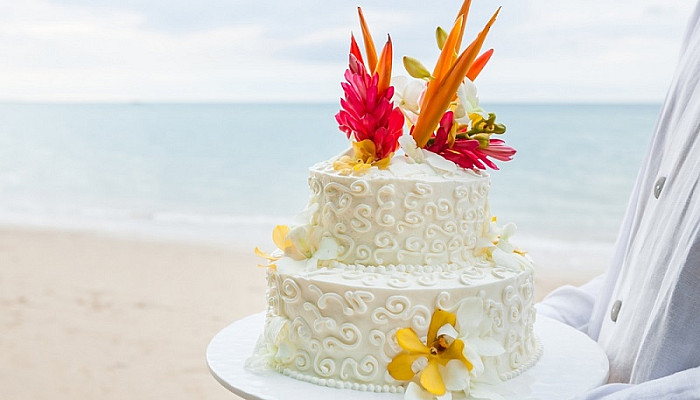 A beach wedding offers a unique and romantic ambiance, and the cake should reflect the beauty and tranquility of the ocean. Whether you're planning a destination wedding or bringing the beach to your venue, these cake ideas will help you create an unforgettable centerpiece that captures the essence of the seaside.
Incorporating Natural Elements
Embrace the natural beauty of the beach by using elements like driftwood, pebbles, and seagrass as cake decorations. These organic textures add an authentic touch to the cake, giving it a rustic and beachy feel.
Seashells and Ocean-inspired Designs
Seashells are synonymous with the beach, and incorporating them into your cake design can create a stunning effect. From delicate sugar seashells to realistic chocolate molds, there are numerous ways to adorn your cake with these ocean-inspired treasures.
Tropical Fruits and Floral Decorations
Infuse your beach wedding cake with the vibrant colors and freshness of tropical fruits and flowers. Add slices of exotic fruits like pineapple, mango, and passion fruit as edible decorations, and garnish with tropical flowers like hibiscus or orchids for a touch of elegance.
Tiered and Stacked Cakes
A tiered cake resembling ocean waves or sand dunes creates a visually captivating centerpiece. Choose colors that mimic the various shades of blue for the waves or incorporate golden hues to imitate sun-kissed sand.
Beach Hut and Sandcastle Cakes
Bring a touch of whimsy to your beach wedding cake with designs inspired by beach huts or sandcastles. These cakes evoke a sense of nostalgia and playfulness, perfect for couples looking for a less traditional approach.
Wave and Coral-Inspired Designs
Capture the fluidity and intricate beauty of ocean waves and coral reefs in your cake design. Fondant waves cascading down the tiers or coral-inspired sugar decorations can add a touch of elegance and artistry to your beach wedding cake.
Pastel Hues and Soft Tones
Pastel colors like aqua, peach, and pale pink exude a soft and romantic vibe, ideal for a beach wedding. These gentle shades create a sense of tranquility and pair well with the natural elements found on the beach.
Bright and Bold Color Schemes
For couples seeking a more vibrant and energetic ambiance, choose bold and contrasting cake color schemes are an excellent choice. Combine shades like turquoise, coral, and yellow to evoke the tropical spirit of the beach.
Whimsical and Nautical Cake Toppers
The cake topper is the cherry on top, adding a personal touch to your cake and tying the whole theme together. Here are some whimsical and nautical cake topper ideas:
Mermaid and Seahorse Toppers
Mermaids and seahorses are iconic symbols of the ocean. Choose delicate mermaid figurines or intricate seahorse cake toppers to elevate the beachy charm of your wedding cake.
Anchor and Sailboat Decorations
Nautical-inspired cake toppers like anchors, sailboats, or lighthouses add a touch of maritime elegance to your beach wedding cake. These symbols represent adventure and are perfect for couples with a love for the sea.
Starfish and Shell Accents
Decorate your cake with edible or decorative starfish and seashells to infuse it with an authentic beach vibe. These small accents create a cohesive and enchanting look.
Conclusion
In conclusion, beach wedding cakes offer a delightful opportunity to incorporate the beauty and charm of the seaside into your special day. From incorporating natural elements like seashells and tropical fruits to opting for unique cake shapes and vibrant color palettes, there are endless possibilities to create jaw-dropping beach wedding cakes. Adding whimsical and nautical cake toppers, along with edible seashells and beach-themed decorations, adds an extra touch of enchantment. So, let your imagination run wild and create a truly unforgettable centerpiece for your beach wedding celebration.