The Ultimate Pre-Wedding Beauty Treatments for The Groom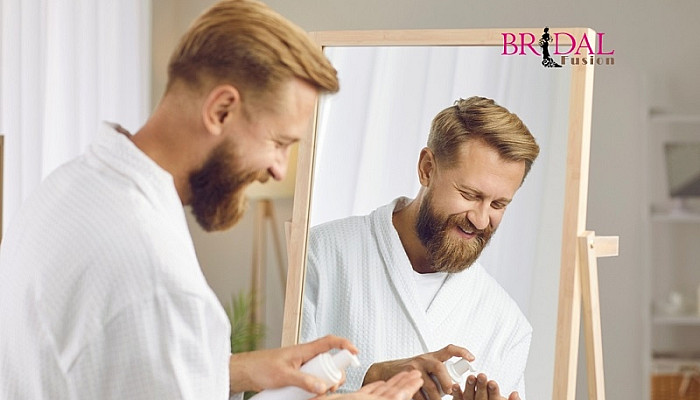 The pre-wedding beauty treatments are arguably the most important. The key to a successful marriage is preparation, so why not start from the beginning and get your groom ready for his big day? An organized pre-wedding plan will give you the peace of mind to enjoy each wedding moment instead of stressing yourself. If you are currently busy with other wedding preparations, such as finding an affordable photographer or planning your honeymoon, trust us when we say that you need to add the Ultimate Pre-Wedding Beauty Treatments for Your Groom's checklist now!
The Ultimate Pre-wedding Guide for Your Groom
The ritual of the pre-wedding treatments should be followed by both the bride and groom, not just the bride. The groom has to look well-groomed, too, since he will be the one walking down the aisle with the bride. Remember, you will be walking toward your future with your groom. These treatments reduce stress and make the groom feel relaxed and ready for the big day!
It's worth investing in these pre-wedding treatments because they will help calm your nerves, providing you with the clarity needed to make better decisions leading up to the big day.
Hair Care for Your Groom
The groom will be the center of attention, so ensure your hair looks appealing and well-groomed. Start prepping your hair a month before your wedding day for the best results. If you have thick hair, you might want to try a dry shampoo, as it will help remove some of the oil and impurities from your hair without washing it. On the other hand, if your hair is thin, you might want to opt for a moisturizing shampoo, as it will make it look shiny and voluminous. You can also try a hair mask once weekly for the best results.
Upgrade That Haircut
See your barber for a fresh trim at least a week before your D-day. Even if you've been going to the same barber for years, don't cut your hair too close to your wedding day. A week allows your hair to grow in if the barber does not offer you a proper cut. While it's wonderful to experiment with your look every now and then, your wedding day isn't the time to go all out. Experimenting may wait till after the honeymoon.
Invest In A Professional Shave
If you shave, trim, and maintain your facial hair daily, now is the time to invest in a hot towel shave. A barber will use a warm towel to open your pores and soften your skin before and after the shave. Not only will it soothe your skin, but it will also help keep it hydrated (read: less chance of pesky ingrown hairs popping up). You can get the closest shave possible by visiting a barbershop. If you want to appear clean-shaven and unclothed, schedule a professional shave for the day before.
Consider Self-Tanning
Remember that when it comes to self-tanning, preparation is essential for attaining a natural, long-lasting outcome. Exfoliate your skin for at least two days before buffing away any rough spots, and hydrate afterward to provide a smooth canvas for the self-tanner to stick to. When it comes to self-tanning, less is always more. Begin slowly and gradually increase your tan. It's far easier to apply more tanner for a more bronzed appearance than reverse it if you use too much.
Give Yourself a Massage
Get a soothing massage to help you unwind and forget your worries. Plan a couples massage for the two of you as a pre-wedding treat. Make your own romantic at-home spa night if you can't afford to get a professional massage.
Get Enough Sleep
Inadequate sleep contributes to skin issues, poor diet, and a lack of a regular cleansing routine. Leave the errands to the best men, and get some shut-eye before the big day. Allow yourself some downtime before the big day; we guarantee you'll feel and look great.
Be Sure To Stay Hydrated
Stop celebrating too soon! All we're suggesting is that you hydrate as much as humanly possible. If you want to feel and look your best, drinking 8 glasses of water a day is a must. It will refresh your face and eliminate toxins, leaving your future wife wondering what your secret is.
Look Out For Your Oral Health
Whitening strips or LED whitening kits might help you get your dazzling whites even whiter. You'll want a bright smile for all your shots, so begin any whitening procedures at least three months before so they have time to work. Two to three weeks in advance is sufficient if you go to the dentist for an in-office treatment.
Facial Care for Your Groom
A facial is an ideal treatment for dry, dull, or weary skin. Consider it a reset for any issues you'd like to fix before a camera follows you all day. If you've never had a facial before, we recommend scheduling one at least three weeks before your wedding. If your skin gets inflamed or irritated, it can settle down. If you receive facials regularly, schedule your final one a week before the wedding.
A traditional facial will address most of your concerns. Still, if you have more specific concerns, you can look into treatments like silk peels for smoothness or microcurrent facials for tightening and firming.
Skin Exfoliation
Regular exfoliation is one of the most helpful things you can do for your complexion since it helps new cell regeneration, resulting in brighter and cleaner skin. Exfoliation should be done twice a week; otherwise, you risk depriving your skin of its natural oils, resulting in blotchy skin or a dull complexion. Face and body scrubs, particularly those containing fruit extracts or mineral microbeads, may exfoliate your skin while you shower, making them a great pre-wedding beauty indulgence.
Get a Mani-Pedi
Make sure your hands are in good shape for all the photographs taken on your wedding day. Visit your local nail salon and relax while a professional takes care of your hands and feet, or do a fast DIY manicure and pedicure at home. Shape your nail gently with a nail file to smooth away any roughness, and use cuticle oil to soften your cuticles.
If you've done it previously, use clippers to remove any extra cuticle, or simply push it back if unsure. Finish by moisturizing with a nourishing hand or body lotion and shining your nails with a nail buffer.
Conclusion
The pre-wedding rituals are the best way to relax and pamper yourself before embarking on the next stage of your life. These rituals go back centuries and have been passed down through generations because they are very effective in helping people feel relaxed and ready to take on the next chapter of their lives. A wedding for the groom is as important and memorable as any other wedding. The groom should take time to groom and pamper himself in the days leading up to the wedding.
To pull off a dapper look at the wedding, you'll need to do more than just choose the right suit and accessories. A simple facial or new haircut can improve his confidence and appearance. This article has some of the most effective beauty tips, treatments, and a pre-wedding beauty routine. Follow BridalFusion.com for more beauty tips on style and beauty-related topics for brides and grooms.