Here Is Why You Should Get A Wedding Body Massage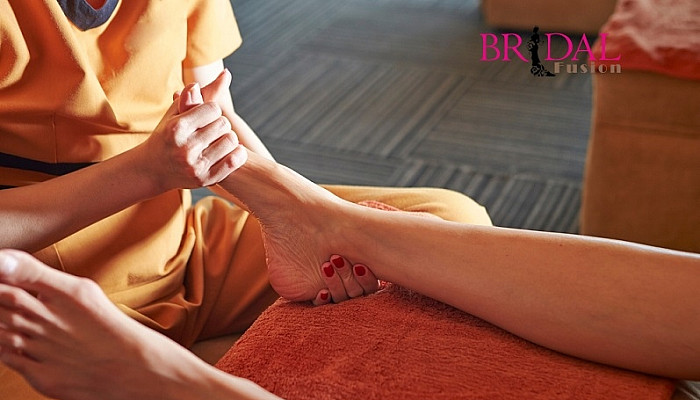 To feel anxious about your wedding is quite normal. (No, you're not going crazy.). As you go through your wedding checklist like a boss, we recommend adding one more stress-relieving appointment to your calendar: a massage. A simple, hour-long massage may do wonders, from relieving anxiety to boosting your immune system, whether you go alone with your spouse, treat your mother, or make a day of it with your wedding party.
At the absolute least, you'll have an hour of total relaxation to recharge your batteries and forget about the seating chart or catering contract. Here are several outstanding advantages of getting a pre-wedding massage.
To alleviate tension
First and foremost, a massage will significantly relax you. Getting a massage has been shown to relieve stress, whether it is physical or psychological, while promoting relaxation. Are your in-laws driving you insane? Vendors who do not respond to your calls? Hello there, massage.
To Enhance Sleep
Every bride-to-be understands the importance of getting enough sleep for a wedding-ready glow and general health, cognitive function, and a good mood. Massage has been demonstrated to aid sleep chemically. Massage enhances delta brain waves, which are associated with deep sleep and improve focus and energy levels. When your mind refuses to shut down long enough to allow you to obtain a whole night's sleep, it affects your decision-making and function.
To boost immunity
At a wedding, sinus pressure and a runny nose are not welcome. Regular massages can boost the immune system's cytotoxic capacity—these are your warrior cells fighting off foreign microorganisms. It is known to increase the activity of white blood cell activity, which allows you to enhance the general function of your immune system.
To improve your mood
Everyone is different, but it may happen at any moment for any cause—the overwhelming sensation of worry, anxiety, and moodiness can come at any time for any reason (and it doesn't imply you're not blissfully engaged and excited to marry). Cortisol, the stress hormone, is your body's principal hormonal bully, so when cortisol levels rise, your body swings into stress mode.
A good massage can lower cortisol and enhance serotonin, the neurohormone responsible for anxiety regulation and mood maintenance, resulting in a happier and healthier you.
To reduce bloating
Specific massage techniques can release enzymes and boost the metabolism of nutrients and antioxidants, which is unexpected and not the most attractive. When the body metabolizes quicker, it may more quickly clear out toxins, allowing for proper digestion (who knew?).
These reactions aid in the reduction of bloating and intestinal pain, allowing you to feel your best during the wedding process. Who wants to think about it when there are bridesmaid gowns and flower arrangements to consider?
Massage promotes well-being
Increased colitis levels impair immune system function, resulting in sickness and the dreaded weight gain. A runny nose and the inability to zip the garment are two things a busy bride should not have to worry about before her big day!
Massage boosts happiness
If a loved one cannot attend the wedding, feelings of grief may occur during the preparation process. Massage may assist raise your natural feel-good hormones, serotonin, and dopamine, which can help turn a negative mindset into a happy one before you walk your beautiful self down the aisle.
Massage improves memory
Massage promotes quicker and more complex growth in this area, resulting in enhanced memory performance. Brides-to-be may find this helpful in remembering details when preparing. However, the groom may wish for the contrary, especially after his bachelor party!
A Post-wedding massage
The ceremony itself, as well as the post-wedding travel and traditions, may be taxing on the body. And, because the post-wedding scenario necessitates a holiday, it is critical that your body feels invigorated to enjoy these getaways.
It guarantees that your wedding and vacation are not disrupted by physical pains, tension, worry, and other issues to assist your body in relaxing. As we all know, the most fantastic way to relax is to have a massage. The applied pressure relieves stress while also increasing immunity and blood circulation.
Therapy might help you raise your energy levels so you can travel without feeling tired from your wedding. While this is one option to relieve tension, you could also go for a couple of massage packages, which would complement your lovely trip with your spouse! Don't allow little aches and pains to mar the most important day of your life! Choose massage treatment! Consult with a Spa professional. Book an appointment at your favorite Spa to find out what is ideal for the lovely bride in you!
Couple's wedding body massage
A couple's wedding body massage is something that both of you should be involved in and excited about, so make sure to discuss it beforehand so that you don't run into any problems down the line. First, make sure to find out what type of massage your partner would prefer before booking anything. There are many different types of pre-wedding massages available, so discuss what each type entails and pick the one that best suits you both.
Second, ensure you find a massage therapist specializing in pre-wedding massage. A good wedding body massage should help you feel relaxed, refreshed, and stress-free and ensure that you both look refreshed on your special day.
FAQs on wedding body massage
Which is better? A body massage or body polishing?
A body massage is a relaxing treatment using oils and pressure techniques. On the other hand, in body polishing, an additional step of exfoliation is added. When you have a body polish, you get a skin treatment that uses natural materials to cleanse and hydrate your skin. Exfoliating your body before your wedding is the greatest approach to having smooth, radiant skin. One common bridal beauty service is full body polish. Include it in your pre-wedding rituals.
How long before can I take a wedding body massage?
A wedding body massage session can be taken 2-3 weeks before the wedding. One session lasts for an hour.
Which oils are best used in wedding body massages?
Coconut oil and olive oil are best for nourishing your skin and providing adequate glow for D-day.
Conclusion
Wedding rituals, greetings, meetings, practices, and mental anxiety can overwhelm the bride and groom. With so many decisions to make and individuals to meet before the wedding, a lot of energy is wasted. Stress affects the whole body, and vitamin deficiency shows on the face. A tired face dulls one's appearance and causes insomnia, appetite loss, and a bad mood. How can we handle pre-wedding stress without delaying preparations? Massage! A massage therapist may alleviate tension, insomnia, physical pains, migraines, and temper problems while enhancing blood circulation, immunity, and flexibility.
Such a getaway during the wedding stress period is crucial since it aids in remaining calm and confined throughout such a life-changing event. The Spa has created packages just for brides-to-be who may use some assistance in the middle of the great turmoil. So, what are you holding out for? Go ahead and schedule an hour of joy; you will be grateful to BridalFusion.com for this article.