The Best Wedding Tattoo Ideas For You And Your Partner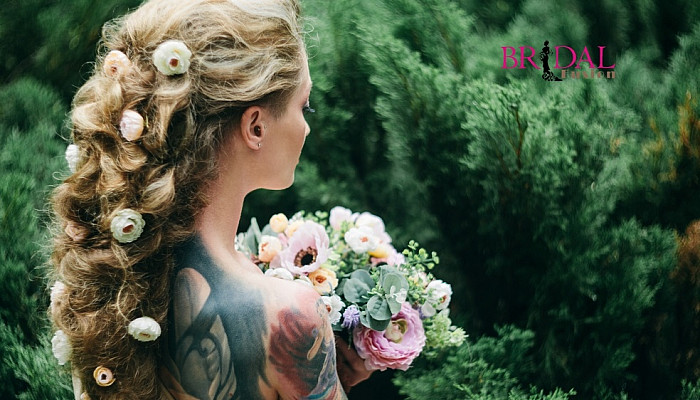 Let's talk about wedding tattoos for a minute. If you want to remember your special day (and your love) with something more permanent than a diamond ring, and if you never have to worry about losing your ring because it's tattooed on sounds appealing, consider a set of wedding tattoos.
However, take a moment to reflect before getting your new tattoo. Consider this: if you end up parting ways with this person, you probably don't want that permanent reminder on your skin. Although it is possible to have it removed, the procedure is costly, painful, and does not completely remove the tattoo. However, If you do decide to show off your love with new tattoos, this article is just for you.
Things to remember before getting a tattoo:
Consider your design carefully. Choose thin lines, simple shapes, and minimal detail.
Choose the correct body part. Instead of getting the tattoo on your actual ring fingers, consider getting a matching design on any other part of your body, such as your wrist or forearm.
Research the tattoo artist. If you like their style, review their portfolios and schedule an in-person consultation.
Be prepared for pain: Because your hands have so many nerve endings, this is one of the least pleasant positions. However, if the design is simple, it can often be completed in minutes.
Plan ahead of time and follow all care instructions. To ensure your wedding ring tattoo looks its best on your wedding day, get it at least a week in advance and follow your artist's aftercare instructions.
Choose a design that is meaningful to both of you. Your wedding tattoo should have a clear meaning that represents something you both know and enjoy looking at.
The Best Ideas For Wedding Tattoo
3D Tattoos Are the Way to Go
If you're looking for something that will impact you, 3D tattoos are the way to go. They're extraordinarily bold and dramatic and make a statement! They're also trendy when it comes to wedding tattoos. These tattoos use bold colors and various textures and patterns to create a striking design that grabs your attention.
If you're having a beach-themed wedding, a 3D beach tattoo is a perfect choice! It's straightforward to make and will look amazing on your skin. You can get your guests involved, too, by having them make small figures to go along with it.
Finger Tattoos Are Ultra-Romantic
If you're looking for something ultra-romantic, a finger tattoo is exactly what you need! They're perfect for the ring finger, but you can get them on any of your other fingers, too, if you like. Or, you could go for a floral design of your favorite flower. You could write a promise or a vow in small letters, or you can also get a lot of different symbols and designs that can be unique and personal to you.
Floral Tattoos Are For Nature Lovers
Floral tattoos are the perfect choice for you if you're inspired by nature! You can get them on your leg or your arm if you like. You can choose a specific flower, or you can get a pattern. Just ensure you keep it within a reasonable size so it doesn't become too much. If you cannot decide what design to go for, why not get an image of your wedding bouquet tattooed on your leg or arm?
2D Shaded Tattoos Are for People Who Like Solid Shapes
Are you looking for a tattoo that fits your minimalist style? A 2D shaded tattoo might be perfect for you. These tattoos are often very simple and comprise just a few solid shapes. You might see a lot of triangles, squares, or arches in these tattoos. Some people choose to have these tattoos filled in with a single color, while others have them outlined in black or another color to make them pop. 2D shaded tattoos are great for people who want a simple but eye-catching tattoo.
These 2-D tattoos are great for people who want to experiment with different tattoo styles but aren't sure which one they want yet. If you're looking for a minimalist tattoo but want something a little flashier than a solid block of black, a 2D shaded tattoo might be just what you're looking for. We recommend getting it on your arm if you like. Some great themes for 2D shaded tattoos are:
Geometric shapes: Triangles are symbols of power, luck, and balance. What better shape to represent a long-lasting union? When placed on the wrist, the two come together perfectly while holding hands.
Bow and arrow: A couple's tattoos do not have to be the same. Get something, such as a bow and arrow, to demonstrate how you complement each other.
Animals and Insects Are Great for Body Art
You may have seen images of people with tattoos on their arms or legs. They could be anything from a butterfly, a bird, a snake, or other creatures. However, do you know what they all share in common? They're all tattoos inspired by the world of animals and nature.
You see, people will often get tattoos that feature something as specific as an owl or a fox or even something as general as a tree or a mountain peak to showcase their love for nature and inspire them wherever they go.
Precaution for getting tattoos
While tattoos are generally safe when done by a licensed and experienced artist, there are some precautions to keep in mind. Stay away from tattoo inks that are black or red, as these are associated with a higher risk of allergies.
If your skin is sensitive or has allergy issues, choose a tattoo that comes in green or blue ink. Stay away from tattoo designs that have a lot of detail, as these are more likely to cause issues with your skin.
It's also crucial where on your body you get inked. Avoid getting your tattoo on your hands or wrists, as it might be challenging to keep it covered during work or when you are around small children.
If you are pregnant or have a medical condition, talk to your doctor before getting a new tattoo. Never try to do a DIY tattoo if you are not experienced. Precautions when getting tattoos for your wedding
Bacteria thrive in moist environments like hot tubs and the beach, so be careful where you take your new wedding tattoo. Maintain a healthy hygiene routine and avoid over-moisturizing.
Final words
Getting a tattoo is not a spur-of-the-moment decision. It's a commitment that you'll have to live with for the rest of your life! So you must ensure that it's something you really want to do. And if you have made up your mind, there is no better time to get your body inked before your wedding day. After all, getting married is one of life's most unique experiences. It's also not something that happens every day. So it only makes sense to mark this special moment in time in an equally special way that everyone can participate in!
We hope this wedding tattoo guide from BridalFusion.com has given you some helpful ideas and inspiration and that you've chosen the perfect design! Remember to research and go to a professional tattoo artist if you decide to get a tattoo!