5 Bridal Hair Styles to Perfectly Complement Your Tiara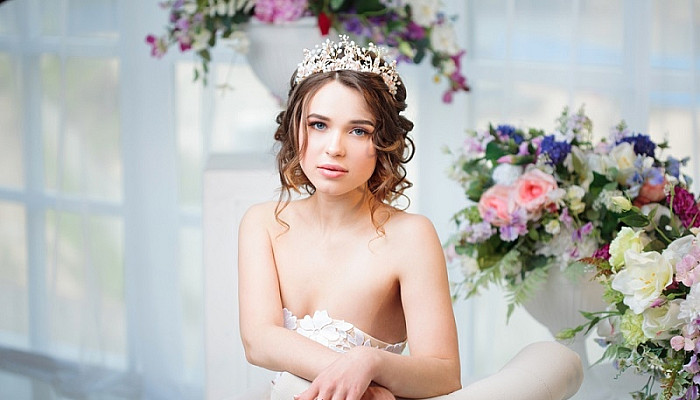 Congratulations on your upcoming wedding! As you plan every detail, it's essential to choose a bridal hairstyle that perfectly complements your tiara. Your hair is an important accessory on your special day, and the right style can enhance the beauty of your tiara and overall bridal look. In this article, we will explore ten stunning bridal hairstyles that will make you feel like a princess on your wedding day.
Choosing the Right Bridal Hairstyle
Before we delve into specific hairstyles, it's crucial to consider a few factors when choosing the perfect bridal hairstyle. Firstly, take into account your face shape. Different hairstyles flatter different face shapes, so choose a style that enhances your natural features. Secondly, consider your hair length and texture. Certain styles work better with long, flowing locks, while others are better suited for shorter hair. With these considerations in mind, let's dive into the enchanting world of bridal hair.
1. Classic Updo with Tiara
A classic updo is a timeless choice that beautifully showcases your tiara. Two popular variations are the elegant chignon and the romantic braided updo. The elegant chignon is a sophisticated and sleek option that exudes elegance and grace. It keeps your hair neatly tucked away, allowing your tiara to take center stage. On the other hand, the romantic braided updo adds a touch of whimsy to your look. Delicate braids intertwined with your updo create a dreamy and ethereal vibe, perfect for a fairytale wedding.
2. Half-Up Half-Down Styles
For brides who want a balance between an updo and wearing their hair down, half-up half-down styles are a fantastic choice. One option is soft waves with a tiara. This style combines loose waves cascading down your back with a section of hair pulled back and adorned with your tiara. It strikes a delicate balance between elegance and natural beauty. Another half-up half-down style to consider is the twisted half-up hairstyle. This chic and modern look features twists and braids that give your hair texture and visual interest while showcasing your tiara.
3. Bohemian-Inspired Hairdos
If you're aiming for a bohemian-inspired wedding, your hairstyle should reflect that free-spirited vibe. A loose braided crown is a perfect choice for a boho bride. It features loose, tousled waves with a crown-like braid that elegantly holds your tiara in place. Alternatively, you can opt for a messy bun with floral accents. This effortlessly chic style incorporates a loose bun with strategically placed flowers or floral accessories, giving you a romantic and whimsical look.
4. Vintage Glamour
For brides who adore the elegance of bygone eras, vintage-inspired hairstyles are a match made in heaven. Retro waves capture the glamour of the 1920s and 1930s. This style involves creating defined waves that frame your face and flow down your back. Paired with a sparkling tiara or crown, you'll be the epitome of vintage glamour. Another option is the pin-up victory rolls. These iconic rolls evoke the charm of the 1950s, with sections of hair rolled and pinned to create a classic and sophisticated look.
5. Short Hair Options
Having short hair doesn't mean you can't wear a tiara on your wedding day. There are beautiful options available for shorter locks as well. A pixie cut with a tiara is a chic and modern choice. You can add subtle accessories, such as crystal hairpins, to enhance the elegance of your bridal hairstyle. If you have a bob haircut, consider embellishing it with delicate adornments. These embellishments can be strategically placed to highlight your tiara and create a stunning overall effect.
Conclusion
In conclusion, selecting the perfect bridal hairstyle is an important decision that can greatly enhance your tiara and overall bridal look. Consider your face shape, hair length, and texture when choosing a style that complements your features. Whether you opt for a classic updo, a half-up half-down style, a bohemian-inspired hairdo, a vintage glamour look, or a short hair option, remember to embrace your individual style and feel confident on your special day. So, put on your tiara, walk down the aisle with grace, and let your hair shine as brightly as your love.