Beautiful Bridal Crowns To Consider With Perfect Bridal Hairstyles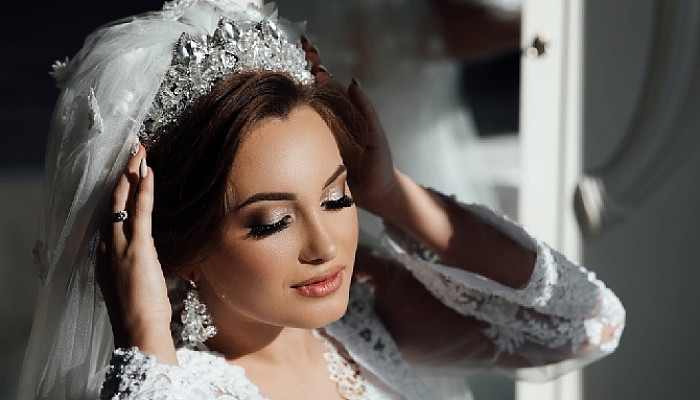 For any bride, bridal tiara or bridal crown is as important as a crown to a queen. Therefore, it is quintessentially important for a bride to choose a crown that suits her personality and goes perfectly with her dress as well. No matter, it's a seaside beach wedding or a bohemian, a flower crown completes look exceptionally good on any bride. If your wedding is just around the corner, do not panic we have compiled a list of flowers that should be considered. Read on to explore what amazing flower crowns can accentuate your overall bridal look.
Beautiful Bridal Flower Crowns With Perfect Hairstyles
Beautiful Bohemian Crown For Loose Beachy Waves
This kind of crown is a perfect combination of big and small blooms with a bit of greenery of eucalyptus leaves, orange ranunculus, pink hypericum berries and purple wax flowers make a bold statement. When it comes to boho blooms, it should be the brighter to look better. So make sure to keep your crowns made up of bright flowers that can enhance your elegant look with its graceful look.
Daisies With Loose Half-Tied Ponytail
Have you always wanted to do loose beachy waves as your hairdo? Wanted to flaunt your locks without giving up on florals? If you are not too sure about it, just ask your hairstylist to put single stems throughout your hairstyle for a garden-fresh look that pulls your braid and blooms together.
Garden Rose Crown With Half-Curled Hair
Planning to exchange rings in the midst of gusts of wind, if such is your plan, then a flower crown can replace a beautiful veil that won't get swept away in the weather. Embrace this crown style to manage the weather and style at the same time.
Fairy Feather Crown Long Straight Hair
Feather touch can give a fairy finish off to your flower crown with a personal detail which defines real YOU. You can either add a feather to your flower crown and if not then a piece of jewelry will do the trick.
Floral Headband With Ombre Hair
Just to take a different take on the flower crown, simply go for a big statement stem and fasten it to a headband. It's perfect for the kiddos in the wedding party who are sure to be running around, or for the bride who wants to switch up her hairstyle for a new reception look.
Berry Crown With Fishtail Braids
Are you looking for something different and unique on your wedding? Flowers are too common and you want something eccentric and quirky? Berries are just as stunning as one can think of. There are certain kinds of berries such as pepper berries, berzelia or brunia berries that can enhance your textured.
Wrapping Up
After going through this post, you must have understood the beautiful bridal crowns with bridal hairstyles that would suit a bride's personality. Don't waste your precious time in thinking and finding more relevant to your requirements. Pick your favorite one and see the charisma that would astonish everyone. Last but not the least, do not forget to share your thoughts with us.