Basic To Best-Bridal Hairstyles For Brides-To-Be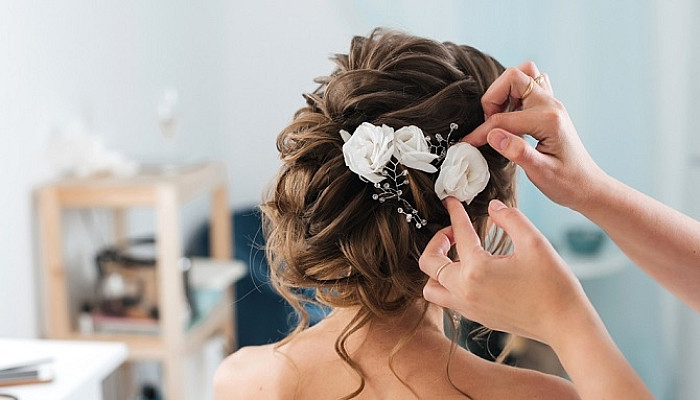 Hair, makeup and wedding dresses are something that every bride keeps it on the top of their to-do-list. Moreover, wedding fashion shouldn't be stake as it plays an important part of a bridal beauty. After a wedding dress, hair and makeup are something that needs more attention. It is likely to know that every bride has a long list of hairstyles in her thoughts, which in reverse, doesn't make any sense when you have to pick any specific hairstyle. In order to whack the odd ones out, here in this article, we have extended our helping hand to let you decide what hairstyle would go perfectly with your dress and personality.
Professional And Perfect Bridal Hairstyles
Read on to explore that what hairstyle would enhance your bridal look when you are ready to walk down the aisle.
Hollywood Waves For Subtle Brides
All those brides who are subtle enough to handle the waves and subtle to stay with all event long, it is recommended for you to let your hair down and feel the subtleness of this hairstyle offers you. Sometimes, a bride can look like an angel in the simplicity since is the most beautiful thing and with this hairdo, you could highlight your simplicity with subtleness.
Soft-Twisted Updo For Simple Brides
Brides who prefer to keep it simple yet classy, then soft-twisted hairstyle is perfect for you. This style would be stunning for an outdoor garden or rustic wedding and it is as easy to support it. So try yourself and get appreciated by your friends and family.
Half-Up & Braided For Hot Brides
If you want to showcase your long, flowing waves but want to add a little fancy flair, this is a great option, and you can easily add a veil or sparkly barrette to snazz it up even more. This will add an oomph factor to your overall wedding look.
Tuck and Cover French Braid Half with a Bun
Though the name is a real mouthful, it actually looks pretty achievable when you get it done by your hairstylist. Most of the brides get to pick out a fancy bridal headband; however, this look skips your headband requirement and moreover, looks exceptionally gorgeous on your wedding look.
Retro-Inspired Fancy Ponytail
Bridal ponytails are très chic and when it is retro, it can't be beaten. This hairstyle is perfect for brides who always to keep a retro touch in her dressing, no matter, whether it is dress or hair dress. It's so sweet, romantic, and, of course, bouncy.
Wrapping Up
As of now, you must be aware of multiple choices for your wedding hairstyles, so what are you waiting for, select your favorite and ask your hairstylist to dress in your favorite hairstyle. Do share your thoughts on this post in below comment section.