5 Incredible Tips To Choose The Best Wedding Company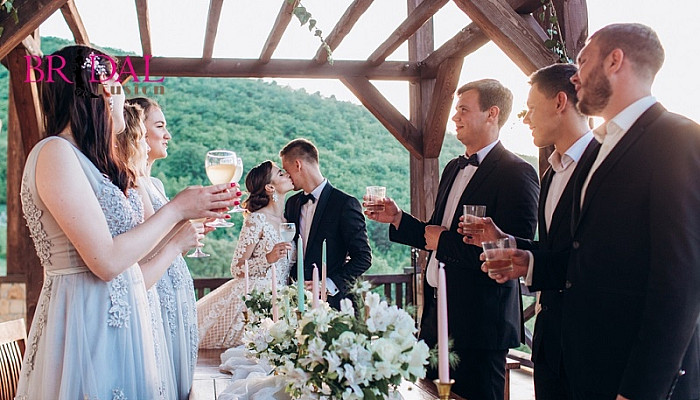 You probably are hysterically searching wedding websites or social media sites like Pinterest right after your engagement. Find yourself buried under a blizzard of checklists and an overwhelming variety of options? You and your fiancé might consider hiring a professional wedding planner.
Depending on the budget plus the requirements, you may hire: a full-service planner to handle every detail; someone to assist you solely with selecting your wedding venue and providers; or a day-of wedding coordinator (30 days before your wedding). However, we recommend you hire a professional wedding company so that you can enjoy a hassle-free wedding celebration. Here is a guide to choosing the right wedding company in five simple ways.
Step 1: Research Well
Performing a simple Google search for "wedding coordinator in (your area)" or "wedding coordinator near me" can bring up several vendor websites, which you may peruse and perhaps call to set up a meeting.
Seek advice from friends or relatives. A firm that relies heavily on word-of-mouth referrals has a good reason for it. Make sure it is someone you trust to recommend a fantastic wedding company. Maybe they had a planner they enjoyed or knew someone passionate about planning.
An ideal strategy to ensure an extraordinary experience is to use a company that has previously received outstanding ratings from your family and friends. You may ask the venue management for recommendations for wedding planners if you're already touring locations (if not, try Wedding Spot to locate the most incredible possibilities at the best price!). Wedding venues often recommend vendors to their clients.
Explore Facebook groups. Find local bridal groups on Facebook if you're a Facebook user. Many recent and former brides in these organizations can help you locate wedding planners and other wedding-related services. An excellent resource for brides-to-be is the option to ask a question and receive immediate feedback from other real-life brides.
Wedding publications can be found on the internet. The Knot, for example, provides wedding vendors by area in an easy-to-search directory. Keep an eye out for items you enjoy when looking at wedding planner websites, Instagram, reviews, and other resources. You're comfortable with each other's aesthetic preferences and their degree of expertise, and how much you can afford to pay.
Step 2: Go with the shortlist
It's time to reach out to the planners you've narrowed down and set up a phone or in-person meeting with them. It's an excellent opportunity to meet with potential wedding planners and make sure you cover all the bases. How quickly was their response to your question? Did they communicate with you in a way that met your expectations? When was the last time you clicked on a link or a button?
Step 3: Preparation
It's time to get serious about preparing for your interviews. In the end, it's critical that on your wedding day, you express what's most important to you and your spouse. Make these elements known to each planner you interview and inquire how they would be facilitated and prioritized. Create a questions list to ask each potential planner throughout the interview process. Pre-interview research may have provided plenty of information, but if you need more ideas, examine the following lengthy list of possible questions to ask the planner.
Here is a list of questions that you may ask your wedding company:
Q. You've been a wedding coordinator for how many years. When did you last perform at a wedding?
Q. Is it just you, or do you have a team?
Q. The venue and all other vendors will be procured for you.
Q. Do you have prior experience with the selected venue?
Q. How has COVID-19 influenced your weddings in any way?
Q. How do you consider the health and safety of the wedding guests and vendors during COVID 19?
Q. Do you have a standard backup plan in place in the event of bad weather on the day of our wedding?
Q. Is there a fee for referring a vendor to us?
Q. Is it inevitable that you'll be at all vendor meetings?
Q. Is it up to you to address any difficulties with vendors that may emerge during the wedding day?
Q. What is the breadth of your experience? Take care of the design? Logistics? What is the general layout like?
Q. What kind of wedding theme do you have in mind?
Q. What can you do to assist us in ensuring that the most critical portions of our day are taken care of?
Q. We'd want to see examples of your work (films, photographs, etc.) from prior weddings.
Step 4: Gather Your Thoughts
Take time to reflect after the interview and collect your thoughts. The most important thing to consider is whether you and your partner's personalities mesh well with the planners. Do you believe you and the planner could work together? A wedding may be one of the most stressful moments in a person's life, so you want to be sure the person you choose has the skills and character to help you through the process. As the last step, conduct further research on the planner/organization and compare their responses to your queries to other planners.
Step 5: Make the Final Decision.
Of course, there are many things to consider when deciding on a wedding company to help you plan the day of your dreams. However, since every couple is unique, we recommend selecting the one that best matches your budget and personality. To make your wedding fantasies come true, you and your spouse must have fun during the planning process, and the wedding company plays a significant role in that. This beautiful planning trip begins after you've done all the research, conducted interviews, and analyzed all of your alternatives together as a team. Afterward, you'll be ready to start shopping for your wedding dress and selecting your bridal shoes!
Conclusion
Wedding planning is such a great time, and BridalFusion.com wants you to enjoy it. With this guide, we help you get started on one of the essential things- choosing the right wedding company. So, kick back and relax; now you know how to pick the best wedding company to have the wedding of your dreams.