Key Expenses to Consider When Planning a Rehearsal Dinner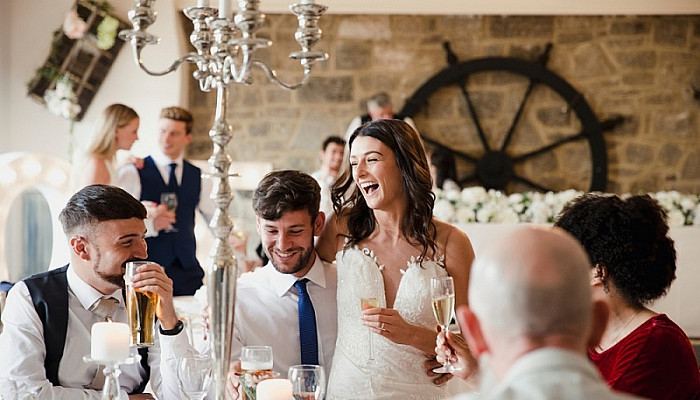 A rehearsal dinner is a cherished pre-wedding event that brings together the bride, groom, their families, and close friends for a relaxed and enjoyable evening. While it may not be as grand as the wedding itself, planning a rehearsal dinner requires careful consideration of various expenses to ensure that it's a memorable and enjoyable occasion. In this guide, we will explore the key expenses you should consider when planning a rehearsal dinner.
Venue Rental
One of the most significant expenses for a rehearsal dinner is the venue rental fee. The cost can vary widely based on location, type of venue (restaurant, banquet hall, backyard, etc.), and the date of your event.
Be sure to visit potential venues and discuss pricing, inclusions, and any additional fees for things like setup, cleanup, or security deposits.
Catering and Food
Food is a central element of any rehearsal dinner. You'll need to budget for catering services, which may include appetizers, a buffet, plated dinner, or a combination of these.
Consider the dietary restrictions and preferences of your guests, and choose a menu that suits your tastes and budget. Be mindful of additional costs like service charges and gratuities.
Beverages
The cost of beverages can also add up quickly. Decide whether you'll offer an open bar, a limited bar with signature cocktails, wine, and beer only, or a non-alcoholic beverage option.
Factor in the cost of alcohol, soft drinks, mixers, and any necessary barware or equipment. Don't forget to include the expense of bartenders or waitstaff to serve drinks.
Decorations and Ambiance
Creating a welcoming and aesthetically pleasing atmosphere is essential for a memorable rehearsal dinner. Decorations may include floral arrangements, table linens, centerpieces, candles, lighting, and themed decor.
Budget for decor items, or consider renting them to save money. DIY decor can also be a cost-effective option if you're crafty.
Entertainment
Entertainment can enhance the ambiance and enjoyment of your rehearsal dinner. This could involve hiring a live band, a DJ, a solo musician, or even creating a playlist for background music.
Be sure to account for their fees, equipment, and any special requests or song selections.
Invitations and Stationery
Sending out invitations or digital invitations is an essential part of planning a rehearsal dinner. Expenses here include design, printing, postage, or online invitation service fees.
You may also need place cards, menu cards, and other stationery items to enhance the guest experience.
You may also like to read: A 7-Step Rehearsal Dinner Invitation Guide You Can Follow
Photography and Videography
While not as extensive as wedding photography and videography, capturing memories of the rehearsal dinner can be important. Decide whether you want professional photography or if a family member or friend can handle this task.
If you opt for a professional, budget for their time, equipment, and any additional prints or albums.
Transportation
If the rehearsal dinner venue is separate from where the wedding ceremony or rehearsal takes place, consider transportation costs for your guests. This could include shuttle buses, limousines, or rideshare services.
Transportation costs can add up quickly, so plan accordingly.
Favors and Gifts
Small tokens of appreciation or favors for your guests can be a lovely touch. Budget for these gifts, whether it's personalized items, edible treats, or something meaningful to the couple.
You may also want to present gifts to the bridal party and immediate family members.
Miscellaneous Expenses
Don't forget about the little details that can add up, such as event insurance, permits (if needed), extra seating or tables, linens, and any unexpected expenses that may arise during planning.
Event Planner or Coordinator
Consider hiring an event planner or coordinator to help with the logistics and coordination of the rehearsal dinner. Their expertise can save you time, reduce stress, and ensure that all elements come together seamlessly. Be sure to include their fee in your budget.
Gratuities and Service Charges
Gratuities for the venue staff, catering team, bartenders, and any other service providers are customary. Determine whether gratuities are included in the contract or if you need to budget for them separately.
Calculate these based on a percentage of the total service costs.
Tips for Managing Rehearsal Dinner Expenses
Set a Realistic Budget: Determine how much you're willing to spend on the rehearsal dinner, keeping in mind your overall wedding budget. Establishing a clear budget from the outset will help you make informed decisions.
Prioritize Expenses: Identify the most important elements of your rehearsal dinner and allocate a larger portion of your budget to those areas. For example, if the venue ambiance is crucial, prioritize decor and entertainment accordingly.
Negotiate and Compare: When speaking with vendors and venues, don't hesitate to negotiate pricing or request multiple quotes. Comparing options can help you find the best value for your money.
Consider DIY: If you're crafty or have talented friends and family, consider creating some decorations or stationery items yourself to save on costs.
Use Online Planning Tools: Take advantage of online budgeting and planning tools or apps that can help you track expenses and stay within your budget.
Review Contracts Thoroughly: Before signing any contracts, carefully review all terms and conditions to ensure you understand what is included and any potential additional costs.
Keep Guest Count in Check: Limiting the number of guests can significantly impact your overall expenses. Consider inviting only close family and friends to keep the event intimate and cost-effective.
Stay Flexible: Be prepared for unexpected expenses, and build a contingency fund into your budget to cover any surprises.
Conclusion
A rehearsal dinner is an opportunity to celebrate with loved ones and set the tone for your upcoming wedding. By carefully considering and budgeting for the key expenses associated with this event, you can ensure that it's a memorable and enjoyable occasion. Prioritize your spending, negotiate when possible, and plan thoughtfully to create a rehearsal dinner that reflects your style and fits within your budget, allowing you to cherish these pre-wedding moments with your closest family and friends.