Creative Rehearsal Dinner Ideas To Wow Your Wedding Party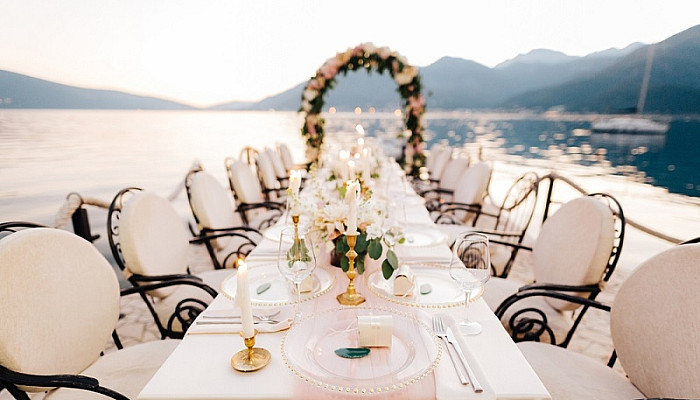 When it comes to planning your wedding, its easy to get bogged down in the details and forget about the rehearsal dinner. Yet, the rehearsal dinner can be a fun and creative way to bring your wedding party together and get everyone excited for the big day. Here are some creative rehearsal dinner ideas that are sure to wow your wedding party and break tradition.
Traditional Rehearsal Dinner Ideas
The traditional approach is usually the safest bet. But that doesnt mean you cant still add your own personal touch. A traditional rehearsal dinner usually consists of a sit-down dinner in a restaurant or private venue. You can still make it special by choosing a unique venue or adding some special touches like personalized favors or decorations. If youre looking for a more casual affair, you can also keep it low-key by hosting a barbecue or pizza party at your home.
Themed Rehearsal Dinners
If youre looking to add some extra fun to your rehearsal dinner, why not consider a themed event? You can match it to your wedding theme or make it totally unique. Popular themes include a Mexican fiesta, a casino night, a Hawaiian luau, or even a murder mystery. The possibilities are endless! Just be sure to let your guests know what the theme is ahead of time so they can plan their outfits accordingly.
Outdoor Rehearsal Dinners
If youre planning rehearsal dinner during the warmer months, why not take advantage of the great outdoors? You can host a picnic in the park, a barbecue in the backyard, or a lakeside dinner. Not only is this a great way to get your wedding party outside and enjoy the fresh air, but its also a much more budget-friendly option than a traditional rehearsal dinner.
Potluck Rehearsal Dinner
If youre on a tight budget, why not host a potluck rehearsal dinner? Ask each guest to bring a dish to share with the group. This is a great way to make the event more personal and give your guests the opportunity to show off their cooking skills. To make it even more fun, you can assign each dish to a different guest or even give out prizes for the best dish of the night.
Restaurant Rehearsal Dinners
For a more formal affair, this is a great way to give your guests a night out on the town and sample some delicious cuisine. You can choose a restaurant thats near your wedding venue or pick a spot that has special meaning to you and your partner. And dont forget to ask the restaurant if they offer any special discounts or packages for wedding parties.
Cooking Class Rehearsal Dinners
Hosting a cooking class for your rehearsal dinner is a great way to get everyone involved and have some fun. You can check out local cooking schools or even ask a professional chef to come to your home and teach everyone how to make a dish. This is a great way to bond with your wedding party and create some unforgettable memories.
Cocktail Rehearsal Dinners
To keep things relaxed and informal, cocktail rehearsal dinners are the best. You can serve a variety of drinks and appetizers or even set up a make-your-own cocktail bar. And dont forget to provide a few non-alcoholic options for those who dont drink.
Movie Night Rehearsal Dinners
If youre looking for a low-key way to celebrate your rehearsal dinner, why not host a movie night? You can choose a movie thats related to your wedding theme or pick a classic romantic comedy that everyone can enjoy. Serve up some popcorn and candy and youve got yourself the perfect night in.
Brewery Rehearsal Dinners
If you and your wedding party are beer lovers, try a brewery rehearsal dinner. It is an excellent way to get everyone together and sample some delicious craft beers. Most breweries also offer food, so you can enjoy a meal together and then spend the rest of the night enjoying some drinks.
Rehearsal Dinner Games
Adding some fun activities to your rehearsal dinner is a great way to help your wedding party get to know each other better. From icebreaker games to scavenger hunts, there are plenty of ways to get everyone involved. You can also hire a professional to lead the activities or just come up with some ideas of your own.
Conclusion
Planning your rehearsal dinner doesnt have to be a daunting task. With these creative ideas, youll be sure to wow your wedding party and have a night to remember. So break tradition and have some fun with your rehearsal dinner!