From Blush to Burgundy: Exploring Wedding Color Trends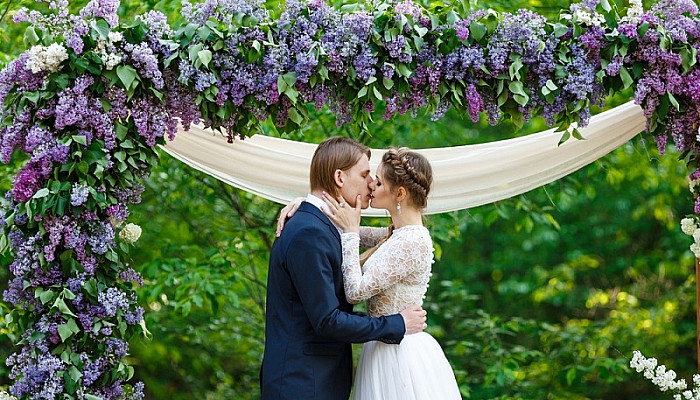 Choosing the perfect color scheme for your wedding is an exciting and crucial decision that sets the tone for your big day. From romantic pastels to bold and vibrant hues, wedding color trends evolve with each season. In this comprehensive guide, we will explore the hottest wedding color trends, providing inspiration and ideas to help you create a memorable and visually stunning celebration.
Romantic Blush and Gold
Blush and gold continue to be a timeless and popular choice for weddings. This color combination exudes elegance and romance, making it perfect for both traditional and modern celebrations.
Consider blush bridesmaid dresses paired with gold accents, such as table linens, cutlery, and centerpieces. Soft, delicate florals like roses and peonies complement this color scheme beautifully.
Moody and Mysterious Jewel Tones
Jewel tones like deep emerald green, rich burgundy, and royal sapphire blue are making a statement in wedding color palettes. These hues add a sense of luxury and drama to your special day.
Pair deep jewel tones with metallic accents like gold or copper for a regal and opulent atmosphere. Velvet table runners, lush bouquets, and dark-colored stationery bring this trend to life.
Earthy and Organic Neutrals
Neutral and earthy tones are gaining popularity for couples seeking a rustic and natural vibe. Think of warm shades like terracotta, taupe, and sage green.
Combine these hues with organic textures like wooden accents, pampas grass, and natural linen tablecloths. This color trend is ideal for outdoor and barn weddings, creating a harmonious connection with nature.
Vibrant Citrus and Tropical Tones
For couples looking to infuse their wedding with energy and a tropical vibe, citrus colors are all the rage. Bright oranges, zesty yellows, and tangy lime greens are perfect for summer weddings.
Incorporate these colors into your floral arrangements, table decor, and even your signature cocktails for a refreshing and lively ambiance.
Classic and Timeless Black and White
Black and white is the epitome of timeless elegance and sophistication. It's a versatile choice that can be adapted to fit any wedding style, from formal to minimalist.
Create a chic atmosphere with black tuxedos, white gowns, and monochromatic floral arrangements. Add pops of metallic silver or gold for a touch of glamour.
Whimsical and Dreamy Pastels
Pastel shades, such as soft pink, lavender, and mint green, continue to enchant couples planning romantic and dreamy weddings. These colors lend themselves well to delicate and ethereal themes.
Consider pastel bridesmaid dresses, ombre floral arrangements, and watercolor invitations for a whimsical and fairy-tale-like ambiance.
Rustic and Warm Terracotta
Terracotta, a warm and earthy shade reminiscent of clay pots, has gained popularity in wedding color palettes. This hue evokes feelings of comfort and nostalgia.
Pair terracotta with muted greens, dusty blues, or soft pinks for a balanced and rustic look. Incorporate this color into your table settings, floral decor, and even your wedding cake.
Playful and Bright Rainbow
For couples who want to embrace diversity and celebrate inclusivity, a rainbow-themed wedding is a joyful choice. Incorporate a spectrum of colors in your decor, from vibrant balloons and table settings to colorful bridesmaid dresses and flower arrangements.
This trend is all about celebrating love in all its beautiful forms.
Moody and Gothic Black with Dark Florals
For a unique and dramatic wedding, consider a gothic-inspired color scheme with black as the dominant shade. Contrasting this dark backdrop with dark florals like deep burgundy, plum, and black-centered blooms creates a mysterious and enchanting atmosphere.
Use candlelight to add warmth and intimacy to the overall ambiance.
Modern and Minimalist Monochromatic
Minimalism is making its mark in wedding color trends. Choose a single color as your primary focus and use different shades and tones of that color throughout your wedding decor.
For example, a monochromatic blue palette can range from pale sky blue to rich navy. This approach creates a sleek and modern aesthetic with a sense of cohesion and simplicity.
Tips for Incorporating Wedding Color Trends
Personalize Your Palette: Make sure your chosen color scheme reflects your personality and the overall vibe you want to create for your wedding day. Whether you prefer classic, bold, or trendy colors, make it unique to you.
Mix and Match: Don't be afraid to experiment with different wedding color combinations. Many of these trends can be mixed and matched to create a personalized and eye-catching palette.
Consider the Season: Keep in mind the season in which you're getting married. Spring weddings may favor pastels, while jewel tones work well for fall and winter affairs. Consider the natural surroundings and lighting of your chosen season.
Test It Out: Before committing to a color scheme, visualize how it will look in your chosen venue. Use color swatches, create mood boards, and seek advice from a professional wedding planner or designer.
Balance is Key: Balance bold or vibrant colors with neutral tones to avoid overwhelming your guests with sensory overload. A well-balanced color palette can create a harmonious and visually pleasing environment.
Accessorize Wisely: Use color sparingly in accessories like table linens, chair covers, and centerpieces. This can help you achieve your desired look without overcommitting to a particular color.
Conclusion
Your wedding colors are a reflection of your style, personality, and the atmosphere you want to create on your special day. Whether you opt for timeless classics or trendy palettes, remember that the key to a successful color scheme is personalization and balance. Use this guide as inspiration, and with a little creativity and a touch of your unique style, you can create a wedding that's not only visually stunning but also deeply meaningful.