Unlocking Wedding Fashion Secrets: Your A-Z Glossary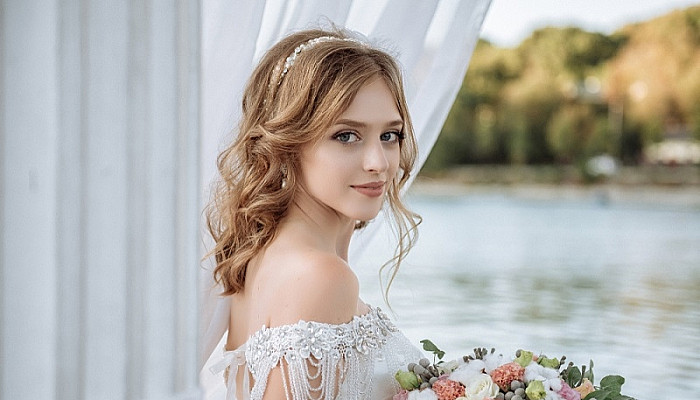 A wedding day is a culmination of dreams, emotions, and meticulous planning. The bride and groom's attire takes center stage, reflecting their personalities, cultural backgrounds, and style preferences. Yet, the world of wedding fashion can be a labyrinth of terms and concepts that might leave you feeling a bit bewildered. Fear not, for this A-Z glossary is here to help you decode the language of wedding fashion, ensuring that you understand every intricate detail and make your wedding day attire nothing short of spectacular.
A - A-Line: An A-line dress is characterized by a fitted bodice that gradually flares out from the waist, resembling the shape of an uppercase "A." This universally flattering silhouette suits various body types and offers a classic, elegant look.
B - Boutonniere: A small floral arrangement typically worn by the groom and groomsmen on the lapel of their suits. This stylish accessory adds a touch of color and flair to the groom's ensemble.
C - Chiffon: A lightweight and sheer fabric commonly used in wedding gowns and bridesmaid dresses. Its delicate drape and soft texture create an ethereal and romantic look.
D - Detachable Train: A train that can be easily attached or detached from a wedding gown. This versatile feature allows brides to have the drama of a train during the ceremony and a more manageable length for dancing later on.
E - Empire Waist: An empire waistline sits just below the bust, creating a high-waisted appearance. This style elongates the body and is often chosen for its flattering and regal look.
F - Fit and Flare: A gown style that fits closely to the body until mid-thigh or just above the knees and then flares out, creating an elegant and figure-hugging silhouette.
G - Groom's Cake: A secondary cake at the wedding reception that is often chosen by the groom. It's an opportunity for the groom to express his interests or hobbies through the cake design.
H - Halter Neck: A neckline style that wraps around the back of the neck, leaving the shoulders and upper back exposed. It offers a chic and sophisticated look, especially in wedding gowns.
I - Illusion Back: An illusion back features sheer fabric, lace, or embellishments that create the appearance of a bareback while providing support and coverage. It's a captivating detail often found in wedding dresses.
J - Jacket Dress: A two-piece ensemble consisting of a dress and a matching jacket. This versatile option is perfect for weddings in cooler weather or for brides who prefer some coverage on their arms.
K - Keyhole Back: A back design featuring a small, often decorative, cutout that adds visual interest and allure to wedding gowns.
L - Lace Appliqu: Pieces of lace fabric that are sewn onto the dress to create a textured and dimensional effect. Lace appliqus add a romantic and intricate touch to wedding attire.
M - Mermaid Silhouette: A fitted gown that hugs the body from the bodice to the knees or mid-thigh and then dramatically flares out, resembling a mermaid's tail. This silhouette accentuates curves and adds a touch of glamour.
N - Notched Collar: A style of collar that features a V-shaped indentation where the lapels meet on a suit jacket or tuxedo.
O - Off-the-Shoulder: A neckline that sits below the shoulders, exposing the collarbone and shoulders while framing the face. This romantic style is available in various iterations, from subtle to dramatic.
P - Peplum: A short overskirt or ruffle that is attached at the waistline of a dress, often adding a stylish and feminine touch.
Q - Queen Anne Neckline: A neckline that combines a high collar in the back with a V-neck in the front. This unique and elegant style adds a touch of sophistication to wedding gowns.
R - Ring Bearer: A young boy, often a family member, who carries the couple's wedding rings down the aisle during the ceremony. This role is symbolic and adds a heartwarming touch to the proceedings.
S - Sash: A decorative ribbon or band that is tied around the waist of a wedding gown. Sashes can add color, texture, or a touch of sparkle to the dress.
T - Tiara: Tiara, a jeweled headpiece that resembles a crown and is often worn by brides to add a regal touch to their wedding look.
U - Underlay: The layer of fabric beneath the top layer of a wedding gown. The underlay contributes to the gown's structure, support, and overall appearance.
V - Veil: A sheer piece of fabric that is worn over the bride's head during the wedding ceremony. Wedding Veils come in various lengths and styles, adding a sense of tradition and mystery.
W - Waistband: A band of fabric that encircles the waist of a wedding gown. Waistbands can be simple or ornate, offering a stylish way to accentuate the waistline.
X - XOXO: Symbolic of "hugs and kisses," XOXO can be incorporated into various aspects of the wedding, from invitations to dcor, adding a personal and affectionate touch.
Y - Yoke: A fitted section of fabric that extends from the shoulders to the bodice. Yokes can be made of lace, sheer fabric, or other embellishments, enhancing the dress's design.
Z - Zipper Closure: A common closure method for wedding dresses, where a zipper is used to secure the dress at the back. Zipper closures offer a practical and secure fit.
Conclusion
As you embark on the journey of preparing for your wedding, understanding these wedding fashion terms will empower you to make informed choices and communicate effectively with designers, tailors, and bridal consultants. Each detail, from the silhouette to the neckline, contributes to the overall impact of your attire. With this A-Z glossary by your side, you're equipped to navigate the world of wedding fashion with confidence and grace, ensuring that your wedding day attire is nothing short of exquisite and truly reflects your unique love story.