Transform Your Forest Wedding with Elegant Dcor Ideas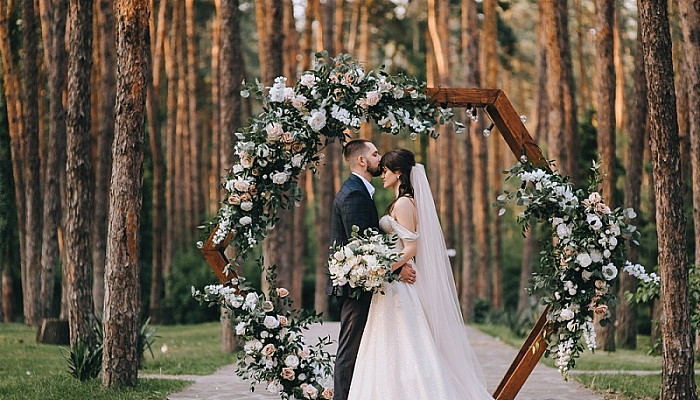 A forest wedding offers a magical setting where nature's beauty intertwines with the celebration of love. The lush surroundings, rustling leaves, and dappled sunlight create an enchanting atmosphere that serves as a canvas for creativity. If you're planning a forest wedding, you have a unique opportunity to embrace the natural elements and add your touch of elegance. In this blog post, we'll explore captivating dcor ideas that will transform your forest wedding into an ethereal and unforgettable experience.
Whimsical Ceremony Archways
Begin your forest wedding with a captivating ceremony archway that blends seamlessly with the natural surroundings. Adorn a rustic wooden arch with lush greenery, trailing vines, and delicate flowers. Add twinkling fairy lights for a touch of enchantment as you exchange your vows under the canopy of trees.
Nature-Inspired Aisle Markers
Line the aisle with subtle markers that enhance the forest's charm. Lanterns with flickering candles, floral arrangements nestled in hollow logs, or petals scattered on the ground create an ethereal pathway that leads to your love-filled ceremony.
Rustic Seating Arrangements
Embrace the rustic elegance of a forest wedding by using wooden benches, logs, or hay bales for seating. Top these with plush cushions and delicate drapery to combine comfort with a touch of sophistication.
Hanging Floral Installations
Elevate your dcor by introducing hanging floral installations suspended from tree branches. Cascading blooms and greenery create a stunning visual spectacle that adds depth and dimension to the forest surroundings.
Candlelit Reception Tables
As the day transitions into night, create a captivating reception space by adorning your tables with candles of varying heights. Set them in glass jars, lanterns, or on delicate holders, allowing the soft glow to illuminate the forest's natural beauty.
Tree-Stump Centerpieces
Incorporate the forest's elements into your wedding centerpieces by using tree stumps as bases for your floral arrangements. These rustic platforms can host an array of flowers, candles, and other dcor elements that reflect the forest's charm.
Fairy Lights and Lanterns
Drape fairy lights among the trees and hang lanterns from their branches to create a romantic ambiance. The combination of twinkling lights and soft lantern glow will evoke a sense of magic that resonates with the enchanting forest setting.
Bohemian Lounge Areas
Design cozy lounge areas using rugs, cushions, and low seating arrangements that effortlessly blend with the forest's natural palette. Add dreamcatchers, poufs, and drapes for a bohemian touch that invites relaxation and conversation.
Floral Canopies
Create an awe-inspiring atmosphere with a floral canopy suspended above the reception area. Imagine dining under a ceiling of hanging flowers, leaves, and vinesan experience that will leave your guests in awe.
Natural Table Runners
Replace traditional tablecloths with natural table runners made from moss, leaves, or branches. This unique touch will infuse your reception tables with the forest's organic charm.
Wooden Signage and Calligraphy
Guide your guests through the forest using wooden signage adorned with elegant calligraphy. From directions to quotes that resonate with your love story, these signs will add a personalized touch to your wedding.
Dreamy Dance Floor
Transform an open clearing into a dance floor where you can dance the night away beneath the stars. String lights, lanterns, and fairy-tale drapery can enclose the space and add a touch of magic.
Conclusion
A forest wedding is a unique opportunity to celebrate your love amidst nature's grandeur. With these enchanting dcor ideas, you can elevate the natural beauty of the forest and infuse it with elements of elegance, creating a wedding that's both ethereal and unforgettable. Whether you're envisioning an intimate affair or a grand celebration, these dcor concepts will help you transform your forest wedding into a dreamlike experience that you and your guests will cherish forever.