9 Stunning Updo Hairstyles to Elevate Your Wedding Look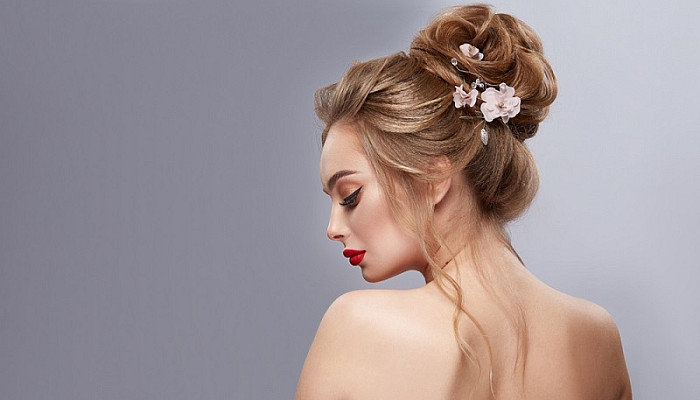 Your wedding day is one of the most memorable days of your life, and every detail matters. Choosing the right updo hairstyle can enhance your overall bridal look and complement your wedding dress. It's essential to consider your personal style, the theme of your wedding, and the shape of your face when selecting the perfect updo. The right hairstyle will not only make you feel confident but also ensure that you look stunning from every angle.
1. Classic Chignon: Timeless Elegance for a Sophisticated Bride
The classic chignon is a timeless and sophisticated updo hairstyle that suits various wedding styles. It involves gathering the hair at the nape of the neck and creating a neat bun. This elegant hairstyle works exceptionally well with strapless or off-the-shoulder wedding dresses, allowing the neckline to take center stage. You can adorn the chignon with delicate accessories such as crystal pins or flowers for a touch of glamour.
2. Romantic Side Swept Updo: Soft and Dreamy Look for a Fairytale Wedding
For a romantic and ethereal wedding look, consider a side-swept updo. This hairstyle involves sweeping the hair to one side and securing it in an elegant twist or bun. The side-swept updo adds softness to your facial features and creates a dreamy aura. It pairs beautifully with lace or bohemian-style wedding dresses, enhancing the overall romantic vibe.
3. Braided Updo: Intricate Weaving for a Bohemian Bride
If you're a bohemian bride seeking a unique and intricate hairstyle, the braided updo is perfect for you. Braids can be woven into various styles, such as fishtail braids, Dutch braids, or halo braids, to create a stunning updo. The braided updo adds texture and dimension to your hair, making it an eye-catching choice. This hairstyle complements boho-inspired wedding dresses adorned with lace, floral appliques, or flowing fabrics.
4. Messy Bun: Effortlessly Chic for a Relaxed and Modern Bride
For the modern bride who wants a chic and effortless look, the messy bun is a fantastic option. This hairstyle exudes a relaxed and carefree vibe while still looking stylish and elegant. The messy bun is achieved by loosely gathering the hair and securing it in a bun with strands left loose to create a tousled effect. It pairs well with contemporary wedding dresses featuring clean lines and minimalist designs.
5. Twisted Updo: Playful and Whimsical Hairstyle for a Fun-Filled Wedding
For a playful and whimsical wedding look, consider a twisted updo. This hairstyle involves twisting sections of the hair and securing them to create an intricate and eye-catching updo. The twisted updo adds a touch of whimsy and charm to your overall appearance, making it ideal for outdoor or garden weddings. Pair it with a flowy and bohemian-style wedding dress to complete the enchanting look.
6. Low Bun with Floral Accents: Natural and Feminine Touch for a Garden Wedding
A low bun adorned with floral accents is the perfect hairstyle for a garden wedding. This updo features a low-set bun at the nape of the neck, decorated with fresh flowers or floral accessories. The low bun with floral accents adds a natural and feminine touch to your bridal look, complementing the outdoor setting and botanical elements. Choose flowers that match your wedding bouquet to create a cohesive and romantic aesthetic.
7. Vintage-Inspired Updo: Old Hollywood Glamour for a Glamorous Bride
If you're a bride who loves vintage aesthetics and wants to channel old Hollywood glamour, a vintage-inspired updo is an excellent choice. This hairstyle draws inspiration from iconic hairstyles of the past, such as victory rolls, pin curls, or finger waves. The vintage-inspired updo adds a touch of elegance and sophistication, creating a show-stopping look. Pair it with a vintage-inspired wedding dress and statement jewelry to complete the glamorous ensemble.
8. Half-Up Half-Down Updo: The Perfect Balance of Formality and Casualness
For a versatile and balanced hairstyle, opt for a half-up half-down updo. This hairstyle combines the elegance of an updo with the relaxed vibe of loose-flowing locks. The half-up half-down updo allows you to showcase your beautiful hair while keeping it off your face. It's a great choice for brides who desire a hairstyle that strikes the perfect balance between formality and casualness. This style pairs well with various wedding dress styles, from bohemian to classic.
9. Statement Updo with Hair Accessories: Adding Sparkle and Glamour to Your Look
If you want to make a statement with your wedding hairstyle, consider an updo adorned with hair accessories. Whether it's a sparkling tiara, a delicate headband, or jeweled hairpins, adding accessories to your updo can elevate your bridal look to another level. These accessories create a focal point and add sparkle and glamour, making you feel like a true queen on your special day. Choose accessories that complement your dress and overall wedding theme for a cohesive and dazzling appearance.
Conclusion
Your wedding day is the perfect occasion to showcase your style and personality through your hairstyle. The nine stunning updo hairstyles discussed in this article offer a range of options for every bride-to-be. From classic elegance to bohemian charm and modern chic, there's an updo that will perfectly elevate your wedding look. Remember to consider factors such as your dress style, wedding theme, and personal preferences when selecting the ideal hairstyle. With the right updo, you'll exude confidence, grace, and radiance as you walk down the aisle.