Winter Wedding At A California Beach: Why Should You Choose?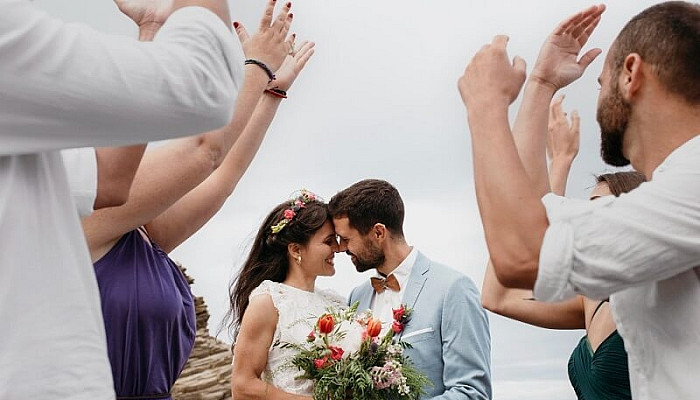 A winter wedding at the beach in California can be a beautiful and unique experience for both the couple and their guests. While the idea of a beach wedding may seem more fitting for a summer event, the picturesque scenery and mild California winter climate make it an appealing option. However, planning a wedding during the winter season requires special consideration for the colder temperatures and potential rain. With careful planning and attention to detail, a winter wedding at the beach in California can be a memorable and breathtaking occasion.
5 Reasons Why a Winter Wedding at the California Beach is a Must-Try
Breathtaking Scenery: The California coastline is known for its natural beauty, and the scenery during the winter months can be especially captivating. The cooler temperatures and occasional rain can create a moody and dramatic atmosphere, perfect for a romantic wedding ceremony. With fewer crowds and less foot traffic, couples can take advantage of the stunning natural scenery and have a more intimate wedding experience.
Unique Wedding Experience: A winter beach wedding in California is still considered a novelty, which can add to the charm of the occasion. Couples looking to break away from traditional wedding norms can opt for a beach wedding and embrace the casual, laid-back atmosphere. The natural beauty of the beach and the cooler weather can create a unique backdrop for wedding photos, unlike any other.
Mild Winter Climate: While other parts of the country may be dealing with harsh winter weather, the climate in California is generally mild during the winter months. With temperatures ranging from the low 50s to the high 60s, it can be the perfect weather for a beach wedding. While rain is possible, it is often light and infrequent, so couples can still enjoy a beautiful outdoor wedding without the fear of heavy rain or snow.
Lower Wedding Costs: Winter weddings are typically less popular than those during the peak wedding season in the summer. This can translate to lower wedding costs, as vendors and venues may offer discounts or more affordable rates. Couples can take advantage of this and have the wedding of their dreams without breaking the bank. Additionally, with fewer crowds and less competition for venues, couples have more options to choose from.
Seasonal Decor: Winter weddings offer a unique opportunity to incorporate seasonal decor into the wedding theme. From holiday lights and winter foliage to cozy blankets and hot cocoa bars, there are numerous ways to embrace the winter season and create a warm and inviting atmosphere. With the beach as a backdrop, couples can combine the natural beauty of the coast with the charm of winter decor to create a one-of-a-kind wedding experience.
Beach Winter Wedding Ideas for a Dreamy Ceremony
Create cozy seating areas for guests to relax and enjoy the stunning scenery. Consider placing comfortable couches and chairs around fire pits or outdoor heaters to keep guests warm and comfortable. You can also add fluffy blankets and pillows to create a cozy and inviting atmosphere. Incorporate winter foliage into your wedding decor to create a seasonal and natural ambiance. Consider using evergreens, pine cones, and berries to create beautiful floral arrangements and flower bouquets. You can also add natural elements such as driftwood and seashells to create a beachy and rustic look.
Add twinkling lights to create a romantic and magical ambiance. String lights can be hung from trees, draped around seating areas, and used to decorate the wedding arch. You can also use lanterns and candles to create a warm and inviting glow. Serve hot cocoa and warm drinks to keep guests cozy and warm. Consider setting up a hot cocoa bar with toppings such as whipped cream, marshmallows, and candy canes. You can also serve warm apple cider or mulled wine to create a festive and cozy atmosphere.
Choose winter wedding attire that is warm and cozy. Brides can opt for long-sleeved dresses with beautiful lace and beading details, while grooms can wear tweed suits or wool blazers. Consider adding faux fur stoles or capes for an extra touch of warmth and elegance. End the night with a beach bonfire for guests to gather around and enjoy. Roast marshmallows, tell stories, and enjoy the beauty of the ocean and stars. You can also provide blankets and hot cocoa for guests to enjoy while they sit by the fire.
Choose a warm and cozy reception venue to continue the cozy ambiance. Look for venues with indoor fireplaces or outdoor heaters to keep guests warm and comfortable. You can also add cozy elements such as candles, string lights, and winter foliage to create a warm and inviting atmosphere. Choose a winter beach wedding cake that reflects the beauty of the ocean and the charm of the winter season. Consider using natural elements such as sea glass and driftwood to decorate the cake. You can also incorporate winter foliage and berries to create a seasonal look.
Take advantage of the stunning winter beach scenery and capture beautiful wedding photos. Consider taking photos at sunset to capture the beauty of the ocean and the sky. You can also take advantage of the moody and dramatic winter weather to create a unique and unforgettable wedding album. Provide warm wedding favors to keep guests cozy and comfortable. Consider giving out personalized blankets or scarves with the couple's initials or wedding date. You can also provide small bottles of hot cocoa or warm apple cider to take home and enjoy.
Winter Beach Wedding Food Ideas That Will Impress Your Guests
One of the best things about a winter beach wedding is that you can take advantage of the fresh, delicious seafood thats available. Consider serving an elegant seafood tower with oysters, shrimp, crab legs, and other delicacies. If you want something a little heartier, consider serving a seafood chowder or bisque, or grilled seafood skewers with dipping sauces. For a more casual option, a classic fish and chips dish is always a crowd-pleaser.
Winter beach weddings can get chilly, so its important to serve dishes that will help your guests warm up. Think hearty soups, stews, and chili, or mac and cheese with gourmet toppings like bacon or lobster. You can also serve warm bread and rolls with flavored butter, or a hot cocoa or coffee bar with all the fixings.
When it comes to dessert, there are plenty of winter beach wedding food ideas that will impress your guests. Consider serving a smores bar with different types of chocolate and toppings, or a hot chocolate station with gourmet marshmallows and flavored syrups. You can also serve mini pies or tarts, or a cake with a winter beach theme, decorated with seashells or a beach scene.
No matter what type of food you choose for your winter beach wedding, there are a few things to keep in mind to make sure your guests are happy and comfortable. First, make sure you have plenty of warm blankets and heaters available to keep everyone cozy. You may also want to consider having an indoor area available in case the weather turns too cold or windy. Additionally, make sure you communicate any dress code expectations clearly to your guests, so they know to dress warmly and appropriately for the weather.
Conclusion
In conclusion, a winter wedding at the beach in California is a charming and distinctive idea for couples looking to tie the knot in a picturesque location. Despite the potential challenges of colder weather and possible rain, with careful planning and preparation, a beach wedding in the winter season can be just as beautiful and enjoyable as a summer wedding. From selecting the perfect attire to creating a cozy and warm atmosphere, there are numerous ways to make the most of this unique wedding location. With the stunning scenery of the California coast and the romance of a winter wedding, it's no wonder why this option is becoming increasingly popular among couples.