Renting A Wedding Dress: Best Places To Rent And Save Money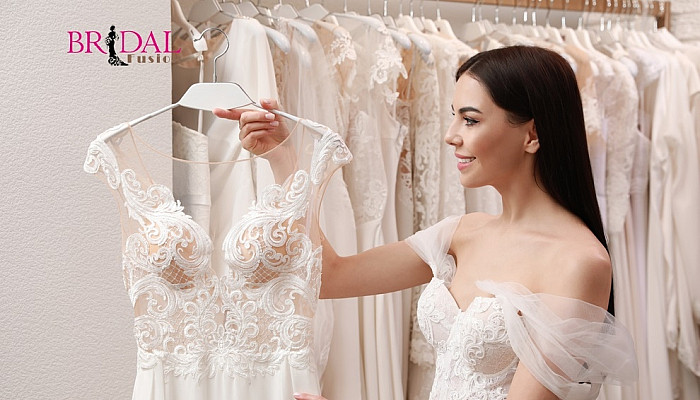 If you are like most brides, renting your wedding dress was probably not on your radar. You probably had a checklist of things to buy for your wedding, and renting a fancy gown from an upscale store was not one of them. However, as you started planning, the costs started adding up. Even though some friends offered to loan you their dresses at no cost, others would charge you for the favor. And even if you found someone who would give it to you for free, altering that dress will be expensive. It's a good idea to save a lot of money on one item of clothing by opting to rent instead.
What Does It Mean To Rent A Wedding Dress?
Renting a wedding dress means you can wear an expensive designer gown without spending a small fortune. For example, a $3,000 wedding dress, plus alterations, might cost $500 to rent. You can also try to find a friend willing to trade their dress for something you own. Renting a wedding dress has many advantages. For one, you can try different styles to find the perfect fit. That way, you can be sure that the dress is right for you.
You can also have the option to return it if you don't like it or exchange it for a different dress if you decide you don't want to wear it after all. If you don't end up using the dress, you can also often sell it afterward to help recoup some of the rental cost.
Apart from saving money, renting a wedding dress is another pro. You don't have to worry about often preserving, storing, or getting it dry-cleaned. Costs can add up when it comes to preserving a wedding dress. Much effort is put into preventing the delicate fabric of a wedding dress from turning yellow over time.
However, if you opt to rent your dress, you won't have to stress about stowing it away safely after the wedding. The service of dry cleaning is also usually included with the rental service. It's a huge win if you can avoid spending $200 on dry cleaning for your dress. To finish, simply return it.
Where To Rent Your Wedding Dress?
When choosing a place to rent your wedding dress, finding a reputable store is essential. Although some of them are located in fancy malls, others are located in strip malls. Although they may have a small selection, you should be able to find what you need if you look around. It's important to feel comfortable asking any questions about the dress rental process once you locate a venue that will accommodate you. For example, ask if you have to pay a security deposit or if you can pay the dress off over time. Some places also have rules or restrictions on who can rent their gowns, so be sure to check before you go.
What is the cost of Renting A Wedding Dress?
As we mentioned above, the cost of renting a wedding dress will depend on the dress itself. You can expect to spend around $100 or less monthly to rent a gown, depending on the style and condition. Rest assured, the price will be higher if you want to rent a designer gown. However, you should also consider that you will likely have to pay for alterations if the dress does not fit properly. So, remember that not all dresses will provide you properly when you try them on for the first time. That's why it's crucial to find a dress in your size. Moreover, different stores have different policies for alterations, so make sure you ask about that ahead of time.
3 Places To Find Your Dream Wedding Dress
Rental stores: If you are looking for a wedding dress that is brand new, then a rental store might be the best place for you. These stores carry gowns of all different styles and colors, and they are available in every size. You can try various dresses to find the one that is right for you. You can also rent accessories such as veils, shoes, and jewelry from the same place.
Resale shops are another great place to find your dream wedding dress. Places like Goodwill, Salvation Army, and the like often have wedding gowns for a fraction of the price. You might not find a designer brand, but you can definitely find something that works for you.
Craigslist: If you are adventurous and willing to take a chance, then Craigslist is a great place to look for your wedding dress. You can search the site for free and find a wide selection of gowns, even designer ones. Be sure to meet the seller in a public place and bring a friend with you just in case.
Affordable Ways To Alter Your Rented Wedding Dress
Wedding dresses can cost thousands of dollars. However, there are some ways to make your dress less likely to get ruined. For example, you can invest in a garment sleeve to protect your arms from makeup stains or an underskirt to protect your dress when you walk.
You can also get your dress professionally cleaned and pressed before the big day. Many vendors offer this service for a fee, or you can have it done at a dry cleaner for a lower cost. Finally, you can get a garment bag for your dress to keep it safe when it's not being worn.
There are some ways to get your dress altered if you need to. If your dress is a little long, you can have it hemmed or wear heels. You can use fashion tape to minimize the size if the bust is too big.
You can also hire a tailor to take in the waist or hips if you need to. If the dress is too small, you can use fabric shapers to give the larger bust or hips appearance. You can also take the dress to a tailor and have them take it in, but that can get expensive.
Some tips on renting a wedding dress
When renting a wedding dress, always ask if there are any hidden costs. Some companies may charge a delivery or cleaning fee, so it's best to ask about these before booking your rental.
Also, ensure you get the exact dates for when you can pick up and drop off your dress, so you don't delay the next renter.
Consider getting an insurance policy for your dress, especially if it's costly. Some companies offer insurance, or you can get a policy on your own.
Conclusion
Renting a wedding dress is a great idea to save money, especially if you are on a budget. However, better remembered that renting a dress comes with some risks. For example, you don't know how many people have tried on that dress before you. You also don't know how well it will hold up after wear and tear, so you may have to spend extra money on alterations. Fortunately, with BridalFusion.com, these risks can be minimized if you are careful when shopping for a gown. Continue reading our blog for more inspiration related to weddings, events, and more.