A Guide to Wedding Suit Fabric and Materials for Grooms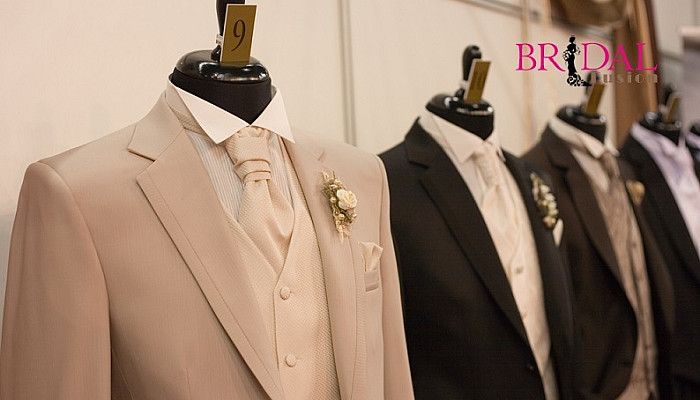 You wouldn't want to be uncomfortable, all sweaty, and unable to breathe in a good-looking tuxedo at your wedding, which has nothing in the name of good fabric and material. This is why picking good material for the groom's wedding dress is an extremely important task while doing wedding shopping. But for this, you will need to be able to grasp knowledge to differentiate between various fabrics available in the market and be able to find whatever fits you perfectly and comfortably. A wrongly selected fabric can make you itchy or irritated on the skin all throughout your special and auspicious day. While deciding on the fabric of your tuxedo, also be mindful of any allergies or skin infections that you might have had previously due to a specific type of cloth or material.
Wedding Suit Fabric and Materials Guide
The market is flooded with many types of fabrics and materials that can be used to make a tuxedo or a wedding dress for a groom, but then it's totally upon the groom which fabric he wants to select for his wedding dress. His decision can be based on the fabric he feels is good for his body, sits perfectly on his body, suits his budget, and is both comfortable and good-looking at the same time. A compressed list of many materials available today for tuxedo stitching is given below.
1. Wool
Wool is the most common and generally the first choice of people who go tuxedo shopping. Wool is a breathable and comfortable material for making a tuxedo but is often considered to be not fit for someone who is looking for a thinner and slimmer material. Any piece of clothing made out of wool also has the ability to regulate the moisture and temperature of the body. However, even though being a bit thicker than other fabrics, wool holds the aura and advantage of being soft, wrinkle-free, and comfortable. The wool comes in various types, including flannel, cashmere, tweed, etc.
2. Cotton
Cotton is generally the second preference for tuxedo buyers and is obtained from plant fibers, unlike wool which is obtained from animal fibers. Many people do not consider suits and tuxedos made up of cotton to be a formal and suitable outfit for a wedding, but if you looking for a lightweight and thin suit for your wedding day and if your wedding is on a warm or hot day or location, a cotton suit is the most appropriate material for you to make a tuxedo out of. However, you will have to make a tradeoff between the perfect fit that a woolen tux would give you. A cotton suit becomes a bit loose and does not fit as well on your body as a woolen suit or tux. If you are going for a semi-formal look and want to look a bit laid back, you can go for a cotton suit. Many people do not prefer a cotton suit as it is also believed that a cotton suit does not express the feeling of wearing a luxurious item or material.
3. Linen
Linen is obtained from the flax plant and is considered the most suitable material to make suits for the summer season and hot temperatures. The fabric is utterly breathable, lightweight, and airy. For this reason, they are preferred over cotton and woolen suits in hot and humid temperatures. However, the main drawback that a linen suit or tuxedo brings with itself is that it wrinkles extremely easily and stains even by a drop of anything on it. This makes it mandatory for a linen suit or tux to be dry cleaned regularly, which is not possible for work days but is surely possible on your wedding day. Thus, linen is next to a perfect fit for the material a groom would choose for his wedding dress. Suppose you are going for a linen suit. In that case, you can even try and play around with colorful tuxedos if you are open to experiments owing to the fact that the linen material dyes easily and comes out with a very vibrant splash of color and hue.
4. Polyester
Polyester is a bit cheaper option if you do not want to spend a lot of your budget on your wedding dress. Polyester is made up of chemicals and other synthetic elements and is not made up of natural materials like plants or animals such as wool, linen, or cotton. Polyester is generally blended with wool or cotton to make it a cheaper option. Though polyester has many drawbacks as not being a good breathable and airy fabric for a tux or suit, prone to wrinkles, and possessing a crude shine on it, which makes the suit look tacky for a groom on his wedding day, polyester suits are still preferred by many people. It is easily available, is cheaper than other options, and is a versatile fabric which means that it works in all seasons and at all events or places.
Wrapping the suits up
The clothing market has developed exponentially in recent centuries, and various materials for everything are available widely everywhere, making having the correct knowledge of what to wear of utmost necessity. Now that you know what kinds of materials exist in the market for your wedding suit to be made do not waste any more time and select the fabric that suits you the most and get your wedding suit made as soon as possible! This list of wedding suit materials will help the grooms be comfortable while wearing a great tuxedo on their wedding day and not thinking about finishing the rituals as soon as possible so that they can run and change into more comfortable and breathable clothes. Remember to wear good-feeling clothes on a day when you are supposed to feel the best of all feelings in your life! Visit Bridalfusion.com for all the wedding-related information, tips, and advice you need!