Your Guide to Determining the Best Wedding Hair Extensions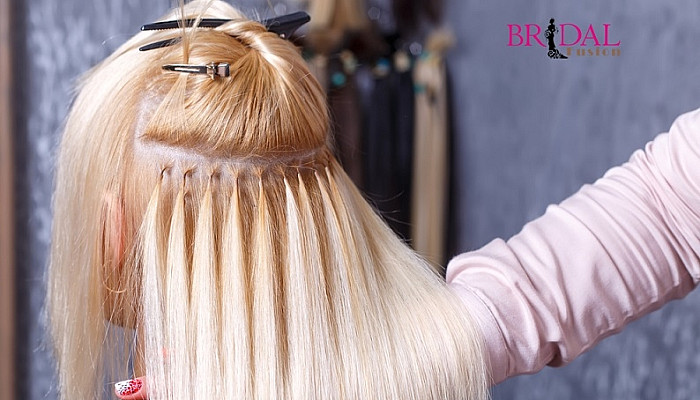 You've booked the venue, found your perfect wedding dress, and locked down the final details of your dream wedding. The final step in creating the perfect look is picking the hair extensions. Whether you have naturally blonde locks or are a brunette with red undertones, it doesn't matter! This article will show you how to find the perfect wedding hair extensions that suit you.
The modern consumer faces a dizzying array of choices, making it challenging to zero in on the best option. Luckily for you, we're here to help! It can be difficult as a bride-to-be to know exactly what hair extensions will suit your individual needs and style. This manual was written just for that reason! We will walk you through these helpful accessories' ins and outs so you can pick the correct hair extension for your wedding day and nail the perfect bridal look.
Types of Wedding Hair Extension
The variety of hair extension styles available for a wedding is extensive. The first thing you'll want to do is decide which kind of extension you want to use. In terms of hair extensions, you can use either synthetic or natural ones or a hybrid of the two.
Real Hair extensions- True to their name, human hair extensions are made from real human hair. The entire thing, from top to bottom, is constructed with human hair that was donated. At the moment of collection, all cuticles (the hair's outer layer) are present and moving in the same direction. This makes tangling nearly impossible and keeps the extensions feeling silky smooth for as long as possible.
Hand-Tied Extensions – These extensions are usually attached to your real hair by using a special adhesive. This will attach your extensions seamlessly to appear as if they are your hair! Using natural hair extensions is a great way to add length and volume to your hair.
Synthetic Hair Extensions - Synthetic extensions are made from synthetic materials such as plastic fibers and are generally easier to maintain than natural hair extensions.
If you're interested in trying extensions but are still on the fence, these are the ones for you. Since synthetic hair extensions are a much more affordable option, they are a great place to start! Some of the synthetic ones are listed below:
Despite the variety of available clip-in accessories, installing and removing them is a breeze. They provide virtually instant gratification and almost little care owing to their painless removal. Moreover, they are usually less expensive, with more long-term extension choices. "If you have never had extensions before, I normally recommend clip-in extensions for my brides," says Sky Kim (Hair stylist at Jenna Perry Hair Studio, NY)
Brides also have the option of using tape-in extensions. Hair extensions are artificial strands glued directly to your scalp, trapping your hair inside. They are simple to install and, if done properly, won't cause any harm to your hair. You don't have to commit to wearing extensions for a longer period if you don't want to, and you also won't have to worry about adding extensions the day of or about feeling bulky or heavy, as is sometimes the case with clip-in extensions, because they are typically single-use.
Although there are several varieties of micro-link extensions, they are little, individual strands linked with a bead. They typically last for approximately a month, give or take, based on your hair and scalp. When no heat is used to maintain the style, it's easier on the hair. Since insertion and removal involve clamping and releasing the bead, it's also convenient for frequent use.
The time and money invested in keratin bonds make them a perfect alternative for brides who desire longer hair for more than just the wedding day (think: wedding night, honeymoon, etc.).
Kim, an expert in micro-links and Keratin bond hair extensions, describes these additions as "simply little, individual strands infused together with the Keratin binds using heat applied by a machine." These extensions may be worn for up to five months with adequate maintenance, making them far more long-lasting than micro-links. However, she stresses the importance of taking additional care to avoid damaging your hair and ensuring that the extensions stay as long as possible.
Micro-links coated in silicone are used to secure a beaded weft extension. It's convenient to schedule a salon visit for installation and upkeep. They don't have to be completely taken down at each session, so setting up and adjusting them is quick and easy. When applied correctly, it does not need adhesive or heat and may endure for up to six months.
Decide on a Budget
The very first thing you'll want to do is decide on a budget. Buying hair extensions may quickly become expensive, so it's best not to rush in without a plan. This is because real human hair extensions are expensive, with some extensions costing upwards of a few thousand dollars! Synthetic extensions can be a lot more affordable and easy to maintain.
The cost of getting hair extensions can range from several hundred dollars to several thousand dollars, depending on many factors such as the type and quality of hair extensions used, the stylist who applies them, and the client's location (hair extensions in Los Angeles might cost more than in Wichita, Kansas).
Before planning to go for your chosen hair extensions, be sure to ask about all of the associated costs during your consultation to avoid any unpleasant surprises. This includes the price of the extensions themselves (clip-ins will be less expensive than more permanent options like Klix or Keratin bond methods), as well as the cost of installation, maintenance, and upkeep (many salons will charge more for a standard blowout if you have extensions in). The salon may not provide precise pricing information until after you've had the hair extensions installed, but they should be able to give you an estimate.
Amanda Scott (New York-based hair extension specialist and owner of wedding hair business AV Hair) estimates that the cost of hair for clip-in extensions can range from $50 to $1,000, while the cost of hair for tape or beaded wefts can be anywhere from $100 to $15,000. In terms of installation, a complete head of hair might cost anywhere from $400 to $2,500 or more.
Investing in a quality brush, hair care products, and regular upkeep is a variable expense. Don't assume removal is free of charge; instead, find out whether there are any costs associated with the service beforehand.
Identify the Length and Colour of Your Hair
Next, you'll want to identify the length and color of your hair. This will help you narrow down your wedding hair extension options and find the best one for you. If you have naturally blonde hair, you can opt for a darker shade of blonde hair extensions for a more dramatic look.
Lighter black hair extensions can provide those with black hair a fashionable silvery appearance. You can choose a lighter shade of extensions for a dramatic look if you have dark brown hair. If you have naturally red hair, you can opt for either blonde or purple extensions to achieve a trendy ombre look. If you have grey hair, you can opt for colored extensions to make your hair look more vibrant.
Pros and cons of hair extensions
Are you looking for wefted, hand-tied, or clip-in extensions? All three types have pros and cons, so it's essential to find the best one for you.
Real hair extensions- When properly cared for, human hair extensions can last up to a year, whereas synthetic ones often only last a few months. The typical lifespan of natural hair extensions is one year.
Weft Extensions - Weft extensions are a type of synthetic hair extension that is woven into a long strip of fabric. You can then attach this to your hair with special glue. These extensions are affordable and can easily be removed with a special adhesive remover. The only downside to weft extensions is that they are pretty visible and can cause awkward moments when attached!
Hand-Tied Extensions - Hand-tied extensions are another synthetic hair extension option and can be woven into your hair using unique braids. These extensions will give you a more natural look than weft extensions. They are more expensive than weft extensions, but they are worth the investment because they will last longer and be much less visible.
Tape-ins are pricey and need daily maintenance if you wish them to last longer. However, its installation and removal are quick and damage-free. The wefts used in these extensions are thin and comfortable to wear and easy to disguise.
Clip-In Extensions - Clip-in extensions are an excellent option for anyone who isn't sure about wearing extensions on their wedding day. These extensions are easy to attach and are usually made from synthetic hair. Clip-in extensions are a bit more expensive than weft or hand-tied ones, but they are a great way to try extensions if you aren't sure if you want to commit to them.
Keratin bonds are quite heavy and prolonged and can stay up to three to five months, depending on your care level. If you leave them longer, they can have a damaging effect on your hair.
Micro links- The procedure of installing micro links might be lengthy. Because the micro links are connected one by one, the appointment time will vary based on the desired thickness. The beads are not uncomfortable, but you can still feel them while lying down. This hair extension is probably the closest one to natural hair.
Conclusion
Adding length, volume, and drama to your wedding day hairstyle is simple when you use bridal hair extensions. And they aren't just for brides! Anyone can wear extensions, whether they are a bride or a groom! When it comes to wedding hair extensions, the possibilities are endless. So, no matter what hair type or look you are going for, with these tips from BridalFusion.com, we are sure to have inspired you to find the right hair extension for your D-day. Continue reading our blog for more wedding-related updates and inspiration.