7 Essential Handbags Tips & Trends For Wedding Guests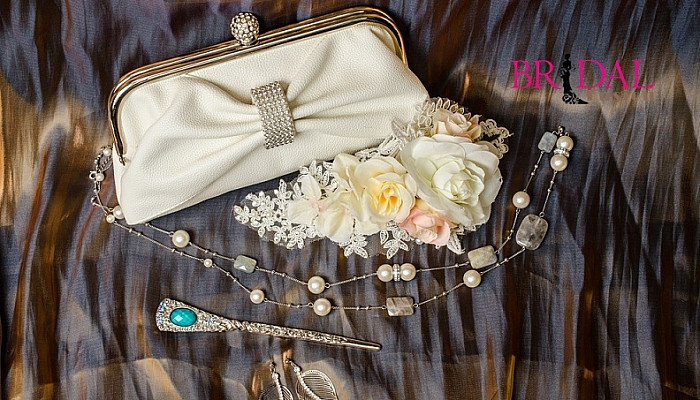 The days of serious or boring-looking grey-toned evening bags that blend into your clothing and become an afterthought are long gone. You don't have to settle with a simple satin clutch in black, gold, or silver anymore. Fashion experts advise wearing Barbie pink or highlighter yellow! And till you're on it, throw in some feathers! "This season, the bag is a statement, and choosing a bag in an unusual color or design is the ultimate conversation starter," says Divya Mathur, Chief Merchant at Intermix, Ney York.
What are the current trends in handbags?
According to fashion experts, the key to selecting the ideal purse for a wedding is first to consider the venue, time of year, and "feel" of the occasion. A beach or garden wedding, for example, might allow for a more everyday bag made of natural fibers such as bamboo or crocheted cotton. Still, a black-tie wedding would necessitate something with a bit of glitter.
A solid dress may be styled with the correct accessories to feel tropical or beachy if you're attending a seaside wedding. A turquoise, beaded clutch, or a shell-accented purse are ideal for a destination wedding. Even a plain silk midi dress can be dressed up for a black-tie event with the addition of a jeweled or feather-accented minaudiere, a lovely evening shoe, and some statement earrings. The perfect handbag may completely modify your style, dressing it up or down for any occasion.
Ashley Miller, a wardrobe stylist, says, "The au-courant trend is to match your purse to your shoes for a beautiful and elegant matching." But we're not talking about matching black with black; for a pop of color, combine a vibrant purple shoe with a matching purse. That is, matching your handbag and shoes really lengthens the leg as the eye moves from top to bottom.
Miller also believes that the tone of the wedding, which may range from a more subdued affair to a full-on dance extravaganza, should dictate your selection in terms of practicality. Do you require a strap to liberate your hands? Will you need a bag large enough to accommodate sunglasses? Consider making room for extra shoes. "I carry disposable slippers because I know I'm going to be on the floor," she says.
Another initial step in selecting your bag is to check through your closet. Miller, as a stylist, usually tells her customers to look at what they currently own before shopping for something new. And, when you do make a new buy, be sure it is something you will wear again. She has a three-time rule, which states that you should only buy items you believe you will wear at least three times. And, with today's more colorful and creative evening bag styles, you might easily find something to wear to a wedding and a great cocktail bar. "They're designed to be worn, viewed, and appreciated," she explains.
Here are some current evening handbag trends perfect for wedding guests.
1. Vibrant Colors
Color is everything, from delicate blush to bright pink and all in between. "I honestly believe that colors are mood enhancers," Miller adds. She loves using surprising bright blue or green to match with a plain black outfit. If your dress is striking and vivid, she recommends using a more subdued hue on your bag. Choose whether your dress or your bag will make a statement, and "don't overshadow your ensemble, so someone doesn't know where to look first," she advises.
However, if you want to be daring, there is an art to maximalism. "It's all about balance, as with any ensemble." If you wish for a maximalist look, use a vividly contrasting hue for your clothing. "Think hot pink purse with a teal blue cocktail dress," Mathur suggests.
2. Handbags with Fringes
Another current fashion trend has found its way into evening bags. Fringe and feathers offer a touch of whimsy and fun to a formal ensemble. You may ease into the bold style with a neutral tone bag or go all out with a bright hue.
3. Eye-Catching Silhouettes
"People are embracing many different forms and sizes as opposed to the classic square clutch with the concealed chain," Miller explains. "Just the other day, I spotted a hexagon." According to fashion experts, innovative shapes have made their way into evening bag trends. Anything goes, from twisted forms to spherical balls like this elegant Cult Gaia purse!
4. Utilization of natural materials
Bamboo, wicker, and crochet purses have been a significant summer fad for the previous few years. Miller saw it creeping into evening bags as well. "I adore a natural boho style." It's ideal for summer weddings since you don't always have to be dressed up and formal. "Being on the beach gets you closer to the vibe of what's going on," she explains. Furthermore, natural materials may readily transition to more casual use, allowing you to utilize your bag throughout the season.
5. Glistening handbags
A little sparkle is always in vogue. Miller suggests investing in a classic purse such as a dazzling minaudière as a "timeless item." Similarly, Mathur suggests keeping a rhinestone mini on hand at all times. "I enjoy keeping the ensemble neutral and then putting on high shine accessories like a rhinestone purse with glittering jewelry if you want something more sophisticated," she says. Today's designs incorporate sparkle in unexpected ways, such as crystal fringe, multicolored stones, and iridescent materials.
6. Customized wedding welcome bags
Olive oil and bread, whiskey and chocolate, and any other tasty combinations are all fair game for wedding welcome bag packages. They are also ideal for including a handwritten note to show your appreciation for your guests. There are countless ways to personalize a gift for your visitors. Still, it all comes down to selecting goods that you and your significant other are thrilled to give to your invited guests. When the guest list is limited, it's possible to go all out on the wedding. Adding each guest's name to the gift bags and party treats is a great way to make them feel like they're part of the celebration.
7. Wedding Guest Favor bags
Consider traveling visitors putting together welcome bags—they'll need to carry everything home with them, after all. "I obsessively over the contents since I wanted everything to be personal, helpful (not wasteful), and suitcase-friendly," bride Grace says of her jute totes stuffed with tasty nibbles, a Turkish beach towel, and hand sanitizer.
Conclusion
Whether the invitation asks for a sophisticated black-tie gown or a bright daytime dress, accessories, particularly wedding guest purses, are just as significant as the clothing you choose. A fabulous handbag, like a pair of party-ready shoes or a sparkling pair of earrings, can improve your entire outfit.
In addition to receiving comments, a well-made handbag is quite useful. It's handy to have a spot to store a tube of lipstick if you need a touch-up during the celebrations or a little box of tissues in case you become teary-eyed during the ceremony. Many designers are producing wedding guest purses that are sure to wow guests. Whether the wedding is on a beach, in a botanical garden, or in a gilded ballroom, at BridalFusion.com, you will find a winning bag to complement your appearance for any upcoming event.