Dallas Bridal Show Is Coming To Solve All Your Wedding Planning Woes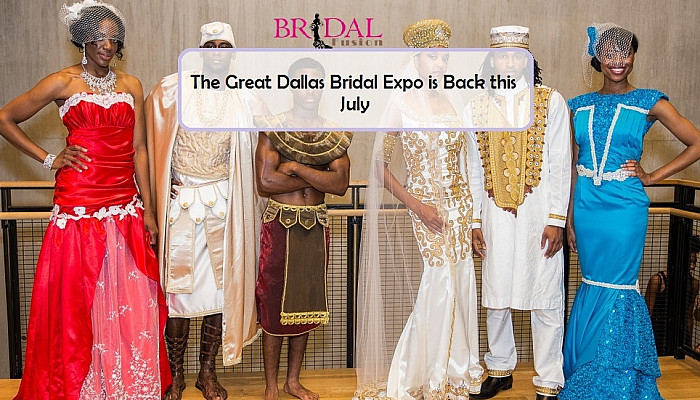 The Dallas Bridal Show has been the leader in the Dallas wedding industry for 25 years simply because it brings the best vendors to the clients and the right amount of clients to the vendors.
The Great Dallas Bridal Expo is rightly targeted toward clients as well as vendors professionally. The prime reason for the popularity of the show is it is well-advertised around the city. It is one of the shows everyone hears about and expects to generate the much-needed buzz. The show helps small businesses and vendors to meet their desired clients better and make sales volume they otherwise would not have easily. No doubt, everyone can stay in business, stay afloat, despite the difficulties the Covid-19 pandemic has brought upon us since 2020.
Day
July 31, 2021, to August 1, 2021
Time
10 AM through 5 PM
Where
Dallas Market Hall
2200 Stemmons Fwy
Dallas, TX 75207
Ticket Price
Adults: $12
Children (Ages 3-14): $6
Children (Ages 2 and under): Free entry
You can purchase the tickets here.
If the event occurs as planned, there will be no refunds.
PS: If you are a bride, mother of the bride, or a wedding services vendor, click here to get your discount coupon.
What will the Great Dallas Bridal Expo 2021 feature?
The upscale Dallas Bridal Show will feature:
- Professional wedding business vendors
- "A Touch Of Fashion" fashion show
- Prizes and giveaways
- New and latest wedding trends for 2021-22
You can find anything and everything in the Dallas Bridal Show, from bridal gowns & accessories, evening wear, bridesmaids dresses, groom's wear, jewelry, beauty services & products, textiles, sound, light & entertainment, photography & video production, floral & stage design, wedding stationery, wedding cakes, confectionery, catering services, limousine services, financial services & banks, health care services, honeymoon & travel services, gifts & wedding favors, home furnishings, and much more!
Organizers
Dallas Bridal Show will be organized by the Bridal Shows, Inc., a highly recommended institution for putting together niche trade shows and other successful events. The organizers have engaged with the best in trend facilities, modern equipment, and tools to serve their clients in the best manner, as they expect. One of the first in their business, the Great Dallas Bridal Show, is a culmination of their genius, a hardworking team committed to putting together a smooth show.
In the past, the organization has provided people with shows and seminars and offered beneficial value to the vendors in terms of booth layout, inquiry forms, and other benefits. They are fully dedicated to offering value to their clients with the services and facilities.
How to exhibit?
If you are looking to be a part of the Great Dallas Bridal Expo 2021 as a vendor, you can simply go to this website page, fill in your business name and other details and submit them to the organizing committee.
The organizing committee will get back to you once they go through your application.
List of vendors