The Best Wedding Gifts for the Modern Couple in 2023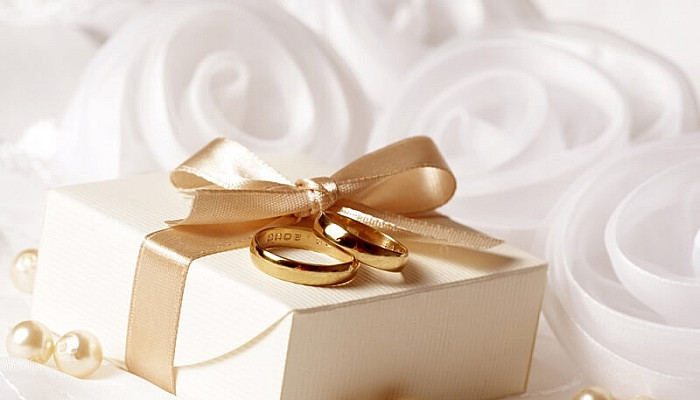 Wedding gifts have always been an integral part of every wedding, and they are a wonderful way to celebrate the union of two people. The year 2023 is going to be a very exciting year for weddings, and there are no better ways to celebrate this than with amazing wedding gifts. Gift-giving has always been a way of showing love, appreciation, and support, and wedding gifts are no different. They are a perfect way to express your happiness and excitement for the newlyweds.
2023 is an exciting year for wedding gifts because many new and innovative products are being introduced into the market. These products include personalized, eco-friendly, and tech-savvy gifts that will make the newlyweds feel special and loved.
The 50 Best Wedding Gifts of 2023 for both Bride & Groom
UncommonGoods Wedding Waltz Personalized Art
This sentimental painting, created by Chicago-based artist Alexander Doll, honors their first dance and fulfills all the criteria for the ideal bridal gift: it is thoughtful, individualized, and completely timeless.
Instant Pot Omni Plus Air Fryer Toaster Oven Combo
Since they probably already have a regular old air fryer, go above and beyond by gifting this bestselling 10-in-one kitchen appliance that also functions as a toaster, an oven, a broiler, and so much more.
Parachute Home Waffle Towels
Ahh, the luxury of waffle bath towelsspecifically the ones from Parachute Home, which look and feel like they belong in a high-end spa.
Shanik Upgraded Cheese Cutting Board Set
This isnt any ole cutting board: It swivels to reveal cheese knives and comes with three white dishes for easy snacking. You can even opt to get it engraved for an additional $15.
Uncommon Goods Wedding Keepsake Library
Any newly-married couple will appreciate having this wedding keepsake library on hand, which allows them to store cherished mementos from the big day in a library-style system.
Tinggly Just Married Gift Box
This gift box gives your recipients access to over 800 experiences for two all over the world, from food tours and biking trips to river cruises and sightseeing adventures.
PaperAnniversaryLove Custom Linen Map with Personalized Pins
With this personalized map, they can mark all their important life events, like where they said I do or where they had their first kiss. Cuuute.
Winc Wine Subscription
A subscription to Winc makes drinking great wine easier than ever, as it delivers four bottles (which you can select with their guidance) right to your fave newlyweds' doorstep every month.
Mark and Graham Wood and Marble Wine Chiller
They'll cherish this handcrafted marble wine chiller, nestled into a natural acacia wood base forever. The monogram detail is the cherry on top!
The Bouqs Co. Bouqs Subscription Box
With a subscription that gives them access to gorgeous bouquets on the reg, their house will never be without greenery.
Mixology & Craft Store Mixology Bartender Kit
Even if theyre not super-experienced bartenders, theyll have fun trying out new drink recipes with this 10-piece tool set.
Homesick Just Married Candle
Looking for a wedding gift that's simple and inexpensive? Ya can't beat this stunning "Just Married" candle from Homesick, which evokes salty ocean air, fresh linens, and a glass of bubbly.
Estelle Colored Glass Stemmed Wine Glasses, Set of 6
Romantic date nights at home will be more frequent when they have an excuse to use this gorgeous glassware.
Minted Heart Snapshot Mix Photo Art
Gather all their most adorable, heartwarming photos, then get them printed on this heart-shaped collage. The frames are also customizable, so theres a color and style thatll match their place.
Mark & Graham Celebration Ice Bucket
Now they can pop open a bottle of wine or champagne in an elegant vintage-inspired ice bucket adorned with their shared last initial.
Spafinder Spafinder Gift Card
JSYK, planning a wedding is stressful AF. Help a newly-married couple unwind with this gift card, which comes in any amount and can be applied to tons of spas in their area.
Bartesian Premium Cocktail Machine
Yes, it may be pricey, but a couple who loves a good cocktail will get plenty of use out of this push-button cocktail maker, which lets you make a delicious concoction with vodka, tequila, whiskey, gin, or rum in no time.
WoodLuckEngraved Personalized Coaster Set
Theyll probably be protective of their new furniture (and with good reason) once theyre all moved in. Meaning: Theyll be super thankful to have custom coasters to prevent those dreaded water rings.
SMEG Retro Toaster
Kitchen appliances usually aren't the most exciting gifts, but you can't even pretend that this retro-inspired toaster from SMEG isn't cute as hell.
Kate Spade New York Rosy Glow Double Frame
This silver-plated frame fits a snapshot from their wedding day as well as a copy of their wedding invitation, and it'll look so, so sophisticated hanging from their wall.
GoPro HERO9 Waterproof Action Camera
Get 'em a top-quality action camera that they can take along with them on all their future adventures together.
UncommonGoods Yours, Mine, and Ours Engraved Decanter Set
If they're whiskey drinkers, then this v chic decanter set (which includes two engraved rocks glasses and a decanter) is le perfect way to upgrade their bar cart.
Chronicle Books The Newlywed Cookbook by Sarah Copeland
Could they use some inspo in the kitchen? This unique cookbook (which includes 130 classic and contemporary recipes) will give 'em plenty of ideas for meals they can make together.
CosmoLiving by Cosmopolitan 3-Piece Ceramic Vase Set
A set of three opalescent white vases that'll transform their living room? It's a yes from us (and no, we're definitely not biased).
Pluto Custom Pillow
Give the gift of a great night's sleep every night with a gift card for custom pillows. The couple just needs to fill out a quick questionnaire about their sleep preferences and Pluto will take it from there.
Modern Sprout Kitchen Harvest Gift Set
Help 'em cultivate their own countertop garden of fresh herbs with this hydroponic grow kit, which includes organic Genovese basil
Roughdraftromance Wedding Book Bundle
If you're looking for something personal and not too pricey, then pls feast your eyes on this vintage-inspired book stack, which can be customized however you'd like and looks stunning on a bookshelf or coffee table.
Jungalow Hypnotic Throw Blanket
A thick woven throw in this neutral hue will complement any sofa, no matter the color.
The Adventure Challenge Couples Camera Set
This gift set comes with 50 adventurous scratch-off date challenges, a photo book, and a Lomography Signature Instant Camera so the newlyweds in your life can capture every last moment.
Cooper Cooler Tailgater Rapid Beverage Chiller
Perfect for cooling bottles and cans in record time, this genius appliance will save them from ever having to serve a lukewarm chardonnay to their guests (the horror!!).
VIRGIN EXPERIENCE GIFTS Virgin Experience Gifts Certificate
Perfect for their honeymoon (and beyond!), this Virgin Experience Gifts certificate comes in any amount and can be applied towards over 2,000 experience options, including everything from flying lessons to spa sessions.
Fellow Stagg EKG Electric Gooseneck Kettle
Who knew an electric kettle (which can be used for pour-over coffee, hot tea, or cocoa) could be so damn pretty??
Great Jones The Starting Lineup
Okay, yes, we said no pots and pans, but legit, NO ONE will object to this high-quality (and dishwasher-friendly!) essentials set, which includes a dutch oven, frying pan, and sheet pan for cooks of all skill levels.
Brightland The Artist Capsule
A couple who loves to cook together will adore this special label olive oil set, which includes garlic, lemon, chili, and basil olive oils that double as decor.
Artifact Uprising Layflat Photo Album
If you have access to their wedding pics, then you can compile them all in a stunning keepsake album (or you can get 'em a gift card so they can put together their own).
Cozymeal Foodie Gift Card
With this gift card (which you can get in any amount you'd like), your recipients can choose between a huge assortment or in-person or virtual cooking lessons, mixology lessons, or wine tastings, so the possibilities are pretty much endless.
Onsen Bath Robe
Gift the newlyweds a pair of super comfy Supima cotton bathrobes that they'll never wanna take off again.
KeepCakeOffiical Wedding Cake Freezer Container
If they're looking to hang on to the top layer of their wedding cake, then this handy preserver will keep it as fresh as possible (with no freezer burn) until they're ready to open 'er up.
iRobot Roomba 694 Robot Vacuum
Tired: a boring ol' vacuum cleaner as a wedding gift. Wired: a smart robot vacuum that'll keep its place spotless with basically zero effort. The future is here, and it is bright, y'all.
Material The Trio of Knives
Knives may not be the most ~romantic~ wedding gift, but this stunning set of Japanese stainless steel knives from Material will take their kitchen game to the next level. You can even add in an aesthetic knife block for an additional $90.
Mano's Wedding Cheers Custom Etched Wine Bottle
A custom-engraved bottle of vino is such a clever way to congratulate a pair of newlyweds (and as a bonus, the full-bodied California cabernet sauvignon inside is really delicious, too).
Parachute Percale Venice Set
Once they find out how soft these sheets are, theyll want to end their honeymoon early just to sleep in them.
Be Home Argyle Wine Rack
Assembled by hand in India, this hammered bronze wine rack legit couldn't be prettier.
UncommonGoods The Anniversary Journal
Though they won't be able to use it just yet, couples will love having this gorgeous keepsake wedding journal on hand, which allows them to fill in memories, details, and photos from their first wedding anniversary all the way up to their 60th.
AURA Carver Luxe Digital Picture Frame
This digital picture frame allows you to email and upload photos directly to the frame's display so they can revisit pics from their wedding (or any other occasion!) all day long.
ClassPass ClassPass Gift Card
Why pick one class membership when this one gives so many options? Whether they are already a fit couple or just want to be more active, ClassPass lets them choose which workouts they want to do.
Philips Kitchen Appliances Pasta and Noodle Maker Plus
One of Oprah's favorite things of 2021, this handy machine will help them whip up their own fresh spaghetti, fettuccini, penne, or lasagna noodles in as little as 10 minutes.
Bis The Carry-On Roller
Complete with a weight-limit indicator, expandable zipper, pockets galore, compression straps, TSA-approved locks, a built-in laundry bag, and so much more, Bis bags legit have it all and then some.
UncommonGoods Anniversary Wine Box
Fill this bad boy up with three bottles of vino for a thoughtful gift that'll keep on giving (for the next five years, to be exact).
NOVICA Hand Blown Glasses, Set of 6
Are they an eco-friendly couple? Theyll love this recycled yet stylish glassware in their kitchen so much that theyll want to keep it on display.
Conclusion
In conclusion, finding the perfect wedding gift can be a daunting task, but with this list of the 50 best wedding gifts of 2023, you'll be sure to find something that the newlyweds will love. From kitchen appliances to smart technology, these gifts are practical, thoughtful, and sure to be appreciated. Whether the couple is into cooking, traveling, or just relaxing at home, there is a gift on this list for everyone. So, don't stress about finding the perfect wedding gift, and choose something from this list that will make the happy couple feel special and loved.
FAQs
What is the best gift to give on your wedding day?
The best gift to give on a wedding day is something thoughtful and personal. A sentimental item like a photo album or a custom piece of artwork can be meaningful. Another sensible choice that enables the pair to select their own present is cash or a gift card.
What are some common wedding gifts?
Some common wedding gifts include kitchen appliances, home decor, and electronics. Other popular gifts are personalized items like photo albums, monogrammed towels, and custom wedding art. Cash and gift cards are also common, as they allow the couple to choose their own gifts.
What to get for a bride and groom as a gift?
A thoughtful gift for a bride and groom can be something practical or sentimental. Kitchen appliances, home decor, and electronics are popular choices. Personalized items like photo frames or monogrammed towels are also meaningful. Ultimately, the gift should reflect the couple's style and preferences and show your love and support for them.
Do most people bring gifts to a wedding?
Yes, it is customary for guests to bring gifts to a wedding. Wedding gifts are a way for guests to congratulate and show their love and support for the newlyweds. However, the type and value of the gift may vary based on culture, relationship with the couple, and personal preferences.