Creative Wedding Shower Gift Ideas For Couples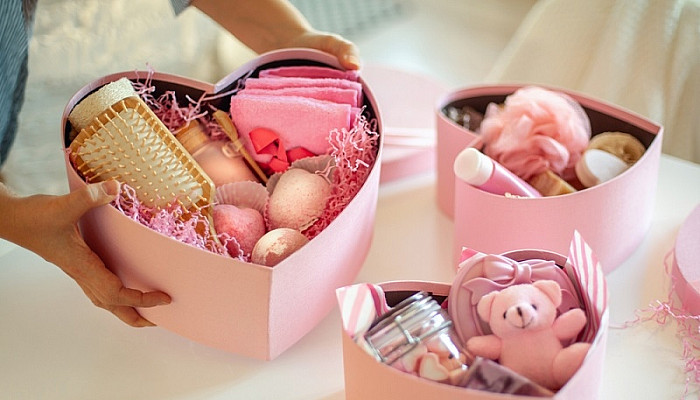 Couples' showers are a lovely way for friends to support the happy couple before their wedding day. Whether you're attending or hosting, good wedding present ideas can be hard to come up with. Thanks to BridalFusion.com, you don't have to tackle this problem on your own, whether you are invited to a wedding shower or a bridal shower. This list will help you choose the best shower gifts for the newlyweds in your life.
Serving bowls
A serving bowl is a must-have in any kitchen; jazz things up with this decorative piece. The handcrafted porcelain bowl has beautiful paintings, such as doves, sometimes known as lovebirds, swinging together beneath a tree whose leaves are colorful flowers. Or a dish engraved with the couple's names or a romantic phrase. Despite their complexity, these porcelain dishes are safely used in the microwave and dishwasher.
Soft bathrobes
A pair of ultra-soft bathrobes for the bride and her future husband would be a wonderful, practical gift for the wedding shower. These robes are made from Turkish cotton and come in five classic colors. When the soon-to-be-weds need a break from wedding planning, they'll enjoy slipping into these cozy gifts.
Items for the kitchen
Electronic blender: Appliances are traditional shower gift ideas, and the couple's kitchen will be incomplete without one. The 72-ounce capacity of the Ninja blender's pitcher includes a travel cup with a lid, which means that anybody, from solo smoothie enthusiasts to baristas, can use it to make and take their favorite blended beverages on the go. Better still, it can go straight into the dishwasher.
Knives in stainless steel: Sharp cooking knives are essential kitchen tools. Make sure the couple has plenty of these high-performance silverware sets. It comes with three stainless steel and high carbon knives (hint: they're particularly sharp) with stylish matte, stain-resistant handles. Add a magnetic wooden stand for easy storage and exhibition for an additional cost. If the couple enjoys cooking together, this traditional wedding shower gift will be utilized virtually daily.
Board for serving: Glass domes are not only useful for protection, but they are also lovely servers. The couple may keep cakes, pies, and appetizers covered and protected with a finely-grained acacia wood board and stunning glass dome (within munching distance). It's a lovely twist on traditional wedding shower serving gifts.
Breadbox: A cute and functional bread box tops the list regarding intelligent ways to keep food on the counter. As proven by the popularity of farmhouse-style items, everything old is new again. A black steel bucket will come in handy if the couple enjoys a shabby chic design. We have a feeling your besties will approve of this bridal shower gift.
Rice cooker: Give the pair a bestseller Instant Pot to save them time in the kitchen. A large-capacity pressure cooker of a good brand will not only boast an easy-to-use panel, preset programs, and enhanced safety measures but also comes with an easy-to-follow cookbook, allowing them to start their kitchen immediately.
Compact air fryer: An air fryer was formerly a unique kitchen gadget, but it's now a popular wedding registry item. This handy equipment cooks food using hot air rather than oil, making it a healthier (but equally delectable) alternative to deep-frying. Whether they enjoy cooking from scratch or finding their favorite recipes in the frozen food area, an air fryer will be put to good use.
Spice set: This wedding shower gift combines two home necessities: a spice rack and spices. Get a sleek organizer from amazon at an affordable price, available in gunmetal, silver, white, and black and may sit on a countertop or be wall-mounted. The best part is that it includes 12 or 18 organic spices in ultra-chic, minimalist containers. It is an efficient and handy gift for setting up the kitchen.
The wedding library
This unique wedding shower gift will keep precious treasures from their wedding day, such as handwritten speeches, polaroids, and accessories, safe. The acid-free drawers, vertical files, cloth bags, and stitched envelopes are ideal for storing little memories. You can personalize the organizer with the couple's names as a bonus.
Gift box for wine
Celebrations and wine go hand in hand. A taster pack of sparkling rosé is a new take on a classic present for the bride. Choose a gift set that includes a half bottle of Louis Roederer Rosé and two tiny bottles of Luc Belaire Rosé and Nicolas Feuillatte Rosé. A charming rose gold champagne stopper completes the ensemble.
Personalized ice bucket
If wine glasses are already on their registry, consider a stainless steel wine chiller as a unique and personalized wedding shower gift. An elegant ice bucket, which can be personalized with the couple's monogram, will look stunning on their bar cart. The double-walled, insulated cylinder is ideal for long nights chatting over a bottle (or two) of their favorite wine.
Picnic baskets
When you need a last-minute wedding or bridal shower gifts, Amazon Prime can help. With this adorable gift set for two, you may give the couple the assistance of a classic date. This insulated wicker picnic basket comes with plates, napkins, cutlery, wine glasses, and even salt and pepper shakers—everything you need for a romantic picnic in a nearby park (or backyard).
Cocktail making kit
The newlyweds will adore this unique wedding shower gift box idea if they prefer cocktails to wine or beer. Find a brand that sells customized craft cocktail kits to make artisanal beverages at home.
Couple's coaster set
Custom coasters are an excellent choice for a low-cost wedding shower gift that is yet noteworthy. The couple's names and wedding year are inscribed on these spherical coasters made of marble and wood. They're a classic wedding or couple shower gift that will keep the couple's new furniture safe.
Diffuser for essential oils
What's not to love about oil diffusers? They fill a room with lovely, delicate scents that provide comfort and mental rejuvenation. If you're stuck for ideas for the wedding shower, this luxury diffuser will quickly lift the couple's spirits. It is available in various contemporary colors and has a wonderfully elegant appearance. Combine it with a collection of popular essential oil smells, such as calming lavender and energetic grapefruit, to relieve any wedding-related tension.
Bar glasses
Pick different glasses, some with a geometric shape and extra-thick base, some beautiful old-fashioned glasses, etc. It will help newlyweds establish a bright at-home bar. The glasses that have tough Tritan glass are transparent and practically unbreakable, making them excellent for entertaining. Create a bespoke gift box with monogrammed coasters and a set of whiskey stones to upgrade this wedding shower gift effortlessly.
Gift card for AirBNB
An Airbnb gift card might set a couple up for a huge trip or a quiet weekend. A gift card is an excellent wedding shower gift since it allows newlyweds to utilize it for their honeymoon or store it for a special anniversary. When they're ready to go, they can choose from an outstanding selection of gorgeous beach houses, unique condos, and chic flats worldwide.
Coupons as gifts
The newlywed couples can have new bags of loose-leaf tea sent to their house every month for three months thanks to a coffee or tea subscription service. They'll have a great time trying out different mixes worldwide as they finish up wedding preparations. A gift certificate to a soothing spa for the pair is also a terrific option.
Conclusion
You've been invited to a wedding shower, and it's time to pick the ideal present. A couple's wedding website, which will most likely include a link to their wedding register, is a terrific location to start your search. However, if you want to surprise your loved ones with something more personal or if early birds beat you to the most excellent gifts on the registry, plenty of thoughtful options on this blog will please soon-to-be newlyweds as they prepare for all of their wedding celebrations.
This list of the best wedding shower gift ideas for every budget includes everything from elegant barware and professional-grade equipment to luxurious towels and valuable gadgets. Choose one of them from this list now.