Top 15 Trending Wedding Gift Ideas For Your Friends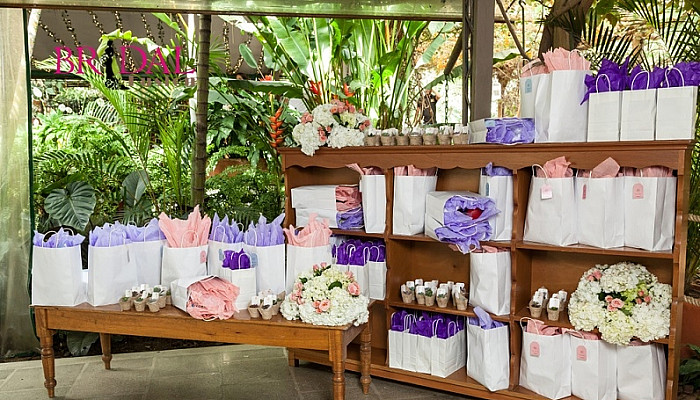 Wedding season has arrived, so it's not surprising that we're looking for appropriate gifts for the soon-to-be couple; however, returning gifts too has become a courteous trend in recent years, and why shouldn't it? Friends are so important, and they form the inner circle of our lives. They are always there for us through thick and thin, and when you are getting married, it may be probably because one of your friends introduced you to this special person. So, here's returning the favor, saying thank you to your friends.
Receiving gifts sounds fun, but giving one is a little more complicated. From auspicious wedding dates to finally giving return gifts to the guests, we at BridalFusion.com take care of every detail of our wedding. Today, then, let's consider the very last step: giving gifts to friends at your wedding. We've got a top fifteen trending suggestions for wedding party gifts down here.
1. Gift Hampers
The most popular return gifts for weddings are hampers, which can be customized according to your preferences and budget. A wedding return gift hamper can include chocolates or other sweets, a thank you card, small velvet pouches, religious and traditional gifts, such as candles or cookies, and so on.
On the other hand, a luxurious hamper basket may include a fancy silver bowl, a wedding guest dress, a wine bottle, scented candles, a good book, etc.
2. Eco-friendly Presents
Go green with these ideas for eco-friendly wedding return gifts; they will not only please your guests and make mother nature happy but also send a message to your friends to be mindful and care about our environment.
Cane/bamboo fruit baskets that are organic
Planters and young plant saplings
Herbal products and spices
Basket of organic honey
Jute bags and boxes,
Jute or wooden jewelry
Earthen lamps and flower pots that have been hand-painted
3. Contemporary gifts
If you don't want to choose your return gifts based on cliches? You would not have to. Choose from our list of modern and unconventional wedding return gifts:
Baskets of chocolates, cookies, muffins, dried fruits, and candy
Exotic tea and coffee jars
Embroidered clutches, henna candles, and incense sticks
4. Jewelry With Lucky Charms
Isn't it true that you can never have too much good fortune? And giving good luck charms as wedding return gifts to your guests will only increase your popularity. Here are some suggestions:
Miniature crystal turtles or elephants
Horseshoe pendants/wall hangings, evil-eye pendants
Bonsai bamboo plants with a laughing Buddha icon and a pair of pish or dolphin tokens.
5. Personalized Gifts
Once you sense your guests' preferences, selecting return gifts becomes a breeze. If you add a personal touch to each gift, you will quickly become everyone's favorite:
Coffee mugs with the friend's photos on them
Elegant fountain pens in beautiful cases, as well as embroidered coin pouches
Set of silver bowls and spoons, silver/brass fruit bowl, silver tray
Handmade pen stands, mirrors, bangle boxes, and candle stands
Coolers: Your guests will appreciate having a koozie to keep their drinks cold, whether they are tailgating during football season, relaxing on the beach, or playing a round of golf at home.
Invest in a lot of these customized can gifts so that your loved ones feel special.
6. Hand sanitizers
A Hand sanitizer is one of the most famous wedding favor to give to guests. The Noshinku brand offers beautifully scented options in bulk for your weddings, such as bergamot, eucalyptus, and lavender. It's thoughtful to give guests hand sanitizer as wedding favors to reduce the risk of illness, but the real takeaway is that cleanliness is a gift that goes a long way.
7. Bottles of Hot Sauce
These wedding favors are ideal if you're always carrying hot sauce in your bag. Print the tag and attach it to your favorite hot sauce bottle for a unique giveaway that your friends will love! Simply buy enough mini Tabasco bottles, print out these favor tags, and you're ready to go.
8. Designer Cosmetic Soaps
These are the choice wedding favors with a clever hidden meaning, such as these adorable pear-shaped soaps in a gift box labeled "The perfect pair." This sweet-scented giveaway will give guests' bathrooms a hotel-worthy touch. Many couples chose bath or beauty-related favors, making this another popular wedding souvenir.
9. Stunning Portraits
Consider spending a little more on wedding favors per guest if you're planning a more intimate event. These seriously relaxed portraits can be used as place cards to let your guests know they've arrived at the right place. They can then take it home and keep it forever. It truly is one of the best wedding favors for guests.
10. Coffee Bags
Check out this clever wedding favor idea if you have a camp- or an otherwise outdoor-themed wedding: individually packaged coffee in a tea bag. Not to be confused with instant coffee, these must-have wedding gifts are not only simple to make but also delicious. If you're always exploring the outdoors together, it's a lovely tribute to your relationship (and you love coffee).
11. Escort Cards With Candy
Some well-known brands offer personalized taster packets that can be used as a sweet seating chart or a fun late-night snack. These candy-themed wedding favors are a great idea for sweet-toothed guests! If you're planning on handing out wedding welcome bags, they'd be perfect inclusions. Spend money on your wedding favors by giving out the brand's signature candy cubes in cute packaging (including a mailbox option).
12. Bottle openers
Do you want your friends to remember your wedding long after the day has passed? Give them key chains that also function as bottle openers. It's a tool that most people don't realize they need until they have it. These trendy wedding favors can be customized to leave a lasting impression on your guests.
13. Customized coasters
Wedding favors for guests that they can keep as a keepsake and enjoy at home are always a good idea. If you're looking for rustic wedding favors, check out the Alderwood coasters make an excellent end-of-night surprise. Personalized with your name and wedding date, guests can protect their furniture while remembering your special day.
14. Chopsticks
We love these custom-engraved bamboo chopsticks as a Mother Nature-friendly wedding favor idea. Family and friends will think of your wedding every time they cook a traditional East Asian dish. If you plan on having guests use chopsticks at your reception, this is an excellent idea for wedding favors.
15. Distinctive Coffee Mugs
Some wedding favor ideas may appear appealing but may be forgotten after the wedding. However, a personalized coffee mug with the initials of each of your guests and wedding date on the front and a personal thank-you message on the back is one to be never forgotten. We guarantee that your loved ones will drink their morning tea or coffee from these creative wedding reception gifts daily.
Final Thoughts
Gifts given to guests as wedding favors serve many purposes, including thanking them for attending and giving them something to take home as a memento of the special day. As the months before your wedding approach, you'll want to start looking for party favor ideas to find the perfect gifts for your guests.
This post has the best wedding gifts for your friends and relatives, from edible gifts to environmentally friendly options and much more to help inspire you. Browse our website, BridalFusion.com, for more wedding-related inspiration.