Unforgettable Romantic Activities for Your Honeymoon Cruise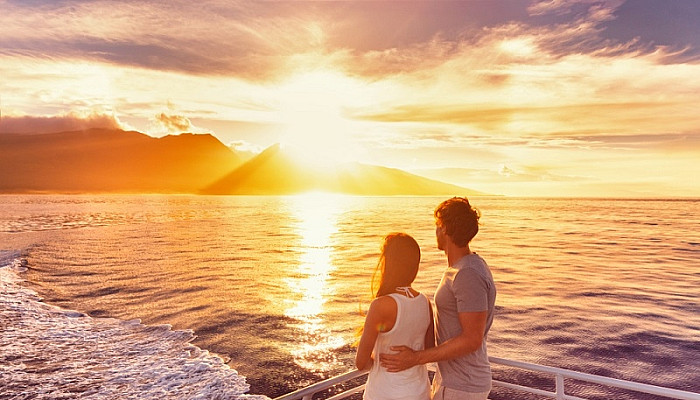 A honeymoon cruise is the epitome of romantic getaways. It offers the perfect blend of adventure and relaxation, with breathtaking ocean views and world-class amenities. Whether you're setting sail in the Caribbean, the Mediterranean, or any other beautiful destination, a honeymoon cruise promises an unforgettable experience. To make the most of your special journey, here are some romantic activities to ensure love is on the waves throughout your cruise.
Sunset Strolls on the Deck
The sunsets at sea are legendary. A stroll along the deck with your significant other as the sun paints the sky with hues of orange, pink, and purple is the perfect way to start your romantic cruise. Holding hands and savoring the tranquil moment creates a lasting memory of your honeymoon.
Private Balcony Dining
Many cruise ships offer private balcony dining, where you can enjoy a sumptuous meal while gazing at the open sea. This intimate setting allows you to savor your partner's company while savoring world-class cuisine and wine.
Couples Spa Day
Indulge in a spa day designed for couples. Many cruise lines offer luxurious spa packages, complete with massages, facials, and relaxation in a private spa suite. This rejuvenating experience will leave you both feeling pampered and reconnected.
Starlit Movie Nights
Some cruise ships have outdoor movie screens, and there's something undeniably romantic about watching a movie under the stars. Grab a cozy blanket, and some popcorn, and snuggle up for a cinematic experience like no other.
Dancing Under the Stars
Many cruise ships feature dance floors under the open sky. Enjoy a night of dancing to live music or a DJ's tunes, with the stars above and the gentle sway of the ship beneath your feet. It's a moment of pure romance and spontaneity.
Destination Exploration
While cruising is all about relaxation, it's also an opportunity to explore new destinations together. Plan excursions at the ports of call to experience local culture, sample new cuisine and create unique memories.
Stargazing
If you're on a cruise with minimal light pollution, take advantage of the clear night skies for some stargazing. Bring a telescope or simply lie on the deck with your partner and identify constellations together.
Wine Tasting
Wine enthusiasts can take advantage of onboard wine tastings or wine and dine experiences. Sample a variety of fine wines while learning about their origins and pair them with delectable dishes for a delightful evening.
Renewal of Vows
Many cruise lines offer vow renewal ceremonies. What better way to celebrate your love and commitment than with a beautiful ceremony conducted by the captain in the middle of the ocean? It's a truly sentimental experience.
Secluded Beach Picnic
Plan a private beach picnic excursion at one of your cruise's ports of call. Your cruise line can arrange a secluded spot with a gourmet picnic setup. Enjoy the tranquility, sun, sand, and surf in the company of your loved one.
Remember that the key to a memorable honeymoon cruise is to blend relaxation and adventure with quality time spent together. Create your personalized romantic itinerary to ensure your cruise is a journey of love and connection.
You may also like to read: Maldives Honeymoon Handbook: 6 Essential Steps for Newlyweds
Tips to enhance your honeymoon cruise experience
Choose the Right Cruise Line: Select a cruise line that aligns with your preferences, whether it's a luxury, adventure, or family-friendly experience. The atmosphere and amenities can vary widely between cruise lines, so do your research to find the perfect fit for your honeymoon.
Plan: Make sure to book your cruise well in advance to secure the best stateroom or suite for your honeymoon. Popular cruise destinations can get booked up quickly, especially during peak travel seasons.
Pack Accordingly: Pack for your honeymoon cruise with care. Don't forget essentials like swimwear, formal attire for special dinners, comfortable walking shoes for excursions, and any necessary travel documents.
Stay Connected: While it's nice to disconnect and focus on each other, it's also important to stay connected with loved ones back home. Check if your cruise ship offers Wi-Fi packages for keeping in touch.
Capture Memories: Invest in a good camera or smartphone with a high-quality camera to capture the beautiful moments you'll experience during your honeymoon cruise. Photos and videos will serve as lasting reminders of your romantic journey.
Be Flexible: While planning is essential, being flexible and open to spontaneity can lead to magical moments. Allow yourselves to go with the flow and savor the unexpected joys that cruising can bring.
Conclusion
Your honeymoon cruise is a unique opportunity to create lifelong memories with your partner. Whether you choose to embark on a thrilling adventure or bask in relaxation, the romantic activities and tips above will help ensure that your journey is filled with love on the waves. Enjoy your once-in-a-lifetime cruise, and may it be the perfect beginning to your shared life together.