10 Best Beach Honeymoon Destinations To Explore In 2023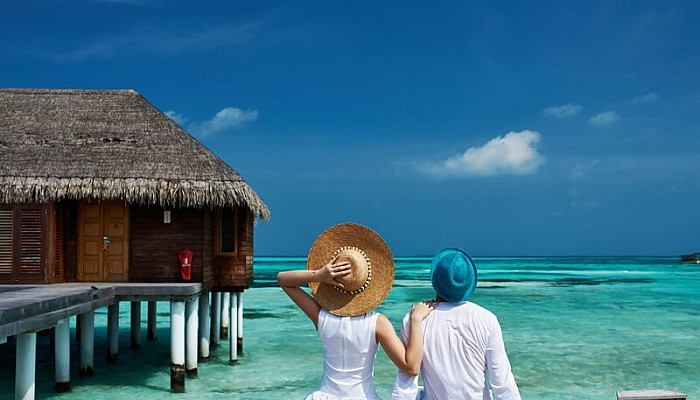 A honeymoon is the perfect way to celebrate the start of a new life with your significant other. It is a time to escape from the mundane of everyday life, relax, and enjoy some quality time with each other. One of the best ways to make your honeymoon extra special is to choose a beach destination. Nothing quite compares to the beauty of a beach, with its white sand, crystal-clear waters, and breathtaking sunsets. Here are ten of the most amazing beach honeymoon destinations that will leave you speechless.
1. Phuket, Thailand
When it comes to beach honeymoon destinations, Phuket is one of the most popular choices. With its lush tropical forests, stunning beaches, and quaint fishing villages, Phuket has something for everyone. There are plenty of activities to keep you occupied during your honeymoon, such as snorkeling, kayaking, and exploring the local markets. You can also indulge in some delicious Thai cuisine, relax in a luxury spa, or enjoy a romantic sunset cruise.
The best thing about Phuket is its variety of accommodation options. Whether you're looking for a budget-friendly hotel or a wish-to-stay luxurious resort, you're sure to find something to suit your taste and budget. And if you're looking for some adventure, you can take part in activities such as trekking, rock climbing, and white water rafting. There's no doubt that a honeymoon in Phuket will be an unforgettable experience.
2. Maui, Hawaii
Hawaii is one of the most romantic beach honeymoon destinations in the world, and Maui is no exception. With its stunning beaches, lush rainforests, and dramatic waterfalls, Maui is a dream destination for any honeymooner. Whether you're looking for an outdoor adventure or a relaxing beach escape, you'll find it in Maui.
Maui is home to some of the world's most beautiful beaches, such as Kaanapali Beach and Wailea Beach. You can also explore the island's many waterfalls, take a helicopter tour, or go on a whale-watching tour. And if you're looking for something more leisurely, you can go snorkeling, sunbathing, or simply take a stroll along the beach.
3. Cancun, Mexico
With its white sandy beaches, vibrant nightlife, and stunning Mayan ruins, Cancun offers something for everyone. You can spend your days exploring the ruins, swimming in the crystal-clear waters, or relaxing on the beach.
At night, you can enjoy some of the best nightlife in Mexico. You can dance the night away at one of the many nightclubs or enjoy a romantic dinner at one of the many restaurants. And when you're ready for some relaxation, you can take a walk on the beach and watch the sunset. With so many things to do and see, a honeymoon in Cancun is sure to be an unforgettable experience.
4. Bali, Indonesia
Bali is one of the highest-ranked honeymoon destinations for couples seeking to travel on a budget. It boasts of lush rainforests, stunning beaches, and vibrant culture, Bali is a paradise for newlyweds. From surfing and snorkeling to hiking and exploring the local temples, there are plenty of activities to keep you occupied.
You can also relax on the beach, take a romantic sunset cruise, or indulge in some of the island's delicious cuisine. And if you're looking for some pampering, there are plenty of spas and wellness centers to choose from. A honeymoon in Bali is sure to leave you with unforgettable memories.
5. Boracay, Philippines
Boracay, with its picture-perfect islands and luxurious resorts, continues to be a coveted honeymoon destination in 2023. Boracay offers an idyllic setting for romance and relaxation. Indulge in thrilling water sports, embark on island-hopping adventures, or simply unwind by the beach with your loved one. The warm hospitality of the locals, coupled with exquisite cuisine and breathtaking sunsets, makes Boracay an unforgettable destination for honeymooners.
6. The Maldives
Maldives is a paradise for any honeymooner. Whether you're looking for an outdoor adventure or a relaxing beach escape, you'll find it in the Maldives. This tropical paradise boasts secluded beaches, mesmerizing blue lagoons, and an underwater world teeming with marine life. Immerse yourselves in ultimate luxury as you stay in overwater bungalows, indulge in rejuvenating spa treatments, and enjoy candlelit dinners under the starry night sky. The Maldives offers a serene and romantic escape, making it an ideal choice for a honeymoon filled with romance and tranquility.
7. Santorini, Greece
Santorini is one of the most beautiful beach honeymoon destinations in the world. With its iconic blue-domed churches and whitewashed buildings, exudes charm and allure. This Greek island is renowned for its breathtaking sunsets, dramatic cliffs, and stunning panoramic views of the Aegean Sea. Explore the quaint streets of Oia, indulge in delectable Mediterranean cuisine, and immerse yourselves in the rich history and culture of this romantic destination. Santorini's unique beauty and romantic ambiance make it a top choice for couples seeking an enchanting honeymoon experience.
8. Seychelles
Escape to the tropical paradise of Seychelles, a collection of pristine islands nestled in the Indian Ocean. With its secluded beaches, lush tropical landscapes, and azure waters, Seychelles offers seclusion and intimacy for honeymooners. Explore the vibrant coral reefs, take romantic walks along the powdery white sand beaches, and discover the unique flora and fauna of this ecological haven. With luxurious resorts and warm Creole hospitality, Seychelles is a captivating destination for an unforgettable honeymoon.
9. Barbados
Barbados, with its vibrant culture, stunning beaches, and warm Caribbean charm, is an ideal choice for a romantic honeymoon in 2023. Immerse yourselves in the rhythmic beats of calypso music, savor the flavors of Bajan cuisine, and relax on pristine golden sand beaches. Embark on island adventures, visit historic landmarks, or simply unwind in luxurious beachfront resorts. Barbados offers a perfect blend of relaxation, adventure, and romance, making it a delightful honeymoon destination.
10. Costa Rica
For couples seeking an adventurous honeymoon filled with natural wonders, Costa Rica is the perfect choice. This Central American gem offers lush rainforests, cascading waterfalls, and remarkable biodiversity. Explore volcanic landscapes, indulge in thrilling activities such as zip-lining and hiking, or simply unwind in eco-luxury resorts immersed in nature. Costa Rica's commitment to sustainability, coupled with its breathtaking scenery and thrilling adventures, creates an unforgettable honeymoon experience for adventurous couples.
For more romantic ideas to spend your honeymoon, visit: https://bridalfusion.com/getting-started/5934-luxury-honeymoons-ideas
Conclusion
Embark on a journey to any of these remarkable destinations, and create cherished memories that will last a lifetime. Whether you prefer relaxing on pristine beaches, immersing in cultural experiences, or seeking thrilling adventures, these top honeymoon destinations of 2023 are sure to provide an unforgettable start to your marital bliss.