HONEYMOON DESTINATIONS AROUND THE GLOBE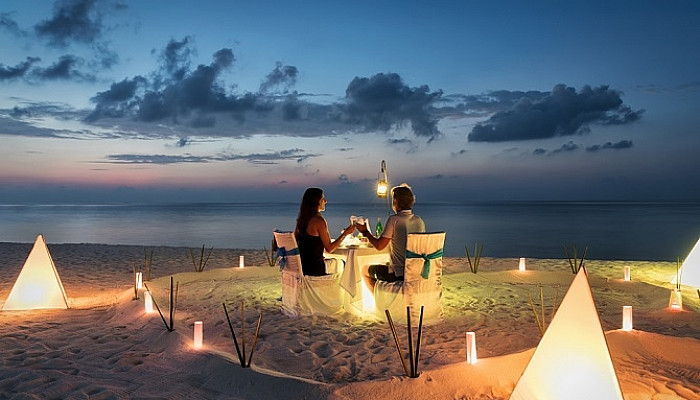 The honeymoon is the period following the wedding, "Characterised by pure love and happiness". Every newlywed couple wants to go on a honeymoon shortly after their wedding. The marvelous span of honeymoon gives sexual enjoyment and immense satisfaction.
Today honeymoon is often celebrated in far-flung destinations considered exotic and amorous. After all the madness of wedding finding a honeymoon destination is a tough task. You don't have to worry on that, We have done the legwork for you and jotted down a handy list of honeymoon destinations from around the world. Leave everything behind, soak up each other's company and celebrate the eternal love.
MUST VISIT HONEYMOON DESTINATIONS FOR NEWLYWEDS
Here is the list of exotic honeymoon destinations to plan an incredibly romantic trip that will make sure you have unlimited reminiscences for a lifetime.
LAS VEGAS ( NORTH AMERICA)
There is nothing like Vegas on this globe. Las Vegas is the city of dreams. The lively and vibrant city has become a popular honeymoon destination for newlyweds. The happening culture and places of Vegas make it an ideal place for a honeymoon. From trying your luck in gambling dens to enjoying the diverse culture at one place it caters to all your fantasies. The erotic and amorous air of Las Vegas makes it a great destination for honeymooners. The dream city offers a great nightlife, sensational shows, witty casinos, gourmet dining, relaxing spas, and much more. This magical place never shuts down all you have to do is choose what best fits your mood.
MARGARITA ISLANDS (SOUTH AMERICA)
Isla de Margarita is the most popular honeymoon destination. The Caribbean pearl has been developed to fulfill all the expectations of honeymooners. Fun filled beaches, spectacular landscapes, lush vegetation, national parks, and natural reserves all wait for a visit from adventurous couples. The many resorts and picturesque cities will make your honeymoon all the more pleasant, as you explore this wonderful South American Island of delight and surprises. Margarita Islands serve up all the water sports activities found at any other sun honeymoon destination for newlyweds. The spectacular coral reefs of the Margarita Islands are worth exploring. There are plenty of clubs, bars, restaurants to make your honeymoon a festive experience.
SEYCHELLES (AFRICA)
Honeymoon in Seychelles is an affair to remember. The quixotic beauty and monumental luxury of this archipelago make it a must visit honeymoon destination. Seychelles is considered to be a playfield of heavy heels and is slowly emerging as the hottest honeymoon destination for newlyweds. The white sand, clear turquoise water, and opulent resorts make for an apt combination for honeymooners to start their new life. It's home to numerous beautiful beaches, exquisite coral reefs, spellbinding nature reserves, delectable delicacies, Aldabra Tortoise ( rare animal). Breathe in the beauty and feel the carnival-like spirit of Seychelles and make endless memories.
IBIZA (EUROPE)
The ibiza-the scenic stretch of the sun has plenty of breathtaking beaches with miles of pristine white sand tuning with crystal clear blue water, there is no way to escape from selecting it as the honeymoon destination. Honeymooners can enjoy the blissful lie-out in the sun, uninterrupted by hustle and bustle. Ibiza is famous for hierbas (Liquor) and toothsome seafood as well as international cuisines (Asian, Italian & Mexican). This hard-partying destination of the Mediterranean is no more the clubbing mecca but beyond it. Animated nightlife, clubs, spas, world best DJ's, dreamy vistas over the sea sets the tone for a lovey-dovey honeymoon. The hippie influence with the Bohemian vibe has made Ibiza the best honeymoon destination for newlyweds. There is something for every newlywed in Ibiza that speaks to their style.
PHI-PHI ISLAND (ASIA)
Phi-Phi Island is incredible and is the perfect honeymoon destination for a dreamy beginning to your married life. No honeymoon is complete without a little sand between your tiny toes. This magnificent sandy stretch of Asia is wild, green, pristine blue, and surprisingly beautiful. Behold the vibrant marine life up-close in crystal clear water and make sure you do not miss exploring the blue world with your love on Phi-Phi Island. Buzzing nightlife, jaw-dropping beaches, romantic stays, adventurous hiking and rock climbing, Thai food, make this archipelago one of the best honeymoon destination for newlyweds in Asia.
SYDNEY (AUSTRALIA)
Sydney is the perfect romantic gateway for honeymooners. Modern day architecture, romantic date nights, picturesque views, fine dining and diverse dishes, rich wineries, mesmerizing skyline, vineyards, hiking on coast track has made Sydney one of the most preferred honeymoon destinations in Australia. Heart of Australia, Sydney with its curved bridges, visually striking paint is the true hue of eternal love and ace honeymoon destination for newlyweds. The spectacular lifestyle of Sydney makes it the most romantic place to visit after your marriage.
Begin your new life with new memories, the above honeymoon destinations will help you create lifelong memories.