Things to Put on Your Honeymoon Packing List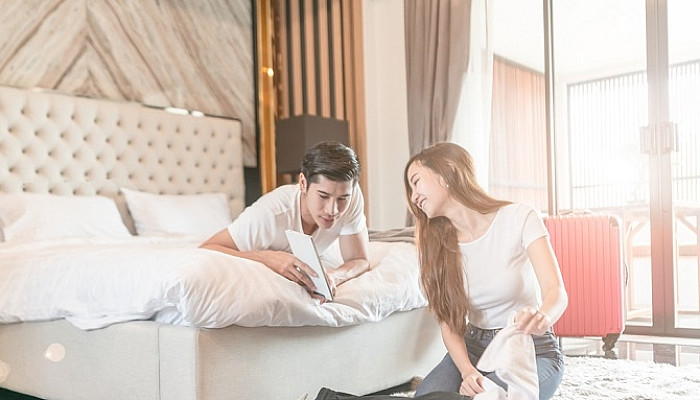 Leaving for your honeymoon? Hold on. Here are a few things that you will require during your much-awaited honeymoon. In this article, learn about various beauty essentials that you should include in your honeymoon packing list.
From the waterproof makeup to a lip moisturizer, there are many things that a newlywed bride is supposed to carry on her honeymoon. If you are new to this, be with this in this article and learn all about honeymoon packing list.
Waterproof Makeup
Do you want your honeymoon pictures to get ruined just because you did not apply a waterproof makeup? Of course not. So, ladies make sure to wear a waterproof makeup with you all the time. No matter what are the weather conditions – sunny summers or romantic rains – carrying a waterproof makeup is all that you need to look as awesome as you are on your honeymoon.
Sun Screen Lotion
Wearing a sunscreen while stepping put in sun benefits your skin and health in several ways. It protects you from harmful radiation of sunlight and reduces the risk of skin cancer, premature aging, and sunburns. If you do not want skin tanning and sunburns to ruin your honeymoon moments, choose the right sunscreen and include the same into your honeymoon packing list. No matter how cloudy the weather is, never ever try to step out without wearing an SPF 30 sunscreen body lotion. Wear it regularly and use it as directed.
Lip Moisturizer
Let's talk about one of the most sensitive parts of our body – our lips. The skin of our lips is much thinner than our facial skin. Hence, we need to take special care of this delicate part of our body, especially when you are about to leave for your honeymoon. If you've ever experienced chapped or flaky lips, you will know how embarrassing it is to have such lips. If you don't want this happen on your honeymoon, do carry a good lip balm or moisturizer along with you all the time. These days most of the lip balms come with SPF in them. So, you need not worry about the harsh sun rays affecting your lips in sunny summers.
Hand Cream
Do you want to keep your bridal mani intact during the honeymoon? If yes, do not forget to pack this secret beauty essential in your honeymoon packing list. A good hand cream is something that you will need all the time. Rubbing on a dollop of a coconut oil based hand cream is like giving your hands a spa treatment. It soothes and softens your skin and lets you flaunt your hands during the honeymoon photoshoot and outings.
Personal Care Wipes
During your honeymoon, you may visit a place having no access to a shower at all. In such cases, carrying a set of personal care wet wipes can save your day. You can use them to clean your hands every then and while. The best part about these wet wipes is that they are super easy to carry. Just a small pack of personal care wipes and you are all set to go. There are wipes that give your skin a soothing moisturizing effect on your skin. Go for such wipes for better results.
The Conclusion
After the wedding, the honeymoon is the next big thing that every couple looks for. Unlike previous outing and dating, time spends during the honeymoon has something special to share with. The moments, the feelings, and the aura of this unforgettable experience deserve to spend with due preparation and planning. Carrying enough things while spending this beautiful time with your partner is a necessity. No doubt, your husband would admire you no matter how you are looking. But, it would be better if you carry all the beauty essential things along with you to look perfect in your honeymoon pictures.
Hope this works for you.
Have anything to share? Do let us know in the comment section. We would love to hear from you.