Choosing The Best Strapless Dress For Broad Shoulders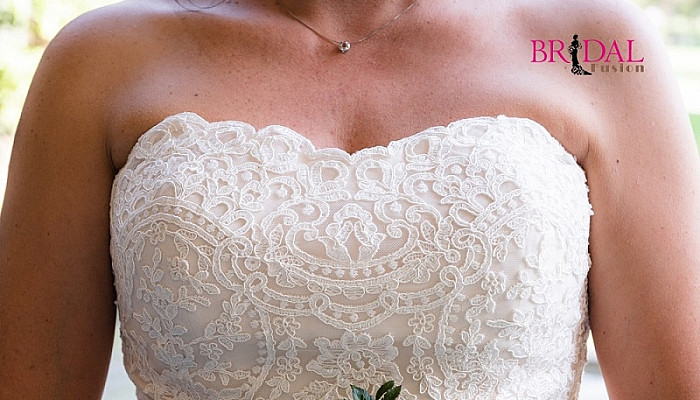 If you are our constant reader, you'll know that we have covered many topics regarding the search for the perfect dress. From event-specific dresses to general style advice, we have covered it all. But one question is always returning: how do you find the ideal strapless dress if you have broad shoulders? Fortunately, like most problems in life, this one, too, has a solution! Whether it be as simple as choosing a different style or taking your measurements for a custom dress to accentuate your best features. There are many methods to fix it, and today we will focus on the latter; how to find a strapless dress if you have broad shoulders by taking measurements yourself and tailoring accordingly. Sounds too much? Let's dive into more details...
The Importance of Taking Your Own Measurements
When choosing the right strapless dress, it is essential to take measurements of your body. When choosing a dress for any occasion, take your own measurements to ensure a proper fit! While many retailers provide general sizing charts, they rarely account for small body size, shape, and proportion variations. While these charts help estimate the best size, it is not an exact science. All body types are unique, and while measurements are great starting points, it is essential to account for slight variations in body shape, proportion, and size. Otherwise, you may find yourself in a dress that doesn't fit correctly and leaves you feeling unsatisfied.
Dressing According To Your Body Type
Broad shoulders aren't the only factor you need to consider when choosing a dress for your body type. There are several other key areas to remember when finding the right strapless dress for broad shoulders. Picking out a dress that accentuates your best features will have you feeling and looking your absolute best! While broad shoulders can be a challenge, the rest of the dress can be just as important. Pay attention to the neckline, length, and waistline of each dress you try. You want to avoid any unnecessary attention to your neckline and collarbone, as well as any cleavage or leg exposure that you may find uncomfortable or not to your liking. It is essential to look at the dress as a whole and not focus too much on a single feature. Keep everything in mind when trying on dresses; you will find the perfect style for your body type!
Tips for Finding the Right Strapless Dress
It's time to look at other aspects of the dress itself and how they can benefit those with broad shoulders. Let's start with the material. Broad shoulders can often be caused by a muscular build, so it makes sense that choosing a dress with a material that is stretchy and forgiving would be beneficial. Let's look at the different materials and what they can offer when finding the right strapless dress for broad shoulders.
- Chiffon - Chiffon is a lightweight, airy fabric that is very soft to the touch, making it an excellent option for a strapless dress. This softness, however, also makes it very forgiving, which can be an excellent benefit for those with broad shoulders.
- Organza - Organza is also a lightweight fabric that is great for finding the right strapless dress. However, it is a bit stronger and more durable than chiffon and is often used in bridal gowns. Organza is a bit less forgiving than chiffon. However, it is still a fantastic option for finding a strapless dress if you have broad shoulders.
-Tulle is another lightweight but a more durable option for a strapless dress. It is also often used in wedding gowns but is generally not as soft as chiffon or organza.
- Silk is a heavier and more durable fabric than chiffon, organza, or Tulle, making it an excellent option for broad shoulders. It is also very soft and can be very forgiving.
Conceal
It is still essential to remember when choosing a dress for a special occasion. As we have mentioned, broad shoulders often come with a muscular build. This can also cause back and belly fat to appear more prominently. When shopping for a strapless dress for a special occasion, try to find one that will help conceal this. Look for fabrics that can help smooth and flatten the silhouette, such as taffeta or satin. You can also try pairing a strapless dress with a corset. This will help the dress stay in place and cinch in the midsection, leaving you with a flatter and more put-together silhouette.
Dress with a V-Neck
A V-neckline dress is ideal for folks with broad shoulders since the surplice neck directs attention vertically rather than horizontally.
This will aid in the creation of a more balanced silhouette. Try a dress sporting a deep V-neck and short or long sleeves, which will help reduce the focus on your upper body.
Try A-line gowns
If you have broad shoulders, you should add A-line dresses to your wardrobe. A-line dresses are fitted at the bust or hips and gradually spread towards the hem, imitating the shape of the capital letter A.
The flared skirt adds volume, giving the appearance of a well-balanced figure, highlighting your exquisite curves, and flattering the inverted triangle body shape.
Asymmetrical Neckline Dress
This style not only looks great, but it's also quite good at creating visual interest, which is good to divert the attention away from broad shoulders, making them less obvious. Furthermore, its surprising design aids in the restoration of equilibrium to your form. A one-shoulder neckline is ideal for making broad shoulders appear smaller.
A wrap dress
Wrap dresses are almost universally flattering as they provide you with a number of excellent features that look great on most women's bodies. Features such as an open v-neckline, a defined waist, and fabric that fits close to the body but is not bodycon tight. All of these are the reasons I like them for their broad shoulders. That is, in addition to the thin fit around the shoulder area.
Try to avoid the following styles the next time you go shopping:
Off-the-shoulder necklines - Due to the lack of coverage, dresses with strapless or off-the-shoulder necklines will draw attention to your shoulders. Instead, go with a broad scoop neckline and cap sleeves.
Shoulder pads, what a throwback to the 1980s. Shoulder pads are foam or fabric items sewn into the garment at the shoulder. They, predictably, draw attention to broad shoulders.
Sleeves with ruffles or puffs - Because of the extra fabric gathered in the area, ruffled or puffed sleeves will bring attention to your shoulders. To soften their appearance, choose long sleeves, half sleeves, raglan sleeves, or cap sleeves.
Unless you're Kendall / Kardashian, who can wear shoulders for days, you probably want to decrease the emphasis on your shoulders. Therefore, these are the styles you should avoid.
Remember that finding gowns that complement your dimensions is the key to minimizing your large shoulders. Because your upper body has already been blessed, concentrate on increasing the volume in your lower half.
Conclusion
Believe it or not, a number of celebrities have broad shoulders. You might take inspiration from ladies who dress their forms very well, such as Halle Berry and Cameron Diaz. Choosing the best strapless dress for broad shoulders can be difficult. Following this advice, you'll find a dress that makes you feel stunning, flatters your figure, and highlights your best features. We are sure that in this post from BridalFusion.com, you will find something that you love!