30 Unique Bridal Shower Gifts That Will Steal the Show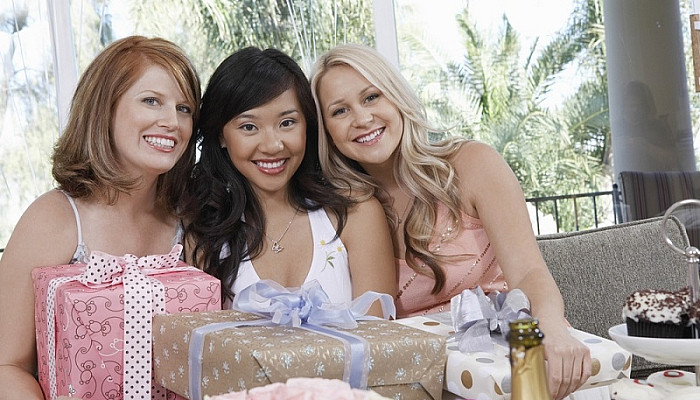 A bridal shower is a time for friends and family to come together, celebrate the bride-to-be, and shower her with love and gifts. While traditional gifts are always appreciated, it's the unique and personalized ones that truly steal the show. In this blog post, we'll explore a curated list of distinctive bridal shower gifts that will leave a lasting impression on the bride, making her special day even more memorable.
1. Personalized Recipe Book
One of the most heartwarming aspects of marriage is sharing meals together. A personalized recipe book is a wonderful and unique gift that the bride will treasure. You can gather family recipes, create a collection of your own, or ask guests to contribute their favorite dishes. Add personal notes, anecdotes, and tips to make it even more special. Whenever the bride and groom cook together, they'll be reminded of the love and warmth surrounding their union.
2. Customized Bridal Robe
Make the bride feel like a queen with a customized bridal robe. Embroider her name, initials, or "Bride" on it for an extra touch of personalization. She can wear it while getting ready on the big day, and it'll serve as a cherished memento long after the wedding. Choose a soft, elegant fabric and a design that suits her style.
3. Date Night Subscription Box
Marriage is about keeping the romance alive, and what better way to do that than with a date night subscription box? These boxes typically include creative date night ideas, complete with all the necessary items, from games to snacks. You can choose a subscription that aligns with the couple's interests, whether it's cooking, adventure, or a cozy night in. This gift encourages the newlyweds to continue making memories and spending quality time together.
4. A Handwritten Love Letter
In a world of emails and texts, a handwritten love letter is a rare and truly personalized wedding gift. Take the time to write a heartfelt letter to the bride, sharing your well wishes, memories, and advice. It's something she can keep close to her heart and treasure for years to come. You can even frame it beautifully for added charm.
5. Spa Day or Massage Gift Certificate
Wedding planning can be stressful, and every bride deserves some pampering. A spa day or massage gift certificate will provide her with a much-needed escape from the chaos. Look for a reputable spa or massage studio in her area, and make sure the certificate covers a variety of treatments, allowing her to choose what she needs most.
6. Custom Star Map
Celebrate the couple's special day by giving them a custom star map of the night they met, got engaged, or will be getting married. These unique prints display the exact arrangement of the stars on a specific date and location. It's a thoughtful and romantic gift that will remind them of the celestial magic surrounding their love story.
7. Memory Jar
A memory jar is a sentimental and enduring gift. Provide the bride with a beautifully decorated jar and some blank cards. Encourage guests at the bridal shower to write down their favorite memories with the couple, pieces of advice, or well-wishes. As the bride reads these notes, she'll feel the love and support of her friends and family, making her journey into marriage all the more special.
8. Personalized Wedding Vows Book
For the couple who's writing their own vows, a personalized wedding vows book is a meaningful gift. This elegant book provides a beautiful place to write and keep their vows before the big day. It's a keepsake they can revisit throughout their marriage, a reminder of the promises they made to each other.
9. A Wine Subscription
If the bride and groom enjoy a glass of wine together, a wine subscription can be a fabulous gift. Many subscription services curate monthly or quarterly selections of wine from around the world. It's a delightful way for the couple to explore and savor new flavors together, enhancing their bond and love for wine.
10. Adventure or Experience Gift
Instead of a physical gift, consider giving the bride and groom an adventure or experience. This could be a hot air balloon ride, a cooking class, a weekend getaway, or tickets to a concert or sports event they both love. Creating memories together can be far more valuable than material possessions.
11. Personalized Couple's Portrait
A personalized portrait of the couple, whether it's a hand-drawn illustration or a digital print, is a unique and artistic gift. You can incorporate elements of their love story, like the place they first met, their favorite hobbies, or their pet. It's a meaningful piece of art that captures their relationship's essence.
12. Time Capsule
A time capsule is a creative and sentimental gift idea. Provide the bride with a container, and ask her to fill it with memorabilia, photos, and notes. She can then choose a date in the future to open it, creating an opportunity to reflect on how her life has changed and how her love story has evolved.
13. Customized Home Decor
Personalized home decor items like custom-made throw pillows, framed prints, or engraved wooden signs can add a touch of personality to the newlyweds' home. You can choose items that reflect their shared interests, wedding date, or a favorite quote. Every time they look at these decorations, they'll be reminded of the love they share.
14. Subscription to a Meal Kit Service
Cooking together can be a fantastic way for a couple to bond, and a subscription to a meal kit service makes it easy and enjoyable. These services provide all the ingredients and recipes needed to create delicious meals at home. It's a practical and fun gift that encourages quality time in the kitchen.
15. A Plant or Tree
Symbolize their love's growth by giving the couple a plant or a tree. It's a unique and eco-friendly gift that can be a beautiful addition to their home. Choose a low-maintenance plant or a meaningful tree like an apple tree, which can grow alongside their marriage.
16. Craft Beer or Wine Tasting Experience
If the couple enjoys craft beer or wine, consider gifting them a tasting experience. Many breweries and wineries offer tours and tastings, providing a fun and educational opportunity to explore new flavors. They can even make a weekend out of it by visiting a wine or beer region.
17. A Professional Photoshoot
Hiring a professional photographer for a couples' photoshoot can be a fantastic gift. It will provide them with high-quality, artistic photos that capture their love in a unique and lasting way. Choose a location that holds significance for them, whether it's where they met, their favorite park, or the site of their future wedding.
18. A Relaxing Getaway
In the midst of wedding planning and life's daily demands, a relaxing getaway can be a true blessing. Consider gifting the bride and groom a weekend escape to a tranquil cabin, beachside cottage, or a charming bed and breakfast. It's an opportunity for them to unwind and enjoy each other's company without distractions.
19. Personalized Cutting Board
For a practical yet decorative gift, a personalized cutting board is an excellent choice. You can have the couple's names, wedding dates, or a meaningful quote engraved on the board. It's a lovely addition to their kitchen and serves as a daily reminder of their special day.
20. A Keepsake Box
A keepsake box is a perfect place for the couple to store their cherished memories, such as love letters, ticket stubs, and small trinkets from their journey together. Personalize the box with their names and wedding dates, and it becomes a lovely memento of their love story.
21. A Mixtape or Playlist
Create a mixtape or playlist for the bride that includes songs that hold significance to her and her partner. You can choose songs that represent their journey, from the moment they met to their engagement. It's a thoughtful and timeless gift that can evoke cherished memories with each play.
22. Personalized Puzzle
A personalized puzzle featuring a photo of the couple, their names, or a special message can be a delightful and unique gift. It's a fun and interactive way for them to spend quality time together, solving the puzzle piece by piece.
23. A DIY Spa Kit
Give the bride a DIY spa kit that includes essential oils, bath salts, scented candles, and other relaxation essentials. It's a gift that encourages self-care and pampering, allowing the bride to unwind and destress during the hectic wedding planning process.
24. A Gift Certificate for a Dance Class
Help the bride and groom prepare for their first dance as a married couple with a gift certificate for a dance class. It's a fun and romantic way for them to bond and gain confidence on the dance floor. They can enjoy learning together and creating a beautiful memory.
25. Personalized Wedding Planner or Journal
A personalized wedding planner or journal can be a fantastic gift for an organized bride. It provides a stylish and practical way for her to keep track of her wedding planning details, jot down thoughts and ideas, and stay on top of tasks leading up to the big day.
26. A Subscription Box for the Bride
A subscription box tailored to the bride's interests can be an exciting and thoughtful gift. Whether she loves books, beauty products, fitness, or crafts, there's a subscription box that can bring her joy and surprises month after month.
27. Wine Glasses with a Twist
Upgrade the traditional wine glasses by gifting the bride a unique set. Look for glasses with fun designs, personalized engravings, or stemless varieties. These glasses can make her wine-drinking experience even more enjoyable and stylish.
28. A Personalized Puzzle Guest Book
Rather than a traditional guest book, consider a personalized puzzle guest book. Guests can write messages and well-wishes on individual puzzle pieces, and the bride and groom can put them together as a keepsake. It's a creative way to remember the love and support of those who attended the wedding.
29. A Cooking Class
If the couple enjoys cooking together or wants to improve their culinary skills, a cooking class can be a fantastic gift. Look for classes that teach a cuisine they love or dishes they want to master. It's a unique and educational experience that will benefit their relationship and taste buds.
30. An Elopement or Vow Renewal Package
For couples who are considering eloping or renewing their vows, you can gift them an elopement or vow renewal package. This thoughtful gesture can help them plan an intimate and meaningful celebration. Look for packages that include a scenic location, an officiant, and photography services.
You may also like to read: The Best Affordable And Creative Coupon Gift Ideas
Conclusion
As you attend the bridal shower and present your chosen gift, remember that it's not just about the item itself but the love and thoughtfulness that you're sharing with the bride. Your gift will serve as a lasting reminder of your well wishes and the joy you feel for her as she embarks on this exciting chapter of her life.