Step-by-Step Guide to Setting Up a Honeymoon Registry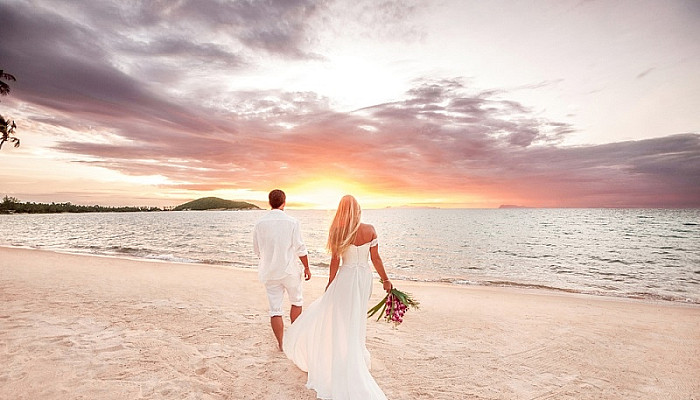 Your wedding day is a momentous occasion, filled with love, joy, and celebration. And what better way to celebrate your union than embarking on a dream honeymoon? Traditionally, couples receive wedding gifts that consist of household items, but in recent years, honeymoon registries have gained popularity as a more personalized and memorable way for friends and family to contribute to your once-in-a-lifetime journey. In this comprehensive guide, we will explore the concept of honeymoon registries, how they work, their benefits, and tips to create the ultimate honeymoon registry that unlocks your dream destinations.
Understanding Honeymoon Registries
A honeymoon registry, also known as a honeymoon fund or honeymoon registry website, is a modern alternative to traditional wedding gift registries. Instead of receiving physical gifts, couples create a registry that allows guests to contribute to specific aspects of their honeymoon.
This can include flights, accommodations, activities, dining experiences, and more. The funds collected are then used to finance the couple's dream honeymoon.
How Honeymoon Registries Work
Creating a honeymoon registry is a straightforward process:
Select a Registry Service: Choose a honeymoon registry platform or service that suits your preferences. Some popular options include Honeyfund, Zola, and Blueprint Registry.
Set Up Your Registry: Create your registry by providing details about your honeymoon plans, such as destination, travel dates, and activities you'd like to enjoy. Be sure to include a heartfelt message explaining your registry's purpose.
Customize Contributions: Divide your honeymoon expenses into manageable categories, such as flights, accommodations, meals, and activities. Assign a monetary value to each category, allowing guests to contribute to specific aspects of your trip.
Share Your Registry: Share your registry details with your wedding guests through your wedding website, invitations, or social media. Ensure that you provide clear instructions on how guests can contribute.
Receive Contributions: Guests can make contributions online through the registry platform. Some platforms offer various payment methods, making it convenient for guests to donate.
Express Gratitude: After your wedding, remember to send personalized thank-you cards to express your gratitude to those who contributed to your honeymoon registry.
Benefits of Honeymoon Registries
Honeymoon registries offer several advantages that make them an attractive option for couples. Honeymoon registries allow you to personalize your honeymoon experience. Instead of receiving generic gifts, you can create a registry that reflects your dream destination and activities. Guests can choose the amount they want to contribute, making it suitable for guests with various budgets. This flexibility ensures that everyone can participate, regardless of their financial situation.
Honeymoon experiences and memories often hold more value than physical possessions. With a honeymoon registry, you're creating lasting memories that you'll cherish for a lifetime. It is an eco-friendly choice, as it reduces the need for gift packaging and transportation, minimizing your carbon footprint. Unlike traditional registries, where you may receive duplicate items, honeymoon registries eliminate this issue. Guests can see what has already been funded and choose different aspects of your honeymoon to support.
You may also like to read: Personalized Wedding Favors Your Guests Will Love
Creating the Ultimate Honeymoon Registry
To ensure your honeymoon registry is a success and helps you unlock your dream destinations, consider these tips:
Budget Wisely: Carefully plan your honeymoon budget to determine how much financial support you need. Be realistic about your expenses to avoid underestimating or overestimating your registry goals.
Provide Detailed Descriptions: Clearly describe the experiences you want to enjoy on your honeymoon. Explain why each aspect is meaningful to you as a couple. This personal touch can inspire guests to contribute.
Include Various Price Points: To accommodate guests with different budgets, include a range of contribution options. Some guests may want to cover an entire category, while others may prefer smaller contributions.
Regularly Update Your Registry: Keep your registry updated with any changes to your honeymoon plans or budget. If certain aspects have been fully funded, replace them with new options to allow guests to continue contributing.
Express Gratitude: Show your appreciation to guests who contribute by sending thank-you notes. Share your excitement about your upcoming honeymoon and how their support makes it possible.
Promote Your Registry Thoughtfully: While it's acceptable to include your registry details on your wedding website and invitations, avoid appearing pushy. Emphasize that gifts are optional, and your primary goal is to celebrate your wedding day with loved ones.
Consider Privacy Settings: Some registry platforms offer privacy settings, allowing you to choose who can access your registry. This can be useful if you prefer to keep your registry details limited to specific individuals.
Research Registry Platforms: Explore various honeymoon registry platforms to find one that suits your preferences. Compare fees, payment options, and features to make an informed choice.
Stay Organized: Keep track of contributions and send thank-you notes promptly. Maintain a list of contributors and their gifts to ensure no one is overlooked.
Share Your Journey: During your honeymoon, consider sharing your experiences with the contributors. Post updates, photos, and thank-you messages on social media or your wedding website to let them share in your joy.
Conclusion
In conclusion, honeymoon registries offer couples a modern and personalized way to fund their dream destinations and experiences. By understanding how they work, and the benefits they offer, and following these tips, you can create the ultimate honeymoon registry that not only helps you unlock your dream honeymoon but also allows your loved ones to be part of your journey and celebrate your union in a meaningful way. So, get ready to embark on your adventure of a lifetime, filled with love, memories, and the support of those who care about your happiness.