The 7 Most Common Wedding-Planning Mistakes to Avoid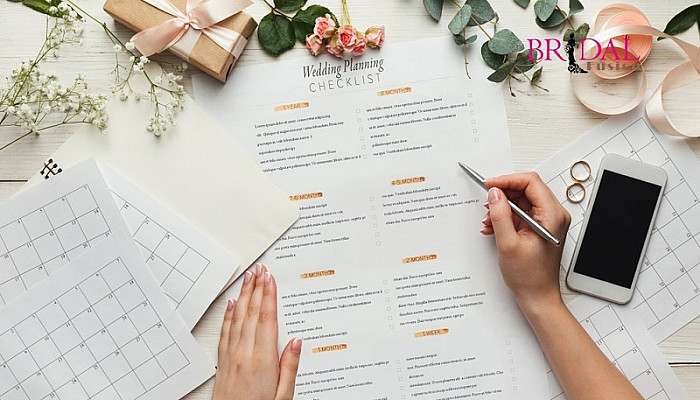 Wanting to get married and plan a wedding at the same time is challenging for even the most organized person. The stress can be overwhelming, but wedding planning doesn't have to be the source of so much anxiety. All you need to do is create a clear plan of action and avoid these common mistakes when you're making your wedding plans. With the right approach and some preparation, you can have the wedding of your dreams without breaking the bank or stressing yourself out in the process.
If you've recently started planning your wedding, there are lots of things that can trip you up along the way – especially if this is your first time organizing such an event. But with a little bit of knowledge and guidance from experts, these common pitfalls can easily be avoided.
1. Don't skip the budgeting process
As odd as it may sound, lots of couples don't actually sit down and figure out how much they can afford to spend on their wedding. Make sure you and your partner get this part of the planning process out of the way before you start booking and scheduling events. You may be surprised by how much you don't know about each other's financial situations and how they affect your ability to spend.
Having a set budget will help you avoid making poor or, even worse, irresponsible decisions. It's also a great way to make sure both of you feel comfortable with the financial side of planning a wedding. You can do this by making a spreadsheet that lists all of your expenses or even just using a pen and paper.
2. Don't skimp on the photographer
A wedding photographer is one of the most important vendors you'll book for your wedding. It's the person who will capture the most important memories from the day, and you'll cherish those pictures for the rest of your life. What's more, they'll be some of the most expensive vendors on your wedding list, so you need to make sure you don't skimp on them. You want to make sure you're booking a photographer who is experienced, has a good track record and does excellent work.
To make sure you're hiring the proper photographer, don't be hesitant to speak with multiple photographers during interviews and to ask for references. And if you're thinking about hiring a photographer, don't be hesitant to haggle over the fee. You can also consider hiring a photographer who does wedding photography as a side gig and negotiate a lower price.
3. Be realistic about the food you serve
There's a lot of talk about not skimping on the photographer, but the food is a part of your wedding that's often overlooked. Don't just go with the first caterer you meet. But instead, make sure you're booking a caterer who specializes in wedding food. This can help you avoid overspending on food that no one will eat because they're too full. If you know you and your guests prefer more casual or casual-dining options, you can opt for buffet-style meals.
And don't feel like you need to serve an extravagant meal. You don't want to spend thousands of dollars on a meal your guests barely taste because they're too full to enjoy it. Going with less expensive food options, like burgers and tacos, can help keep your wedding food budget in check.
4. Don't freak out about finding the perfect dress
It's true that the dress is the most important piece of clothing you'll buy for your wedding. It'll be the thing you wear when you walk down the aisle. But don't put too much pressure on yourself to find the perfect dress. Yes, the dress is important and reflects your personal style, but it shouldn't stress you out. There are several ways to obtain inexpensive wedding dresses, so you shouldn't feel as though you must spend a lot of money.
Attempting to mix and match elements, such as sleeves or other fabrics, is another option. You may even think about recycling your own old clothing. Additionally, it's a good idea to try on a variety of dress styles to see which ones suit your figure the best.
5. Don't rely on Pinterest for your wedding ideas
Pinterest is great for lots of things, like finding recipes for the perfect wedding cake or inspiration for a party theme, but it shouldn't be your main source of wedding ideas. Pinterest can get you in trouble because it's easy to get carried away and feel like you have to do everything on your wedding checklist. It can also cause you to get stuck in a rut or get overwhelmed with too many choices. Pinterest can be helpful, but make sure you're not relying on it too heavily.
You should be drawing inspiration from other sources, too, like magazines, blogs, or even old photographs you find. When you're collecting ideas, make sure you're only pulling from reliable sources and not just pinning everything you like.
6. Don't wait until the last minute to book vendors
It can be tempting to wait until the last minute to book all of your vendors. You may feel like you're saving money by booking everything at the last minute. However, avoid the pitfall of making last-minute reservations for everything. This can cause a lot of stress for yourself and the people you're hiring, especially if you're hiring people who work full-time jobs.
Plus, booking at the last minute can hurt your chances of booking the people you really want. Booking your vendors as soon as feasible is a smart practice. If you know you want to hire a certain photographer or DJ, for example, start looking for them as soon as you start planning your wedding.
7. Don't be afraid to negotiate
If you're booking vendors or booking events such as a venue, make sure you're not afraid to negotiate. You're hiring these people so they can provide you with a service. While they may be expensive, they also want your business. Don't be afraid to negotiate with them or ask for a discount. If you're booking a DJ, for example, be sure to negotiate a price. Or, if there's a certain package you really want, but it's outside of your price range, see if there's anything you can do to bring the cost down.
When you're booking caterers, make sure you're clear on the terms of the contract and negotiate any terms you don't like. And don't be afraid to negotiate with venues, too. It's normal to ask if there are any discounts available or if there are any ways you can bring down the price of your wedding.
Conclusion
Whether you're planning a wedding or another type of event, it's important to avoid these mistakes. They can make things more stressful and costly. If possible, hire a planner or use other resources to prevent these issues from happening. It will not only enable you to save money but also time.
The sooner you start planning, the less stressed you'll be, and the more time you'll have to enjoy the lead-up to the big day. Planning a wedding can be stressful, but it doesn't have to be as long as you avoid these common mistakes. Follow Bridalfusion.com for more bridal inspiration and tips for planning the perfect wedding.