Blossoming Brides: Go for Floral-Inspired Wedding Ensembles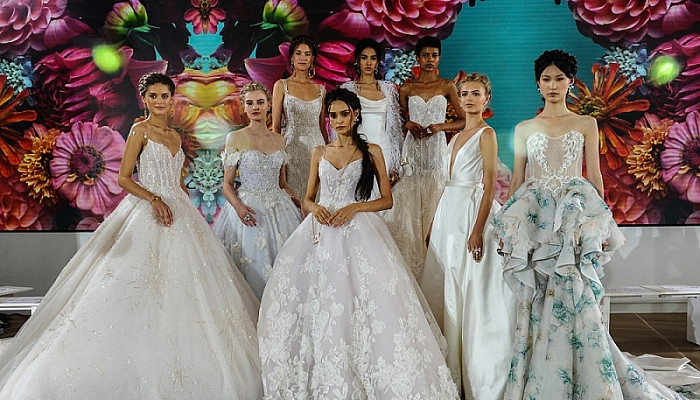 Floral wedding gowns and accessories are a trend that continues to captivate brides with their timeless and enchanting allure. From intricately embroidered blossoms adorning gowns to delicate floral-inspired accessories, this trend beautifully combines the natural beauty of flowers with the elegance of bridal attire. In this exploration, we'll delve into the world of floral wedding gowns and accessories, celebrating the breathtaking charm they bring to weddings.
The Blossoming Gown
The heart of the floral wedding trend lies in the gown. Floral wedding gowns are a testament to the delicate artistry of designers who weave the beauty of nature into every stitch. These gowns come in various styles, each offering a unique interpretation of floral elegance.
Embroidered Blooms: Embroidery is one of the most exquisite ways to incorporate florals into a wedding gown. Whether it's dainty wildflowers scattered across a tulle skirt or intricate rose vines climbing up a bodice, buy embroidered blooms from Marchesa, Oscar de la Renta, and Monique Lhuillier to add a touch of romance and femininity.
3D Floral Appliques: For a three-dimensional touch, 3D floral appliques create depth and texture on a gown. Do check out Viktor & Rolf, Jenny Packham, and Hayley Paige for appliques made from various materials, such as lace, organza, or even fabric flowers, providing a lifelike representation of petals and blooms.
Printed Gowns: Some brides opt for a more bold and whimsical approach by choosing wedding gowns with full floral prints. These gowns can range from subtle watercolor flowers to bold, oversized blooms, allowing brides to make a statement with their attire. You can find a variety of beautifully printed gowns for different occasions from Diane von Furstenberg, Nicole Miller, and Mara Hoffman.
Accessories that Bloom
To complete the floral wedding look, accessories play a pivotal role. From headpieces to veils and everything in between, these accessories are designed to enhance the gown and create a cohesive bridal ensemble. A floral crown is a symbol of natural beauty and a popular choice for bohemian brides. Crafted with fresh or silk flowers, these crowns add a touch of whimsy and a connection to the outdoors.
A veil with floral detail can transform your bridal look. It can be as subtle as lace edging with floral motifs or as bold as a veil entirely adorned with floral embroidery. Floral sashes or belts can cinch the waist of a gown, creating a flattering silhouette while adding a floral accent. They provide an opportunity for brides to coordinate with the overall theme and color palette of their wedding.
Some brides opt for unique floral purses, which resemble miniature bouquets. These charming accessories add a playful and unexpected element to the ensemble. Consider Twigs & Honey, Untamed Petals, BHLDN, Elsa Corsi, and The House of Mac and Zoe to explore bridal accessories and decor that incorporate floral elements.
Bridesmaid Blooms
The floral trend is not just for the bride; bridesmaids can also embrace the beauty of blossoms in their attire.
Floral Bridesmaid Dresses: Bridesmaids can don dresses adorned with floral patterns that complement the bride's gown. Coordinating the floral theme across the bridal party creates a cohesive and harmonious look.
Floral Accessories for Bridesmaids: Bridesmaids can incorporate floral elements through accessories like hairpins, bracelets, or even floral-inspired shoes, adding a touch of whimsy to their outfits.
Blooming for the Little Ones
Don't forget the flower girls and ring bearers. Dress your flower girl in a gown or dress adorned with dainty floral accents. You can also consider floral wreaths or baskets filled with petals for that quintessential flower girl look.
Even the littlest member of the bridal party can wear a miniature boutonniere that matches the floral theme, adding charm to his outfit.
Beyond the Gown: Groom's Attire
The groom and groomsmen can also participate in the floral trend. While floral tuxedos might be a bit much for some, there are subtle ways to include florals in their attire.
Floral Ties and Pocket Squares: A floral tie or pocket square can add a touch of elegance and coordination with the bridal theme without overwhelming the groom's ensemble.
Boutonnieres: The groom's boutonniere can be a miniature masterpiece crafted from the same flowers or color scheme used in the bride's bouquet.
Grooms may choose from a variety of companies and artists that provide a vast array of possibilities, ranging from classic tuxedos to more contemporary and distinctive styles. Some well-known brands and designers for grooms' and groomsmen's attire like Ralph Lauren, Tom Ford, Hugo Boss, Calvin Klein, Brooks Brothers, Men's Wearhouse, and Vera Wang.
Choosing the Right Floral Theme
One of the keys to successfully incorporating floral elements into your wedding attire is selecting the right floral theme and color palette. Whether it's a romantic garden of pastels or a vibrant meadow of bold colors, your theme should reflect your personality and the overall atmosphere you want to create.
You may also like to read: Learn More About Boutonniere
Personalization and Customization
Personalization is at the core of the floral wedding trend. Customization can involve selecting your favorite flowers, incorporating family heirlooms into your ensemble, or even creating a bespoke gown or accessories designed especially for you.
Your wedding attire should be a reflection of your unique love story.
Preserving the Memories
After your special day, consider preserving elements of your floral-inspired wedding ensemble. Gowns can be professionally cleaned and stored, while accessories like veils and sashes can be cherished keepsakes.
These items can serve as beautiful reminders of your unforgettable day.
Conclusion
In conclusion, floral wedding gowns and accessories are a testament to the enduring appeal of nature's beauty. They infuse weddings with a sense of freshness, delicacy, and elegance that captures the essence of love in full bloom. From the bridal gown to the smallest floral accessory, each element has the power to transform your wedding day into a celebration of the enduring beauty of blossoms. Embrace the floral trend, and let your love story blossom in style and grace.