One-Stop Solution to Matching Bride and Flower Girl Dresses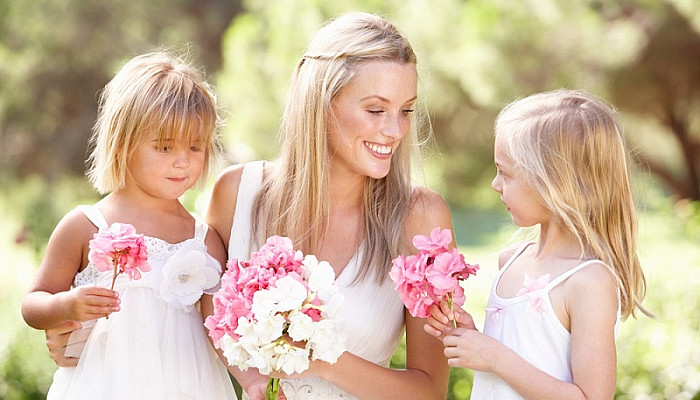 Your wedding day is a cherished milestone, a day filled with love, laughter, and the promise of a beautiful future. Among the many details that go into planning a wedding, one delightful aspect is the coordination between the bride and her flower girl. Matching bride and flower girl dresses can elevate the entire wedding experience, creating a harmonious and unforgettable atmosphere. In this comprehensive guide, we will explore the intricacies of selecting and matching bride and flower girl dresses, offering you a one-stop solution to ensure these two essential roles blend seamlessly in style and grace.
Start with a Vision
Every wedding begins with a vision, a dream of how you want your special day to unfold. Before delving into the world of dress selection, it's essential to have a clear vision of the overall theme and style of your wedding. Consider factors such as the venue, season, and the mood you want to convey. If you envision a timeless, formal wedding, your dress choices may lean toward traditional white or ivory with luxurious fabrics like satin and lace.
For a rustic wedding set against the backdrop of a countryside barn or garden, lighter, airy fabrics such as chiffon and lace, and pastel colors may be your preference. Beach weddings often call for flowing, lightweight dresses in soft hues like aqua, blush, or sand, adorned with beach-inspired details. If your wedding exudes contemporary style, clean lines, and minimalistic designs in crisp whites, silvers, or metallics may be your choice.
Having a clear vision will serve as your guiding light as you embark on the journey to find the perfect dresses for you and your flower girl.
Choose a Color Palette
Once you have your wedding theme in mind, selecting a color palette is the next crucial step. The color palette will not only set the tone for your wedding but also serve as the foundation for coordinating the bride and flower girl dresses. Here are some strategies for choosing a color palette:
Monochromatic Elegance: Opt for a monochromatic scheme where both the bride and the flower girl wear variations of the same color. For instance, if your wedding theme is classic white, the bride can wear a pure white gown, while the flower girl may wear a softer shade of ivory or cream.
Complementary Colors: Choose colors that complement each other without necessarily matching. For example, if the bride is in an elegant ivory gown, the flower girl can wear a pastel shade like blush or mint, creating a harmonious yet distinct look.
Accent Colors: If your wedding decor features specific accent colors, consider incorporating these into the dresses. Whether through sashes, ribbons, or floral accents, these accents can connect the bride and flower girl's attire with the overall decor.
Shades of Romance: Explore shades of a single-color family, such as various shades of pink, to create a romantic and visually captivating effect.
Your chosen color palette should evoke the mood and style you desire for your wedding while considering the preferences and comfort of both you and your flower girl.
Coordinate Silhouettes
Matching the silhouette of the bride and flower girl dresses can create a harmonious and visually appealing effect. A-line dresses are universally flattering and work well for both brides and flower girls. They feature a fitted bodice that gradually flares from the waist, creating an elegant and timeless look.
If you envision a fairytale wedding, consider a ball gown silhouette. This dramatic and enchanting style features a fitted bodice and a voluminous, full skirt, creating a magical effect for both you and your flower girl. If your wedding style is more modern and sophisticated, mermaid or trumpet silhouettes can add a touch of glamour. The fitted bodice and flared skirt create a stunning effect.
Empire waist dresses have a high waistline that sits just below the bust, with a flowing, relaxed skirt. This style exudes a sense of elegance and comfort and can be a great choice for both the bride and the flower girl. By coordinating the silhouettes of the dresses, you can achieve a unified and balanced look that reflects your wedding style and vision.
Pay Attention to Fabrics and Details
The choice of fabrics and intricate details can elevate the beauty and sophistication of the bride and flower girl dresses. Here are some considerations:
Fabric Consistency: Maintaining consistency in fabric choices is crucial for achieving a harmonious look. Whether it's satin, chiffon, lace, or tulle, ensuring that both dresses incorporate similar fabrics creates a sense of unity.
Embellishments: Consider adding similar embellishments, such as lace overlays, delicate embroidery, or beading, to both dresses. These details can enhance the overall aesthetic and connection between the bride and flower girl's attire.
Accessories: Coordinating accessories, such as sashes, belts, headpieces, or jewelry, can add a polished and synchronized touch to the outfits. These accessories can be customized to match the color palette or theme of your wedding.
Bouquets and Florals: Incorporating matching or complementary floral arrangements for both the bride's bouquet and the flower girl's basket or bouquet can create a charming visual connection between the two.
Shoes: Coordinating footwear, such as matching sandals, ballet flats, or even elegant heels, can be a delightful detail that ties the bride and flower girl's looks together.
The combination of consistent fabrics and thoughtfully chosen details will ensure that both the bride and the flower girl shine on your special day.
Create a One-Stop Shopping Experience
Sourcing matching bride and flower girl dresses can be a time-consuming process, involving multiple visits to wedding boutiques and children's clothing stores. To streamline the process and ensure a cohesive look, consider creating a one-stop shopping experience. Start your search at bridal boutiques that offer a wide range of wedding dresses. These boutiques often have options for flower girl dresses that are designed to complement their bridal collections.
Many online retailers offer a variety of bridal and flower girl dresses, making it convenient to browse and compare options. Look for retailers with comprehensive collections and clear return policies. Enlist the help of a bridal stylist or consultant who specializes in coordinating bridal attire. They can provide valuable insights and guide you through the process of selecting dresses that match seamlessly.
Consider working with a designer or dressmaker who can create custom dresses for both the bride and the flower girl. This ensures a perfect fit and allows for personalized details that match your vision. Attend bridal sample sales or trunk shows where you may find matching sets or options at discounted prices.
Ensure Comfort and Mobility
While coordinating bride and flower girl dresses is essential for visual appeal, it's equally important to prioritize comfort and mobility, especially for the flower girl. Ensure that both dresses are well-fitted and appropriate for the season and venue of your wedding. Comfortable shoes and breathable fabrics are key considerations.
For the flower girl, choose a dress that allows for ease of movement, as she may need to walk, stand, or participate in various activities throughout the day. Avoid overly restrictive or heavy designs that could hinder her comfort and enjoyment.
Involve the Flower Girl in the Selection
If the flower girl is of an age where she can provide input, involving her in the dress selection process can be a fun and memorable experience. Ask for her opinions on color choices, fabrics, and design elements. By including her in the decision-making process, you can create a sense of excitement and anticipation for her role in the wedding.
Plan for Alterations
Keep in mind that alterations may be necessary to ensure that both the bride's and the flower girl's dresses fit perfectly. Plan for ample time for alterations, and schedule fittings well in advance of the wedding day. Well-fitted dresses will not only enhance the overall look but also ensure comfort throughout the celebration.
Coordinate Accessories
To complete the coordinated look, consider matching accessories for both the bride and the flower girl. If the bride is wearing a veil, a matching or complementary veil or headpiece for the flower girl can be a charming addition. Coordinate jewelry, such as necklaces, bracelets, or earrings, that complements the overall style and color palette.
Ensure that the bride's bouquet and the flower girl's basket or bouquet coordinate in terms of color and floral selection. Matching or complementary shoes for both the bride and the flower girl can add a polished touch.
Capture the Moment
Matching bride and flower girl dresses creates a beautiful and memorable visual theme that can be celebrated in photographs. Inform your wedding photographer about the coordinated attire so they can capture stunning moments that highlight the connection between the bride and the flower girl.
Conclusion
Matching bride and flower girl dresses offers a delightful opportunity to create a harmonious and visually captivating wedding aesthetic. By starting with a clear vision, choosing a coordinated color palette, selecting complementary silhouettes, paying attention to fabrics and details, and creating a one-stop shopping experience, you can ensure that both the bride and the flower girl shine on your special day. With thoughtful planning and attention to comfort and fit, you can create a cherished memory that will be remembered and treasured for years to come.