Find the Perfect Fit and Flare Wedding Dresses Of 2023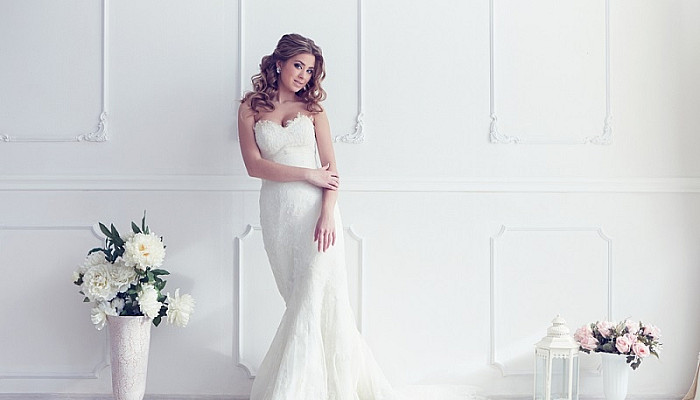 Every bride envisions herself as the embodiment of beauty and grace on her wedding day. The wedding dress symbolizes this transformative moment and is pivotal in bringing this dream to life. Among the myriad choices, fit and flare wedding dresses are a timeless and captivating option that seamlessly blends modern flair with classic elegance.
In this guide, we'll delve into the mesmerizing realm of bridal fashion and unveil the most captivating fit and flare wedding dresses in 2023 that are set to steal the spotlight.
The Definition of Fit and Flare
The fit and flare wedding dress is characterized by its fitted bodice, which hugs the torso and emphasizes the waist before gently flaring out from the hips to create a graceful and flowing skirt. This silhouette celebrates the bride's natural curves while allowing for movement and comfort. A balance between structure and fluidity, fit and flare dresses provide a flattering shape that suits various body types.
Why Choose A Fit And Flare Wedding Dress?
Neckline Variations
Fit and flare wedding dresses offer diverse neckline options to suit different preferences. Brides can choose from plunging V-necks for a touch of drama, sweetheart necklines for a romantic feel, or elegant illusion necklines for a touch of modernity. Each neckline complements the dress's overall silhouette and enhances its appeal.
Back Designs
The back of a wedding dress is just as important as the front and fit and flare dresses offer a canvas for stunning back designs. From low-cut open backs adorned with delicate lace to intricate button detailing, the back of a fit-and-flare dress adds an element of surprise and elegance that captivates from every angle.
Embracing Body Diversity
Fit and flare wedding dresses celebrate body diversity by accentuating a bride's natural curves. This silhouette particularly accommodates hourglass, pear, and petite body types, enhancing the assets while providing a flattering shape. Brides who wish to highlight their waist and create an illusion of height often find fit and flare dresses their perfect match.
Movement and Comfort
A key factor in the popularity of fit and flare wedding dresses is their ability to provide both movement and comfort. The fitted bodice ensures a secure fit, allowing brides to move quickly and gracefully. While visually striking, the flared skirt also offers the freedom to dance, mingle, and fully enjoy the wedding celebration without feeling restricted.
Types Of Fit And Flare Wedding Dresses
Embellished Elegance
Embrace your inner goddess with fit and flare wedding dresses adorned with intricate embellishments. In 2023, designers are weaving magic with ornate beadwork, delicate lace appliqus, and shimmering sequins that catch the light with every step. These dresses are works of art, combining timeless glamour with contemporary detailing. A gown adorned with cascading crystals and luxury golden or delicate pearls will ensure you shine with every movement, creating an ethereal aura that captivates all who are on you.
Sheer Romance
For the bride seeking romance and mystery, sheer elements are spotlighted. Illusion necklines, sheer bodices, and delicate lace sleeves create an alluring yet sophisticated look that perfectly balances modesty and allure. Vertical panels and overlays allow intricate lacework to seemingly float on your skin, creating an otherworldly effect that will leave your guests breathless.
Whimsical Ruffles
Ruffles are returning triumphantly to the bridal fashion scene in 2023, and fit and flare dresses are no exception. Cascading tiers of soft tulle or organza add whimsy and movement to your gown, giving your ensemble a dreamy and fairytale-like quality. Whether the ruffles are subtle and delicate or bold and dramatic, they infuse an element of playfulness into your wedding attire, allowing your personality to shine through.
Modern Minimalism
Simplicity speaks volumes; modern minimalist fit and flare wedding dresses testify to this truth. Clean lines, sleek fabrics, and understated details create an elegant and refined look that is effortlessly chic. These dresses embrace the less-is-more philosophy, allowing you to showcase your natural beauty and radiance. A minimalist fit and flare gown is the perfect canvas for a statement wedding accessory, such as a dramatic veil or bold earrings.
Floral Fantasy
Nature's beauty takes center stage with fit and flare wedding dresses adorned with delicate floral motifs. These dresses are like a walk through a blooming garden, with floral lace patterns that evoke a sense of enchantment and whimsy. Whether the blooms are subtly scattered or boldly embroidered, they add a touch of romance and femininity that is simply irresistible.
Our Top 5 Picks For Fit And Flare Wedding Dresses In 2023
#1. Brand: Pronovias Dress: "Elegance in Lace" Fit-and-Flare Gown
Image: Pronovias
Price Range: $1,800 - $3,500
This timeless fit-and-flare dress by Pronovias boasts intricate lace detailing that adds a touch of classic romance. Its fitted bodice and gentle flare enhance the wearer's silhouette while evoking an air of sophistication.
#2. Brand: Stella York Dress: "Sleek Minimalism" Fit-and-Flare Gown
Image: Essensedesigns
Price Range: $1,200 - $2,800
Stella York offers a modern take on the fit-and-flare silhouette with a sleek and minimalist design. Clean lines and subtle embellishments create an effortlessly sophisticated look that resonates with contemporary brides.
#3. Brand: BHLDN (Anthropologie) Dress: "Dreamy Boho" Fit-and-Flare Gown
Image: Anthropologie
Price Range: $800 - $2,000
BHLDN's bohemian fit-and-flare dresses often feature soft, flowing fabrics and ethereal details like lace sleeves and delicate embroidery. These dresses encapsulate a sense of carefree boho charm.
#4. Brand: Maggie Sottero Dress: "Glamorous Allure" Fit-and-Flare Gown
Image: Maggie Sottero
Price Range: $1,500 - $3,200
Maggie Sottero's fit-and-flare dresses exude romantic glamour, often incorporating opulent fabrics, intricate beadwork, and luxurious embellishments that create a dazzling effect.
#5. Brand: Justin Alexander Dress: "Vintage Grace" Fit-and-Flare Gown
Image: Justin Alexander
Price Range: $1,600 - $3,500
Justin Alexander's fit-and-flare dresses showcase a vintage-inspired charm, with details such as illusion necklines, lace overlays, and button detailing that evoke a sense of timeless elegance.
Finding "The One"
As you embark on the journey to find your perfect fit and flare wedding dress, remember that the true magic lies in how the gown makes you feel. Your clothing should reflect your personality, enhance your confidence, and tell the unique story of your love. When trying different styles, consider how the dress complements your body type and is your perfect size, highlights your favorite features, and aligns with your wedding theme.
Remember, every bride is different, and your journey to finding the best attire for your wedding is a personal and cherished experience. Take your time, trust your instincts, and don't be afraid to step outside your comfort zone to discover a fit and flare wedding dress that will make your heartbeat.
Conclusion
The fit and flare wedding dress perfectly balances tradition and modernity, elegance and comfort. Its ability to celebrate a bride's natural curves while offering the freedom to move and dance makes it a beloved choice for countless brides. From classic to contemporary, fit and flare wedding dresses continue to capture the hearts of brides worldwide, proving that their timeless allure is here to stay. As brides enter the luxury gowns, they enter a moment of pure enchantment, where elegance comes alive in every graceful movement and radiant smile.