Wedding Garter: Tradition & Buying Guide for Brides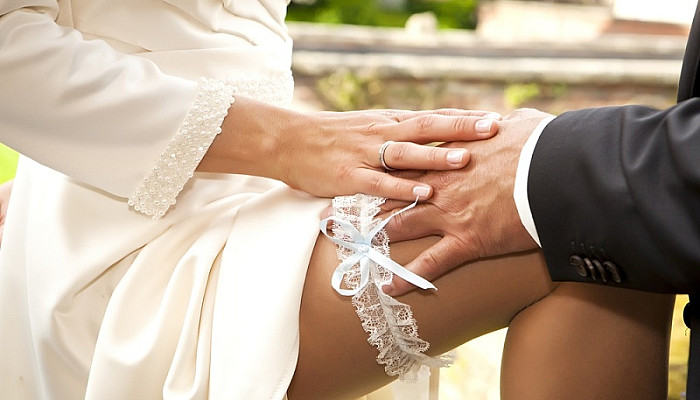 A bride customarily dons a wedding garter as part of her wedding attire. Normally, she wears it just below the knee on her thigh. During the wedding ceremony, the groom takes it off and throws it to the other males present during the tossing of confetti. A crucial part of a bride's wedding day outfit, the wedding garter is tucked away beneath her dress and is ready for the husband to remove and toss to all the single men at the reception.
The garter toss is a crucial component of the wedding day, and yet many brides still participate in this age-old custom without fully appreciating its significance or meaning.
Wedding Garter Tradition
The history of the wedding garter tradition dates back to the 14th century in France. Back then, the meaning behind the ritual was that the bride and groom had to provide it to their families as evidence that their marriage had been consummated after the wedding. Nowadays, at the wedding reception, the husband just removes the bride's garter as part of the garter toss. The bride tosses her bridal bouquet first, followed by the garter toss.
The bridal garter is worn by the bride on her right leg, just above the knee, and the groom is expected to remove it with his hands or teeth before tossing it to the guys. The groomsman who successfully retrieves the garter is regarded as "fortunate" and "the next to get married." The toss is still a fun wedding custom for your reception, and nowadays, wedding garters are regarded as bridal lingerie.
How to buy a wedding garter? Key things to know
The wedding garter symbolizes good luck and love for your wedding. There are many different kinds of wedding garter belts or garters to choose from. It is important to know about all the different kinds of garters available so that you can buy the best one for you.
With so many choices available, it can all feel a bit overwhelming, which is why we are here to help you make your choice.
1. Wedding garter size
Wedding garters are available in a range of sizes from small to XX-Large serving both petite and plus-size women. While ready-made wedding garters are generally available in sizes from 16" to 30", you can have a custom one tailored for your comfort at your wedding. It is important to get a comfortably sized wedding garter, as a tight garter belt under your dress can be very uncomfortable.
2. Wedding garter Colors
Wedding garters are available in just about any color. Brides can stick with the classic white color theme, wear something blue on their garter, or truly go with any hue in the color spectrum. Consider your personality and what the color of your wedding garter says about you when choosing the ideal color. Some traditions incorporate blue garters as the color blue stands for purity, faithfulness, and fidelity, brides
3. Stretchable and elastic
Wedding garters are decorative elastic bands that you wear on your thigh under your dress. To make sure that they don't cause discomfort, it is necessary to buy ones with a comfortable band that is not too tight. Make sure you don't buy one that's too loose; otherwise, it'll just slip off. Stretchable wedding garters come in many sexy designs, like floral pattern garters and satin bow garters.
4. Wedding garter lace
Traditional and luxurious lace adds a certain visual appeal to any clothing it is used in. The most common types of wedding garters are lace bands. Lace has been a preferred fabric for brides for ages and is still used to make bridal gowns today. While various types of lace might become more fashionable as trends change, brides will continue to wear this material forever. Some of the most popular lace garters are crochet pattern wedding garters and black lace wedding garters.
5. Wedding garter price
Depending on how ornate and intricate it is, wedding garters' prices can vary quite a lot. The average prices in the US range anywhere from $10 to $150. For example, a good boho wedding garter within the price range of 20-30 dollars. Some luxury and branded garter belts can even cost you up to a thousand dollars.
6. Maintenance
The easiest method to ensure that your garter will be spotless is to store it in the packaging that it came in. There are numerous washing detergents made specifically for silk and lace, but avoid completely submerging your garter in water, as this could harm any decorations or the elastic. To clean the garter, use a fresh piece of cotton dipped in a tiny amount of delicate washing liquid in warm, not hot, water. Do not dry your garter on a radiator; instead, lay it flat on a towel.
Wedding garter removal ideas
The custom of throwing the bridal garter is something that some couples believe to be fun and exciting. The groom traditionally removes the bride's garter and throws it to his single friends as part of the wedding custom. It is commonly interpreted as a sign of success in love affairs and marriage prospects for whoever catches it. Here are some fun garter toss and game ideas to spice up your wedding.
1. A dance-off for the garter
This dance, which the groom performs as a show, is intended to get him permission to reach under the wedding dress for the garter. Then, in an effort to charm and wow the bride and win her approval to let him take off the garter, the groom showcases his favorite dancing movements. The bride responds to the performance by either giving a thumbs-up for a "Yes!" or a thumbs-down for a "No!" depending on how impressed she is. To satisfy the bride, the groom might need to repeat this procedure a few times before getting the garter.
To know about wedding garter toss songs, read: A List Of Wedding Garter Toss Songs To Enjoy Celebrations
2. Enjoyable wedding games
Garter removal games at wedding receptions can also be a lot of fun such as musical chairs or the limbo stick. When playing musical chairs, for instance, single men dance around chairs that are one fewer than they are. When the music stops abruptly, everyone sits down, which means one person is eliminated. The chairs then continue to be decreased by one until only the winner is left. This will surely keep the attendees engaged and allow for the selection of a garter winner without the potential for chaos and calamity.
3. Dropping a balloon
Couples who don't want to hurl anything at the guests might specifically consider the balloon drop. Only opaque balloons are required, ideally in a color that matches your wedding's motif. Put the garter in one of the balloons and watch the guests enjoy popping the random balloons in search of good fortune as they try to find the garter within. Spice things up by stuffing the balloons with handwritten letters from the couple to their guests, gift cards, candies, or other small tokens of appreciation to make them feel special even in the absence of a garter. Watch your guests have some enjoyable moments that will make your wedding memorable.
4. Throw two garters A Garter Toss find
Stuff the garter inside a stuffed animal or pillow, perhaps add a $20 or $50 cash, make sure there are lots of stuffed animals, and watch the crowd go crazy trying to find the proper one. If you don't have anything that fits the day's theme, you can choose something that is unique to both of you.
5. An inherited garter
If one of your siblings is getting married soon, you can choose to hand the garter down to them rather than letting the guests battle for it. On the other hand, you could decide to preserve it as a reminder of your special day and perhaps pass it on to your daughter in the future.
What are the occasions on which you can wear a wedding garter?
Weddings are not the only traditional event that calls for garters. Many girls wear garters to their proms too. Garters can be worn on almost any occasion. A garter is not just a traditional piece of clothing but an accessory that can accentuate your fashion and style. Some other occasions garters are perfect for are parties, anniversaries, engagements, pageants, and costume parties.
Wedding garter FAQs
What is the difference between a garter and a garter belt?
Garter belt: A garter belt is an undergarment usually worn by females. They are typically made of elasticized material that supports the stockings. A garter belt typically comes with two straps - one strap is positioned over each hip, and both straps are attached to the waistband.
Wedding Garter: A wedding garter is a piece of clothing for brides. It is a small piece of fabric, normally made of lace or satin, that is tied around the bride's thigh just above her knee and helps keep her wedding stocking up.
Where did the wedding garter tradition come from?
The origin of the wedding garter traditions dates back to the late 14th century in France. It was believed that if a bride tossed her garter to the waiting men after her wedding ceremony, she would reward them with good luck.
Where to buy wedding garters?
Buying garters has never been easier. The internet will prove to be a very handy tool for you as it allows you to find the best ones possible with just a few clicks of your mouse. You can find them in all sorts of colors, patterns, and materials at many different retailers.
How do I know my wedding garter size?
The garter size is measured at the top of the thigh. You should take a measuring tape and wrap it around the area where you are planning on wearing your garter. In most cases, this falls right above the knee. The measurement should be done in centimeters, not inches.
What to do instead of the garter toss?
In the above blog, we've listed some fun and exciting variations of the garter toss tradition. If you don't want to have a traditional wedding garter toss at your wedding, these ideas will make for a creative and joyous alternative.
How to make a wedding garter?
There are many different ways that you can go about making a personalized DIY wedding garter. Here's the quickest and simplest one. First, decide on the type of fabric you want to use. You could choose lace or traditional satin. You should also decide on the length of your garter- it should be as long as your knee or a little bit below that level. A good way to measure it is by wrapping it around your leg once and then measuring it from there up. Once you've got the measurement down, all that's left to do is sew!
Conclusion
Wedding garters are part of an age-old tradition modernized into a fun and exciting game with quite a fashion statement. Whether you wear the garter till the end or hide it in a balloon, it is safe to say that the garter toss will be a memorable part of your wedding. Similarly, a beautiful garter will be a memorable part of your wedding attire. Visit Bridalfusion to learn more about wedding-related tips, advice, and trends.