6 Hotel Date Anniversary Ideas To Keep The Romance Alive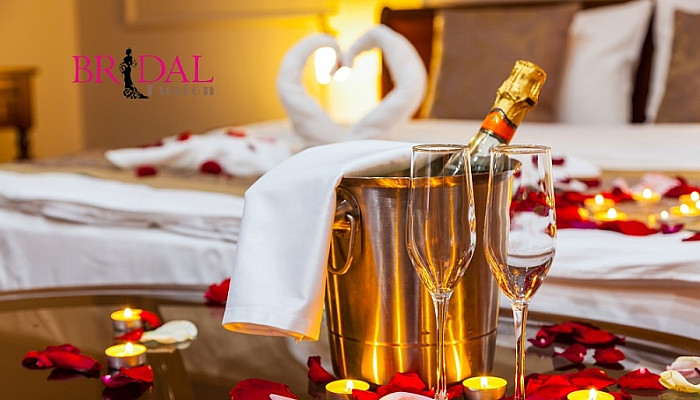 So you've hit that milestone: six months, one year, or even more together as a couple. You know it's coming up, but now what? The usual flowers and chocolates probably won't cut it this time. What do you do when love is tricky and routinely doesn't cut it anymore? Keeping the flame of love alive in a long-term relationship can sometimes be challenging. Still, with these six creative ideas for your hotel date anniversary, you can reignite the flame.
1. Surprise with an unplanned hotel stay
People in long-term relationships may have developed a predictable pattern of gift-giving and date ideas. If so, an unplanned hotel stay is an excellent idea for your hotel date anniversary ideas. As with all of the other hotel stay ideas on this list, the fact that it was unplanned will make it even more special for your partner.
After all, this hotel stay idea demonstrates that you put some thought and effort into making the day special. And, of course, staying at a hotel is a great way to ensure you both have a bit of privacy if you've been feeling a little too cramped in your current living situation.
2. The idea for a surprise getaway
Pack for yourself and your partner without letting them know where or what you're doing! The printable invitation (linked below) is ideal for dropping off the surprise right before you leave. A surprise night is always a better idea than a night away!
You could become a tourist wherever you go during your anniversary vacation. Find the restaurant with the most positive reviews online or ask a local. Get out and do something exciting in the area on your date. Allow this night to be a little different, and it will feel even more special. After all, you're celebrating!
The printable travel itinerary includes some fun suggestions, but feel free to research where you'll be staying and add some of your own! It's a sure way to create memories you'll never forget. Make the hotel bookings a week before, and ensure that your partner has no clue. A weekend is probably the best idea. If your work schedule does not fall on a weekend, you can also visit the outskirts of your town.
3. Re-visit old places
If the relationship is long enough that you both have seen each other at your worst, then you probably know each other inside and out. You may have run out of topics for conversation. If this is the case, a date that involves discovering a new area together will bring about some interesting conversation topics.
For example, if you or your partner have never gotten around to re-visit your favorite hotels and places in your city, why not prioritize doing so this weekend? This hotel date anniversary idea is a great way to do so. You can also try going to a place that has meaning for both of you. If you met on a beach, for example, visiting that beach again could be a great way to spend your anniversary.
4. Plan a getaway
All you need is a hotel for this anniversary getaway plan. You can do it even if you aren't in a tropical or exotic location. The hotel has many amenities that you should use. Listed below are some of our recommended getaways:
Relax in a hot tub or by the pool.
Enjoy the complimentary continental breakfast as if it were your last.
Request in-room dining
Obtain a checkout extension if you need one.
Have a pretend meet-cute in the hotel bar.
If you want to avoid interruptions, use our printable door hangers.
5. Have a cozy night together
Hotel dates are great for anniversaries when you want to celebrate with your partner but don't have the money to spend the night in a hotel. Having a memorable date can be as easy as picking the right foods, picking a movie or show that the two of you will enjoy, and scattering the evening with moments of intimacy. There are also a lot of cheap date ideas that you can do at home that can be just as or even more romantic than a night at a hotel. For example, you could cook a nice meal together, set up an excellent playlist, do a couple's massage, or play a board game together.
6. Stay in a luxury hotel for the night
Indulge in a great luxury hotel for dinner. You could even book the hotel for a night and splurge on the room service. A good hotel for a luxury stay will likely have a luxurious ambiance, a luscious menu, and a few extra romantic touches to make the extra night special.
Enhance the fun of the evening by playing some games specifically designed for couples. We suggest a couple's treasure hunt for a fun and intimate date night activity. There is also a scavenger hunt you can participate in. The second game requires you to have arrived at the hotel early and strategically placed items around the room for both of you to find. Your mission for the evening is to track them down and see who can collect the most loot. It sounds like a great time.
Here are some more tips to make your hotel date romantic
Don't forget the Gifts.
It's important to remember to shower each other with gifts. Give him a romantic gift out of the blue, and he should do the same for you. An added bonus to any date is a token of appreciation for your partner. What better way to show your love than with presents?
After your evening of passion has come to a close, you and your date can take in some of the local sights by going for a stroll, visiting a museum or art gallery, or checking out a film at one of the many cinemas in the area. You will feel more refreshed and, more importantly, more in love with each other by the time you get back home after doing all these things.
Spend time on the Decor.
Make your room into a dining establishment. Have the hotel prepare a romantic dinner for two in your room, with candles and soft lighting. Start the evening by playing relaxing music in the background and serving delicious food. To add a touch of romance, you can blindfold your loved one all the way to the hotel room, where they will be surprised to find a sumptuously decorated dining area. You can count on this being the defining moment of the evening.
Conclusion
Without romance, a couple's love for one another will dwindle and eventually die. Therefore, you should sprinkle some romance into your relationship every so often. Still struggling to come up with hotel date anniversary ideas? No worries! This list has something for everyone. With these six ideas, you're sure to find something that works for you and your partner. Now, all that's left to do is book your hotel stay and ensure you don't forget to celebrate your anniversary! Browse BridalFusion.com for more anniversary and gift-related inspiration for your partner.