How to Choose the Perfect Ring Size for Your Wedding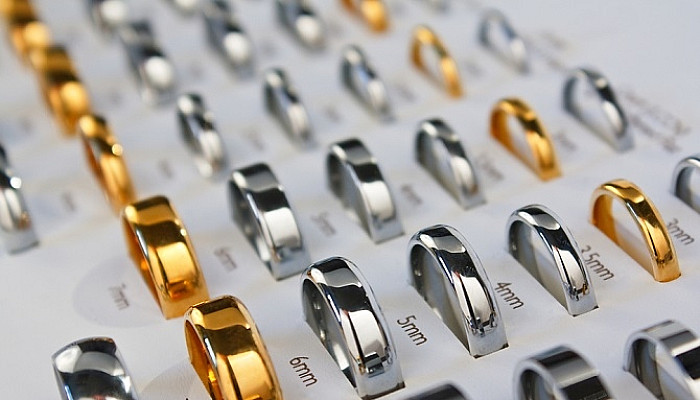 You might have heard people talking about the perfect ring size, but in reality perfection does not exist in ring sizes. You can never find a ring that fits perfectly in your fingers and if it is, that's probably would stay for some time. The reason behind the imperfection in the ring sizes is due to weather changes and their effects on our body parts. Hence, if you are a bride-to-be looking for the wedding ring that fits perfectly on your finger, here's an article that can worth your while.
Though you cannot find the perfect sized ring, the hunt for nearly perfect fit ring size can be started here. Get along with us to find the ring that would make you feel comfortable, no matter how tight and loose the size of the ring is. You will feel light and happy to wear it all the time. So,
Find the Nearly Perfect Ring Size
As mentioned above, no ring fits perfectly but you can still find the one that fits nearly perfect on your fingers. To find that, visit your nearest jewelry shop, let them help you out with the right tools and techniques, and find the size your ring must have. Afterall, you are going to wear that ring for the whole of your life. Hence, look for the ring that makes you feel comfortable enough to carry and flaunt it for many years.
Start your Hunt at the Right Time
Outside conditions like heat, coldness, breezy winds etc do affect our body. The way we eat, what we eat, how long we work, and at what time we are leaving for wedding ring shopping, can significantly change the shape and size of our fingers. To avoid any sizing issues, make sure you visit the jewelry shop either in the afternoon or in the dinner. This is the right time to give your ring size because at this time our fingers are at their fullest size. This means you won't feel your size tight at least. Hence, try to book your ring fitting appointment in the mid or late afternoon, if possible.
Avoiding Too Tight Ring Sizes
While checking a couple of rings at the jewelry shop, you may feel confused about the ring size. You may not tell whether the ring size is too tight or it just seems like that. In this case, you can use a general use i.e. if you need to use oil/soap to take the ring off, it's probably because the size is too small for your finger. On the other hand, if the ring just slips down your finger without sticking around your knuckles, the ring is too loose for you. Hence, the ideal ring size would be the one that does not leave any mark or indent wheel taken off, and should barely fit over your knuckles. So, go for the ring that meets these conditions and flaunt your dream ring every then and now.
Mind Your Knuckle Size
Do you have enlarged knuckles or the smaller ones? Knowing your knuckle size can help choose the nearly perfect ring size. If you have smaller knuckles, choose a ring that studies more, and if you have large knuckles, choose the ring that goes well at the base of your finger.
In case, you are pregnant, get ready to bear the swollen fingers that will also affect your ring size. Hence, before picking up that ring just look at your finger, observe your knuckle size, and choose accordingly.
The Takeaway
Wedding rings are special and they will always be. Your wedding dress, veil, accessories, heels, and other wedding accessories will be your side only for the wedding day, but the ring will always be there in your finger, reminding you of all the love and commitments that your husband has showered on you. Make sure you choose the ring size that fits your finger nearly perfectly because as we have mentioned earlier, there is no ring size that fit perfectly. Through the content of this article, we have tried to give a solution for the nearly perfect wedding ring size hunt. Hope this works for you.