5 Unique Wedding Proposal Ideas for Her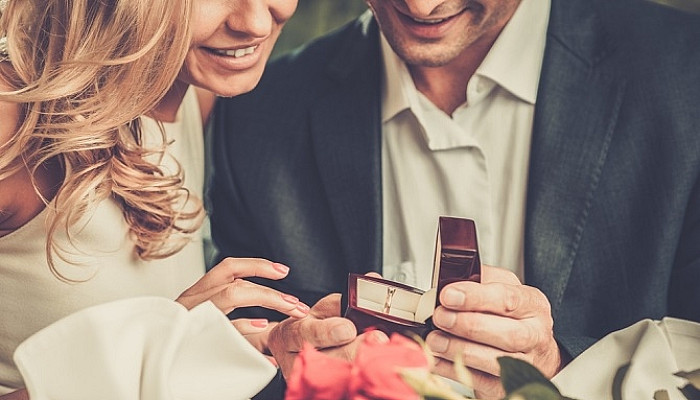 No doubt, you can propose the love of your life in your own way but there's no harm in trying something unique that makes her fall in love with you even more. How you proposed her will be told your friends and strangers for the rest of the lives and this reason is apt to plan your wedding proposal in a totally unique way. If you do not know how to proceed, let us help. With these super-effective and quirky wedding proposal ideas, your marriage proposal will surely be a success.
1. Surprise her with a really unique ring
Girls love surprises and you can take advantage of it. You can surprise her with a unique yet adorable ring. No doubt, diamonds are in trend but you can always try a new approach for this special day. How about the gems? They are beautiful and totally irresistible to wear. Couples have combined gems with diamonds for a really unique ring design. This may cost you a bit more than a single diamond ring but she will love it, for sure.
2. Propose her on unforgettable vacation
2 out of every 10 proposals have been made either at a special place or during a vacation. If you are planning to propose her with all your hearts, why not choose a picturesque destination for that? If you really do not know how to choose the best place for a wedding proposal, take help from this list.
Top Romantic Cities in the World:
Venice, Paris, Prague, Florence, Rome, Lisbon, Vienna, Séville, Buenos Aires, and Marrakech.
3. Proposal through an Illustrated Art
If you are an Illustrator or love to design illustration and creative art designs, why not use the same while proposing her for the wedding. This will be the cutest thing she can expect while getting a proposal. You can either design a single illustration or series of illustrations depicting how you met and fall in love with the girl of your life. Such proposals are always surprising, unique, and breathtaking and no girl on this earth would say a "No" to such proposals. So, let your creative mind team up with your heart and impress her with something really unique.
4. Say it with Balloons
This is a really cute yet amazing idea to propose her in front of her loved ones. Throw a party at your house or some other place and invite her along with your common friends. Make sure the guests are known to both of you else she might get uncomfortable while getting the proposal. Once you are done, call your best buddies to join this special task force. Tell them to carry a balloon filled with Helium gas, bearing one of the letters in the phrase " Will You Marry Me". Make sure they do not reveal the secret unknowingly. Instruct them well at what time they should come up and reveal the secret message in front of her. This will be a fun.
5. Unique Proposal for Baseball Fanatic
If she loves watching baseball and can't resist seeing you playing the same, this wedding proposal idea can amaze her a lot. The idea is to take her out for a baseball match( organized just for wedding proposal) wherein you will be playing with some of your friends. Let her sit somewhere close to the boundary and at the middle of the match just hit a boundary( of course knowingly) and pass her the ball bearing "Will You Marry Me". For a baseball fanatic like hers, this surprise would probably mean a lot.
Wrapping Up
If you two are in a long-term relationship, proposing her for the wedding even with a rose and a ring can mean a lot to her. However, if she is just your best friend or colleague, you need to think a lot before expressing your feelings to her. In both cases, the proposal ideas mentioned in the content of this article fit accurately. All you need to do is that choose the one that suits your style and matches her comfort.
Hope this works for you. Have any query, do let us in the comment section. We would love to hear from you.